Targa News
10.08.2020
Field faces huge test in Tropical North Queensland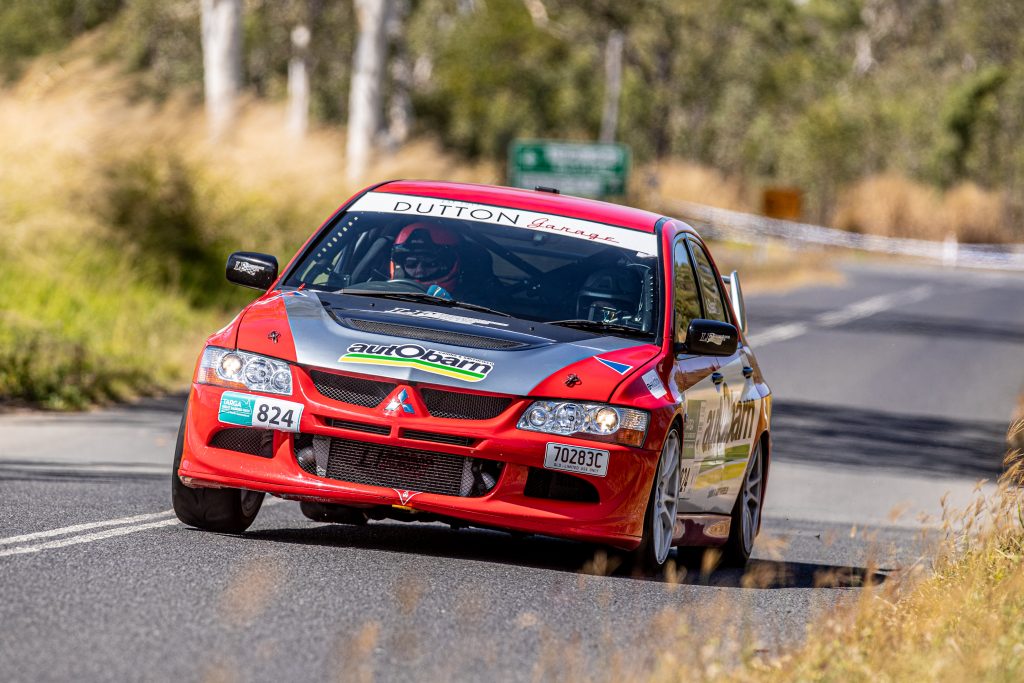 TARGA Great Barrier Reef is set to kick-off on Friday September 4 with a rejigged course that sees the motorsport action concentrated around Cairns, Innisfail and Atherton in the three day rally.
The event covers a massive 912 kilometres including 211 competitive kilometres across 18 stages.
Friday starts with the short 5.79 kilometre Greenhill stage south of Cairns to allow drivers to settle to the conditions of the day. The field then heads further south to take on the first major test, the 19.47 kilometre Gillies Range stage followed by the Lake Eacham stage stopping for a morning tea break at Atherton.
The afternoon sees cars tackle Little Mulgrave, the Gillies Ranges stage in reverse, known this time as Lake Morris, before a run out to a lunchbreak at Copperlode Dam and back to Cairns to complete the opening day of 74.19 competitive kilometres.
Saturday's action is based around roads south of Innisfail, with the original stages planned around Mission Beach cancelled for 2020 as the COVID-19 pandemic meant organisers were unable to travel to the region to complete a planned consultation phase with local residents. However, the Mission Beach locals will get a chance to see the multi-million dollar field with their township hosting the lunchbreak.
First up on Saturday morning is the 5.5 kilometre Bamboo Creek stage, followed by South Johnstone and Mena Creek. After the regrouping of the field at lunch, the three stages will be run in reverse across the afternoon to complete the 48.39 competitive kilometres.
Saturday will end with the newly created TARGAcavalcade, a procession of the field along a 27 kilometre route starting at Edmonton and running through to the city centre. This new spectacle has been designed to allow locals to see the cars up close, given the pandemic has meant the postponement of the popular TARGAfest, normally held on The Esplanade on the Saturday night of the event.
The first cars in the TARGAcavalcade are scheduled to depart Edmonton at approximately 3.40pm.
The final day on Sunday September 6 sees cars head to the 10.71 kilometre Kuranda stage north of Cairns before going south-east to tackle the Upper Barron, Malanda and Millaa Millaa stages on the way to the lunchbreak at Ravenshoe.
The Moregatta and Theresa Creek stages originally planned have been replaced due to roadworks requirements.
The event concludes with Millaa Millaa in reverse, now called Palmerston, and with another run over Upper Baron to round out the 18-stage challenge of car and driver.
By the time the cars cross the finish line at the Cairns Showgrounds they will have completed over 900 kilometres across the three days of TARGA Great Barrier Reef, which has quickly built a reputation on the Australian motorsport calendar.
"We are really happy with the course that we have been able to put together with the cooperation of the local councils for this the third running of TARGA Great Barrier Reef," said TARGA CEO Mark Perry.
"From the first time we ran the event in 2018, the feedback from the competitors, who really enjoy the roads, has been fantastic, and we have been blown away by the enthusiasm of the locals who really get out and support the event.
"The pandemic has changed some aspects of TARGA, but we know that it will still be an event enjoyed by all and we are delighted to be able to bring the cars to the people with the TARGAcavalcade."
"TARGA Great Barrier Reef would not be possible without the support of Tropical North Queensland and the local councils which we appreciate at this really challenging time."
The event will commence from the Cairns Showgrounds this year, with the first car on the course at 8:30am on Friday September 5.
With the cancellation of TARGA Tasmania in late April because of the pandemic, the Cairns-based event becomes the first round of the Motorsport Australia TARGA Championship for 2020.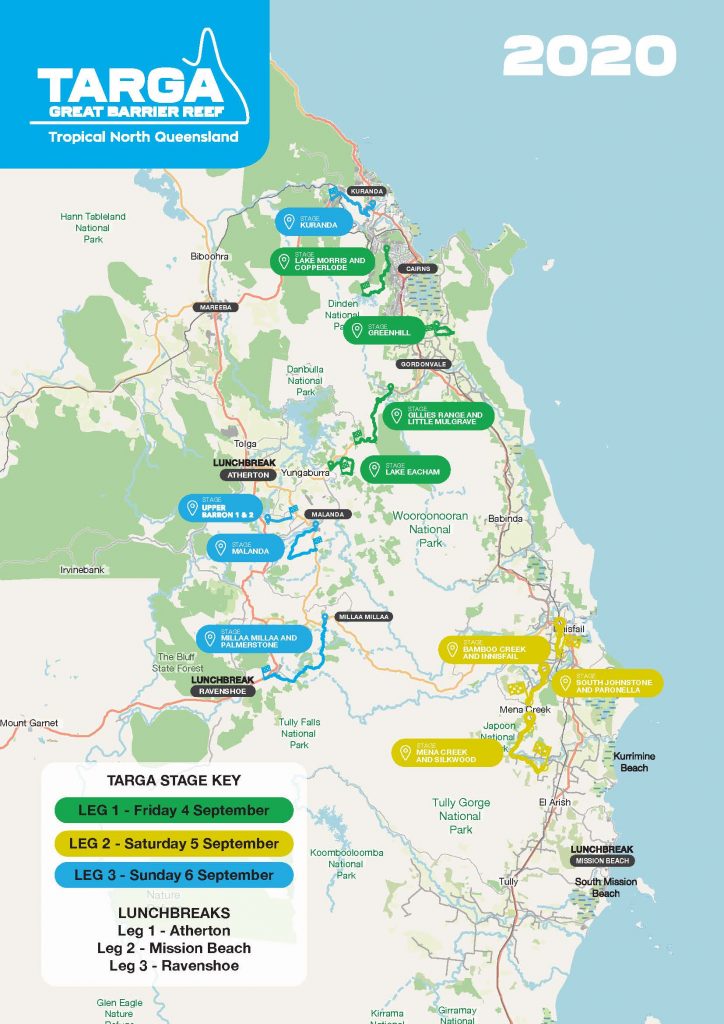 10.08.2020
TARGAfest to become TARGAcavalcade
If you can't bring the people to the cars, bring the cars to the people. Which is exactly what we'll be doing at TARGA Great Barrier Reef. Changing the annual TARGAfest gathering of cars and fans on The Esplanade in Cairns to a tour of the field passing through the suburbs.
Called the TARGAcavalcade, the multi-million dollar field of the world's best cars will travel a set 27-kilometre drive through Cairns on Saturday September 5, giving a chance for locals to witness the impressive collection right from their front yards.
The route has been designed to ensure that a number of suburbs are included in TARGA Great Barrier Reef for the first time, with the TARGAcavalcade starting in Edmonton and heading north before finally finishing at Cairns Showgrounds. The first cars are scheduled to depart Edmonton at approximately 3.40pm on the middle day of the rally, Saturday September 5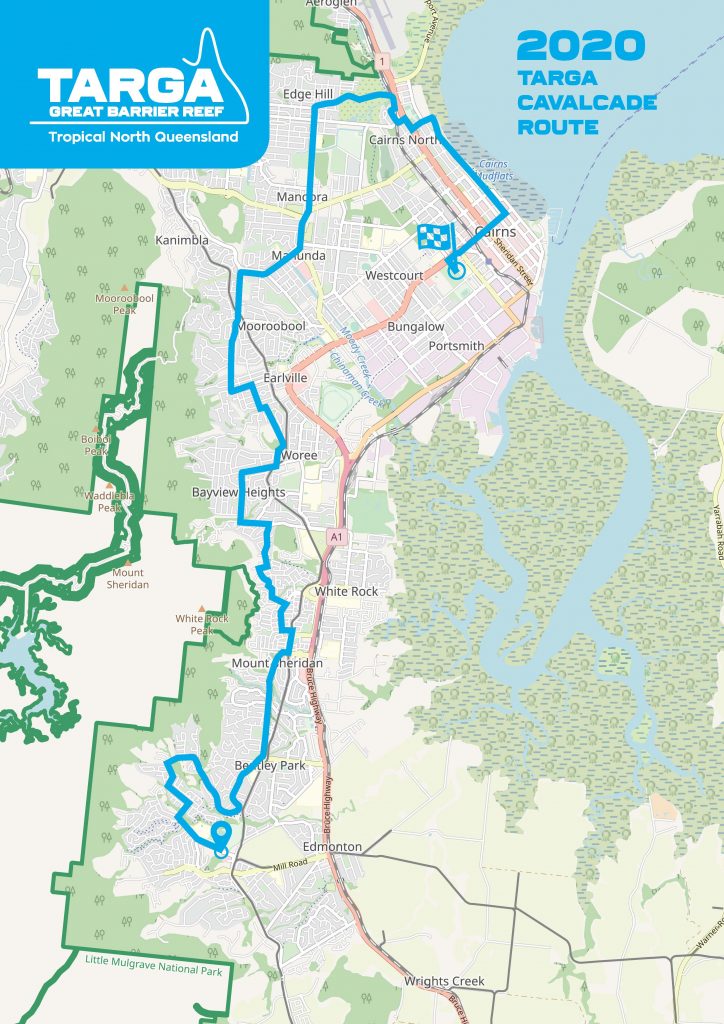 Residents will be able to have front yard BBQ's and enjoy the free show drive straight past their front door with horns beeping and lots of waving. There will also be a number of key spots on the route where small groups of people will be able to gather with their fold out chairs and watch the cars come past in part of a one hour show.
CEO Mark Perry said that while the response to coronavirus crisis has seen many events and large gatherings cancelled, TARGA was determined to proceed and ensure that the people of Cairns had an opportunity to see the cars up close given the highly successful TARGAfest could not be held this year.
"We needed to think outside the square," Perry said. "With the cancellation of a number of events in Cairns because of the pandemic, we are determined to proceed with ours even with the travel restrictions for Victoria, NSW & the ACT impacting some competitors attending.
"We are a unique event that sees people spread far and wide over literally hundreds of kilometres and therefore avoiding a number of social distancing challenges associated with most events.
"The introduction of the TARGAcavalacade to take TARGA to the people avoids the mass gathering issues associated with holding TARGAfest on The Esplanade. This will ensure that the residents of Cairns and car lovers from across the region will still get to see the TARGA cars close up. It will be a fantastic day for families to get together and enjoy a brand new free event in Cairns."
TARGA Great Barrier Reef will be the first TARGA event of the year, with TARGA Tasmania cancelled in April because of the pandemic. The event commences on Friday September 4 and will conclude on Sunday September 6.
07.08.2020
New team member – Kevin Nicholls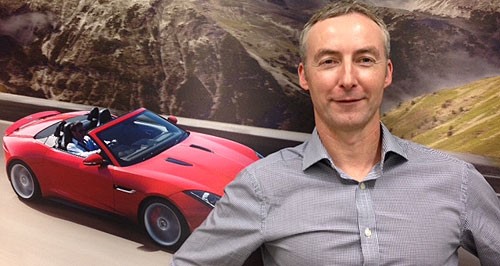 We are extremely excited to announce Kevin Nicholls has joined the TARGA team to help build the brand in growing corporate and VIP experiences.
Kevin brings a wealth of automotive marketing and events experience to TARGA, having previously held senior management positions with Porsche and Jaguar over the last 20 years across the UK, USA and Australia. Kevin played a key role in the introduction of Porsche customer experience events (Porsche TARGA Tours) at TARGA Tasmania in 2010, an event that has grown substantially over the last ten years to now include many more Porsche customers across all TARGA events.
When it comes to delivering high end corporate and VIP driving experiences Kevin is an industry leader, and we are looking forward to working with and learning from Kevin in the months and years ahead.
If you have any interest in our newly released TARGA Tour packages or have friends, family and/or colleagues that you would love to introduce to your exciting world of TARGA, simply reach out to Kevin via email; kevin@targa.com.au
31.07.2020
TARGA Great Barrier Reef COVID-19 Update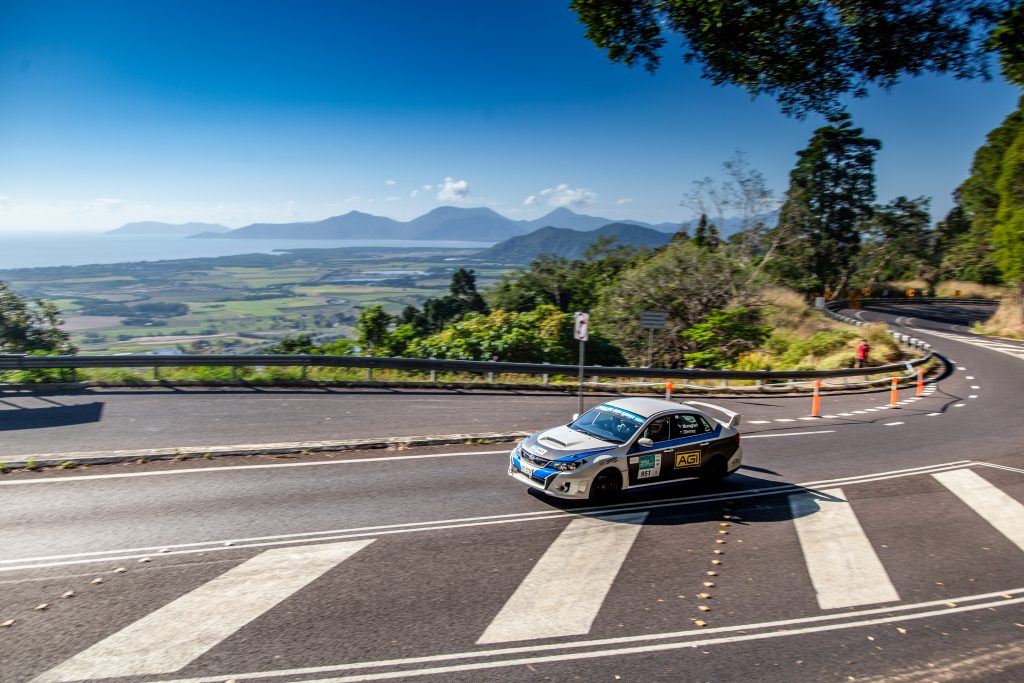 There is no doubt that these are challenging times for everyone, regardless of what we do in our lives.  The recent announcements from Queensland in relation to Victoria & Sydney has prompted a number of calls and emails to us in relation to TARGA Great Barrier Reef.  We feel sincerely sorry for those who cannot attend the event at this point in time and hope that the situation changes shortly to enable attendance. 
We encourage you to explore your exemption options as a number of sports people have been given exemptions in recent weeks to compete in their chosen sport in Queensland.  This is something you need to do yourself and is not something we can apply for as an event, has been our advice.  Some competitors are already undertaking this process.
Our main aim at the moment is to do everything we can to have all of the people and infrastructure we need in Cairns to put on TARGA Great Barrier Reef for the many people who can still attend, including the more than 80 Queensland based entries.  It is important that we continue to do all we can to ensure the events success, even if it does end up being smaller in scale than a normal TARGA event. 
Regions like Cairns have been hit very hard and with all other events normally held at this time of the year already cancelled, we would love to be the one that brings some fun and enjoyment back to the region.  We have the total support of the Cairns Regional Council and Tourism & Events Queensland to continue on with our plans to run this year's event.
Naturally, if you find yourself residing in an area that cannot currently travel to Queensland and you cannot secure an exemption to attend the event, we will transfer your entry payment to a future TARGA event over the next 12 months, including next years TARGA Great Barrier Reef. Please contact megan@targa.com.au to arrange this.  All other withdrawals will be treated in the normal manner.
In closing, a quick reminder that this is a fast changing situation, so we encourage you to explore all of your options and work out when is the latest date you need to make a decision on your trip to Cairns (and the transport of your car).  We will keep you updated each week on the situation as it comes to hand, keeping in mind that we only learn of the changes at the same time as you do, so we ask that you give us a day or so to address the impacts of any changes when they are announced.
We look forward to hopefully seeing you in Cairns in early September.    
28.05.2020
A TRIBUTE TO SIR STIRLING MOSS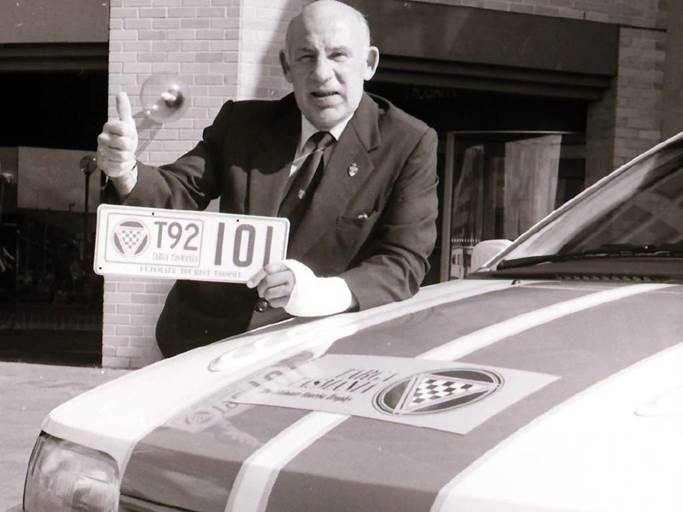 We salute you Stirling Moss for choosing to include TARGA Tasmania in your stellar career.
For John Large and myself, a chance meeting with Stirling and Suzie Moss, at the 1991 Adelaide Formula One Grand Prix, ignited Stirling's desire to compete in our new Event on the World Motor Sport stage – TARGA Tasmania 1992.
Stirling quickly grasped the uniqueness of the Competition – he tagged the TARGA Trophy base time trophy concept as brilliant.
As negotiations became official, Suzie was also swept up in the journey to down under.
Their LHD Shelby Mustang arriving in plenty of time for the inaugural Event in April, 1992.
As promoters of a brand new motor sport event, to have Stirling and his wife, standing alongside three former World Champions of the Sport, was every promoter's dream.
Like Sir Jack Brabham, Denny Hulme and Roger Clark, they knuckled down to the high level of competition from the locals.
Having immersed themselves in the people of Tasmania's obvious passion for this unique Event, they won their Class and a TARGA Trophy, returning to Europe, singing the praises of TARGA Tasmania as a must do motor sport experience for owners of Sports, Classic, GT Cars of distinction.
Over the ensuing years, the Moss' continued to promote the event we all love so dearly – The perfect ambassadors for TARGA Tasmania.
The TARGA Family say, thank you Suzie and son, Elliot, for loaning your "Special' Man to the world of motor sport – we're in your debt.
Ronda Matthews – Co-founder, TARGA Tasmania
18.05.2020
Vale – Ernie Bennett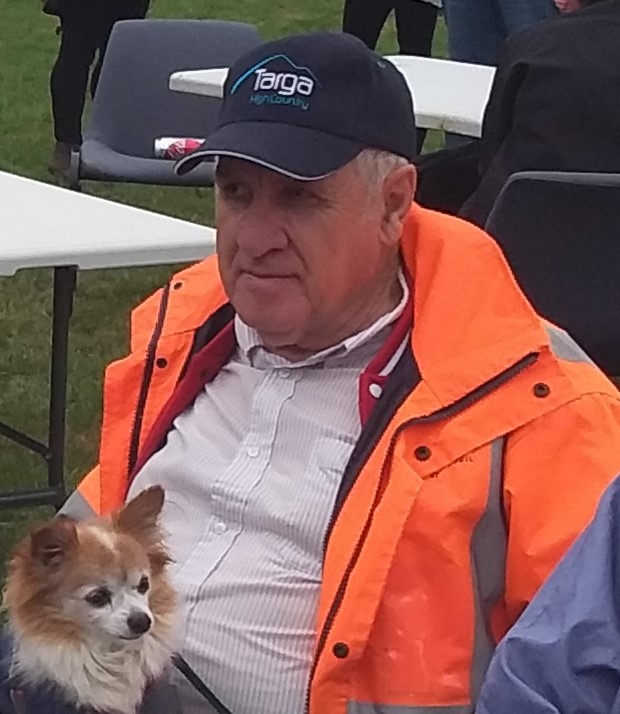 It is with great sadness we advise the passing of 25 year TARGA official Ernie Bennett on Sunday May 10 after a long hard battle with cancer.
Ernie was involved with TARGA for 25 years volunteering on TARGA Tasmania , TARGA West Point , TARGA Northwest and TARGA High Country. Ernie first started as a tracker, working his way through other roles up to Safety Officer.
Ernie grew up in the West Tamar area in the North of Tasmania. He was a true gentleman who devoted his life to his partner Lorraine and their little dog Rolli.
He loved to share his large historical knowledge of the West Tamar and always had a story to tell about his life growing up and working for the road crew in the West Tamar.
Ernie was involved with the West Tamar historical society and had a display of antique items he found around the area at the Beaconsfield Gold Mine Museum.
We would like to pass on our sincere condolences to Ernie's partner Lorraine and family. He will be dearly missed.
06.05.2020
A JACKET-FULL OF MEMORIES FOR TARGA OFFICIAL ASHMORE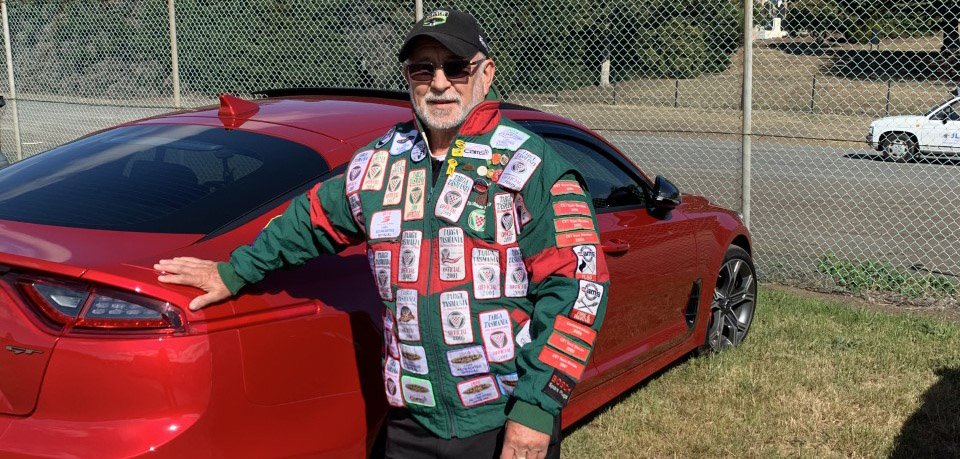 Original story from Motorsport Australia.
Michael Ashmore may not be a household name in the Australian motorsport community, but for those in the Motorsport Australia TARGA Championship, he is "kind of a big deal".
For the past 24 years, Ashmore has been an official for TARGA Tasmania's well known Woodbridge stage, a location where Ashmore is a resident himself.
However, it isn't just his work at events that has raised Ashmore's profile, it's the special jacket he owns, which features patches from every TARGA Tasmania he has attended over the past 25 years.
This year's running of TARGA Tasmania would have been his 25th year officiating at the event, however the 2020 edition was cancelled due to the COVID-19 pandemic, delaying Ashmore's impressive milestone by one year.
Remarkably, Ashmore admits his involvement in the event only came by through chance all those years ago and even more so when it came to the jacket's birth.
"I am not from Tasmania originally and I wasn't really involved in motorsport before I moved down to the apple isle," Ashmore explained.
"We moved to the town of Woodbridge, just south of Hobart, which hosted a stage and we would sit in the front yard, have a barbecue with some wine and watch the cars go by every year.
"Coincidentally, a friend of mine was asked if he could take on the Stage Director role for Woodbridge and he needed someone to be his deputy, so he casually asked me. Now, we're here 25 years later and I have done every single one since.
"As for the jacket, I won it as a prize during one of the event's appreciation barbecues for officials in my early years. I had some patches from previous events, so I just decided to have them sewed on. It's a tradition that has stuck.
"I tend not to wear it during the event but depending on where we are located, I may whip it out at dinners and there is a lot of positive feedback from people who are poking around looking for specific years.
"It has got to a point where I feel uncomfortable wearing in public as it has too many things on it, but I am still happy to bring it out here and there."
While Ashmore holds the deputy stage director role in his hometown, he also tends to travel out with the event and volunteer at other stages.
Outside of the biggest event on the tarmac rallying calendar, the 72-year-old also spends time volunteering at Symmons Plains as a fire marshal, giving him a lot of experience as a Motorsport Australia official.
Despite having such a wealth of experience, there is no specific moment that sticks out to him, even though he has seen a vast amount of change occur in that time.
"I have seen lots of change over the years. A lot of positive changes. I think it's run pretty well at the moment – especially since they have focused on bringing back the classic cars and made them prominent" Ashmore added.
"With that said, there isn't one memory that jumps out me. There are too many to choose from. Although, as a fan of champagne showers, attending the 2018 TARGA Great Barrier Reef podium as a spectator with my wife is something I'll never forget.
"Another aspect I love about volunteering at TARGA events is when competitors pull up at the finish and genuinely thank us for the doing what we do. Every year there are more and more competitors who acknowledge us, which is great.
"I just love doing TARGA events and they're special because they give small town locals a chance to see motorsport up close and from the comfort of their own home. I really hope to continue volunteering at these events for many years to come."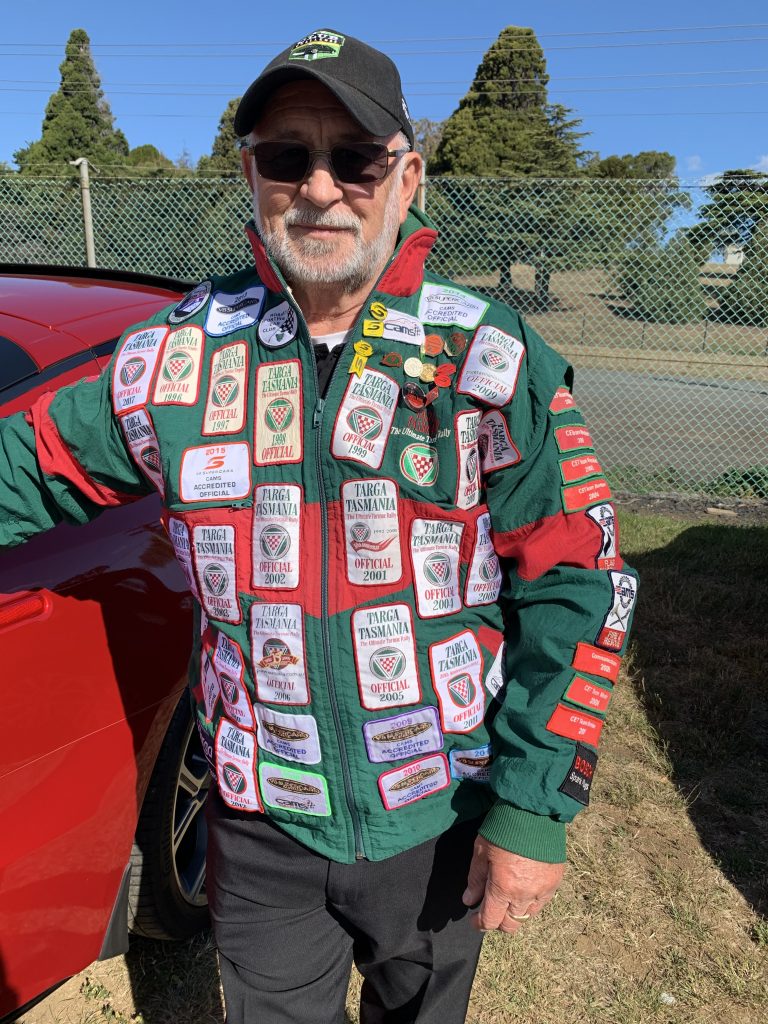 30.04.2020
TARGA Tasmania to become part of motor sport triple treat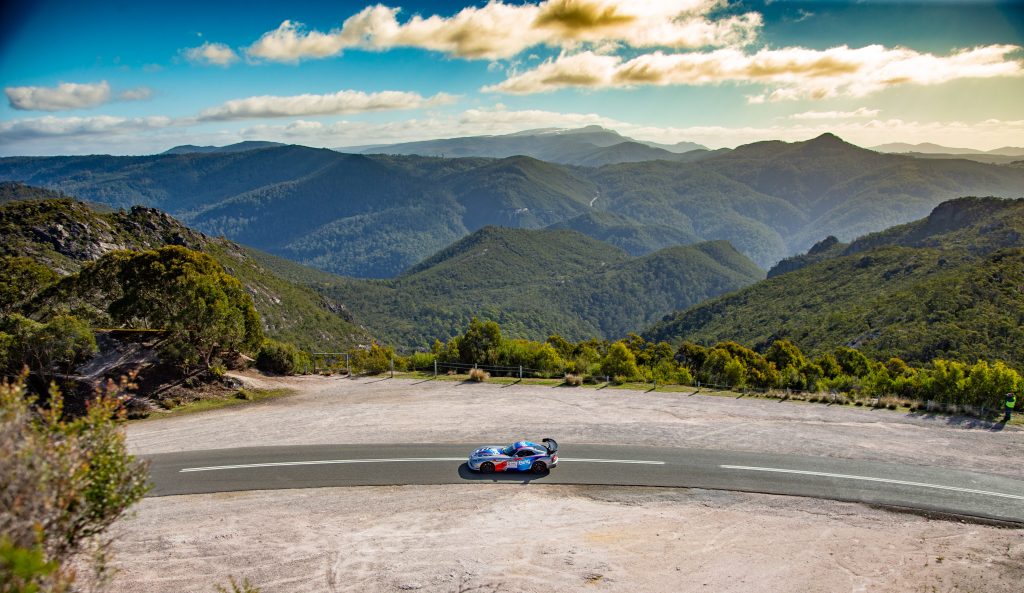 TARGA Tasmania's 30th anniversary event will mark a new timeslot in the sporting calendar with the event to move to a regular date in early March each year.
The tarmac classic will kick start a month of premium motorsport that will also include the Formula 1 race in Melbourne and the Supercars round at Symmons Plains.
The 29th running of the event, now to be held in 2021, will remain with the traditional post-Easter dates of April 19 to 24, before swapping to the March dates the following year for the major 30th anniversary event.
TARGA have confirmed the dates out to 2027, with the event now tied to the week leading into the March Eight Hour Day long weekend. The F1 round will follow the following week with the Supercars due in the state in the weeks after that.
The event will also return to its traditional Tuesday to Sunday format, rather than Monday to Saturday, allowing more opportunities for Tasmanian fans to access the cars in action over the final weekend. The Monday following the event will be the public holiday providing an additional economic boost to the state.
The dates for the 30th Anniversary and beyond have been set as:
* 8 to 13 March 2022 (30th Anniversary)
* 7 to 12 March 2023
* 5 to 10 March 2024
* 4 to 9 March 2025
* 3 to 8 March 2026
* 2 to 7 March 2027 (35th Anniversary)
Events Tasmania has agreed to the change, and TARGA CEO, Mark Perry, says the new dates will underpin the ongoing success of TARGA Tasmania.
"Having a set time on the calendar every year is a huge advantage for us to be able to continue to attract people to the event," Perry said. "It makes everyone's planning much simpler compared to the moving feast of dates we have always had to deal with, which resulted in TARGA being run anywhere from mid-April to early May.
"The March date also is far more appealing to visitors coming to Tasmania – they can enjoy our wonderful early autumn weather and the long days courtesy of daylight savings.
"We increasingly see the tour component of the event growing – people who have great cars and simply want to enjoy driving them on our great roads and enjoy the best of what Tasmania has to offer – and a March timeslot is much more appealing to them than the colder, wetter traditional spot.
"There is no doubt that losing the event this year was a blow, but with the support of Events Tasmania we can now plan for the future with great confidence. TARGA Tasmania is here to stay and now enjoys a premium spot on the Australian Motorsports calendar."
The next event scheduled on the TARGA calendar is TARGA Great Barrier Reef from September 4 to 6, with early bird entries now extended to May 15. The final round of the year, Targa High Country based at Mt Buller, has a new date as well. It will now run from November 13 to 15, a week later than originally scheduled.
24.04.2020
Lotus Exige Sport 410 TARGA Edition
Together with Lotus Cars Australia, we are excited to introduce the Exige Sport 410 TARGA Limited Edition Coupe, an Australian-only machine limited to 10 units nationally.
"The catalyst for this car was the success the Exige has enjoyed in TARGA competition. Having won the Australian TARGA Championship back to back in 2018 and 2019, it seemed fitting to pay tribute with a Limited Edition car" said Lotus Cars Australia CEO, Lee Knappett. "2019 was an extremely successful year, with Lotus owners winning the TARGA championship in all four classes that our cars were eligible (TSD, GT Sports, GT2 and Outright)".

TARGA is an important part of the comprehensive event calendar that Lotus Cars Australia delivers to customers through its national dealer network. Knappett went on to say "Some of our customers have been doing TARGA for a long time, but our relationship with TARGA at a manufacturer level really started in 2015 when we supported four cars competing in TARGA High Country. Since then, our involvement has expanded to include an official Lotus Tour group, and we regularly have over 25 cars in the field at each event. TARGA is a great fit for our customers."

TARGA CEO, Mark Perry said "The launch of this amazing new Lotus simply solidifies our fantastic relationship and will enable TARGA competitors across the country to compete in our iconic events knowing that they have a great chance of winning. Lotus have won the last two Motorsport Australia TARGA Championships, and this combined with their heavy presence in our TARGA Tours and speed-limited competitions means that Lotus are one of our signature brands. We look forward to seeing this fantastic looking Exige at our events and out on the streets, proudly displaying the TARGA brand".

Unique TARGA Specification
Immediately standing the Exige Sport 410 TARGA Limited Edition out from the crowd is the addition of cup style side air intakes and rear wing, both finished in carbon fibre. TARGA decals complete the exterior features of the car. Customers have the choice of any metallic paint colour in the Lotus range.
Moving inside the car, the TARGA pack adds carbon fibre race seats, harness bar, 4 point driver harness and fire extinguisher, all of which make the car ready for entry level driving at TARGA, or any of the many track day and sprint events available to Lotus customers.
For customers wanting to pursue higher levels of TARGA competition, a dealer fit Australian Motorsport compliant roll cage option is available. The addition of an interior colour pack adds a bit of 'swish' to a cabin that already includes full Alcantara trim.

The TARGA pack adds to the already long list of performance and lightweight components that define the Exige Sport 410. Weight savings come from the carbon fibre front splitter, front access panel and rear boot lid, as well as the ultra lightweight forged alloy rims shod in sticky Michelin Pilot Cup 2 tyres, while suspension performance comes from three way adjustable Nitron dampers, Eibach springs and 3 way adjustable anti roll bars front and rear.
The driving power behind this car comes from the tried and tested 3.5L V6 which is forced inducted by a charge cooled twin scroll style supercharger to generate 410bhp and 420Nm. The engine itself has a baffled sump to prevent oil starvation during high speed, high load corners, and power is put to the ground through a 6 speed H-pattern gearbox running sports ratios.

Braking is courtesy of AP Racing, with forged, four-piston calipers and high performance two-piece J-hook brake discs. With a higher thermal capacity and improved bite, these discs have better debris clearance and impart consistent pedal feel with greater stopping power.

The driver has a choice of four drive modes, 'normal', 'sport', 'race' and 'tcs off'. Each mode reduces ESP intervention, allowing drivers to explore car limits as their confidence grows.

Lotus standard warranty terms and conditions apply to the Exige Sport 410 TARGA Limited Edition (3 years, unlimited Km). The cars also come with 3 years roadside assistance as part of the Lotus Assist programme.

Limited Edition Value
At $174,990 RRP (a $5k uplift on the base car without options), the TARGA Limited Edition represents excellent value buying when you consider the combined RRP value of all options fitted is just over $12,500.
To purchase or order a bespoke colour, contact your local dealer, which you can find via the link – https://www.lotuscars.com/en-AU/dealers/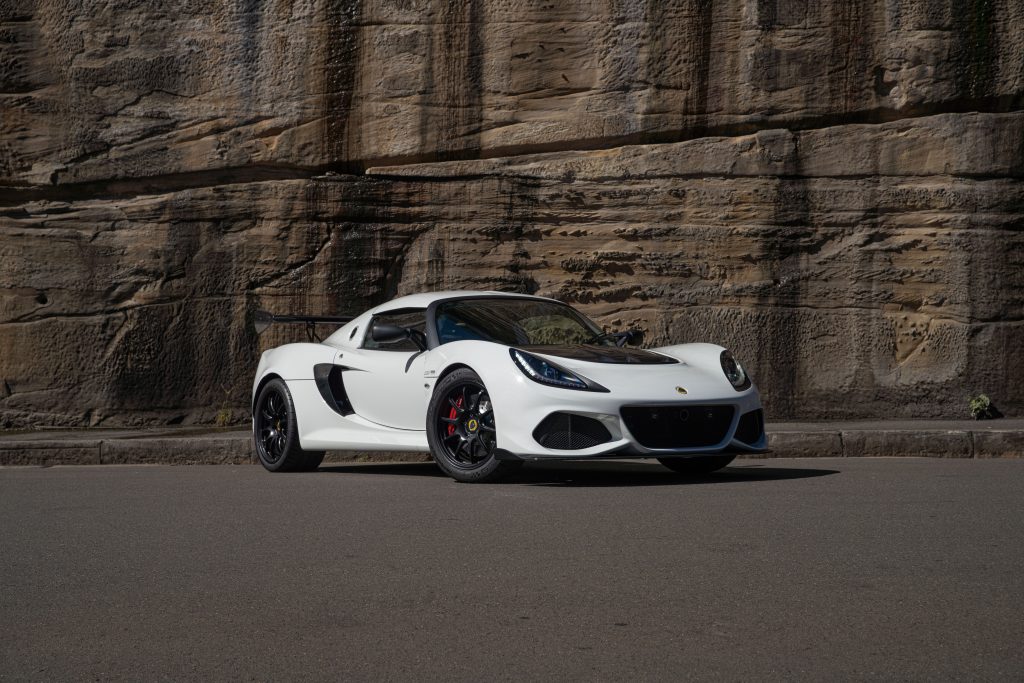 18.03.2020
Impact of COVID-19 sees 2020 TARGA Tasmania cancelled
After careful consideration for the health and welfare of everyone involved in TARGA Tasmania, but more importantly, the 500,000 plus people who call Tasmania home, we announce the cancellation of this year's TARGA Tasmania event, which was due to be held from 27th April to 2nd May.

Given the uniqueness of TARGA, an event which visits all corners of the island, we felt that the health risk to the Tasmanian community of conducting our iconic rally was too great based on sound advice from a number of experts.

Whilst it is sad news that for the first time in its history, dating back to 1992, TARGA Tasmania will not be run, we are already focusing on the future and staging the 29th edition of TARGA Tasmania in 2021 followed by the 30th Anniversary event, which will now be held in 2022.
If you have any thoughts or questions, feel free to email us at enquiries@targa.com.au
06.03.2020
Gina Siddins on women in motor sport
Gina has always had the need for speed having grown up around cars and following her Dad around from the age of 5 working on cars around the house.
"I remember my Mum had a Ford Capri and Dad needed to remove the valves. He didn't have the right tools to remove the collets so he used two screw drivers to push the springs down and I used my little fingers to pluck the collets out one by one! Even so young, I was so proud of what I had achieved," Siddins said.
Working at the Gold Coast Indy as Relationship Manager and other motor sport events in corporate areas, Gina always longed to get out on the track herself.
"I've always watched all the Bathurst events and followed some inspirational drivers in various forms of motor sport including Jim Richards, Dick Johnson, Kevin Bartlett, Scotty McLaughlin, Daniel Ricciardo, and Ari Vatanen. Although all these drivers are all male, I grew up in an era where women in motor sport wasn't promoted.
"We're lucky that isn't the case anymore and I encourage women to get into motor sport at every opportunity. I'm actually speaking at a Historic Racing Car Club Queensland event later this year."
Gina's husband, Jon introduced her to motor sport where she finally found her niche! "I started out with a Level 2 Speed licence and some training with Paul Stokell and loved every minute of it. I graduated to a Clubman Circuit Licence and National Rally Licence and now compete in Track Sprints, Regularity, Improved Production and of course tarmac rally as Co-Driver with my husband in our Team 24oz in TARGA events in our 1970 Datsun 240z.
We now have three Datsun 240z's, a Nissan Pintara TRX 3E Production Touring Car which was raced at the 12 Hour in 1993 and 1994 (my first race car!) and a Datsun 1600. After all, it's like handbags, you can never have too many!"
Gina loves the exhilaration you get from motor sport – the thrill of bettering yourself in terms of your driving ability; being passionate about braking later, hitting that apex better on the next lap, focusing on your gear changes, increasing your lap speed, the camaraderie amongst competitors particularly at TARGA events, sticking it to the boys when you pass them on the track and of course winning trophies. "After all, I am known as the 'Trophy Queen'!"
Gina competed in Regularity in the Bathurst Challenge event for the first time in 2017 in the Nissan Pintara and did 193.2 kilometres down Conrod Straight! "I thought every panel was going to fall of the car! Not bad for a stock standard engine and the only modification being better shocks. This was the most exhilarating experience being on the track at Bathurst in a car that had been raced there many years before."
In terms of rallying, Gina said she would not be where she is today if it weren't for their wonderful sponsors, service crews and our passionate fans. "They make it all worthwhile when they support us through the ups and downs of motorsport.
"It doesn't matter what age you are, there is always the opportunity to get into motor sport in one form or another. I remember a quote from Ari Vatanen, famous Finnish Rally Driver – "speed doesn't know your age & neither does a rally car".
"Whether it be volunteering as a track marshall, working in timing or as a part of the service crew for a team. I've started out in these roles and have a much greater appreciation for the critical roles that volunteers play in allowing us to race. These roles can lead to getting behind the wheel if you are keen."
If you want to get into motor sport but you don't know how, Gina has offered you contact her via her Team 24oz Facebook page and she would be happy to give you some ideas or put you in contact with some clubs or other volunteers in your area. 
International Women's Day takes place in Sunday, March 8th. For more information, visit https://www.internationalwomensday.com/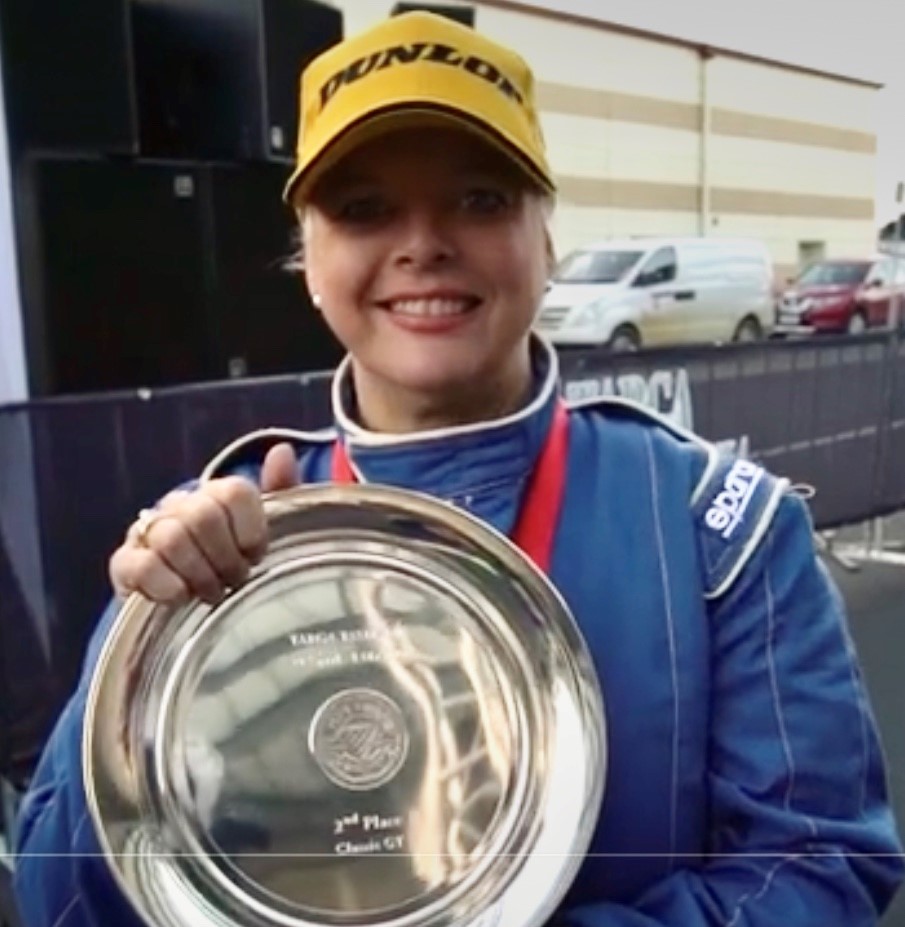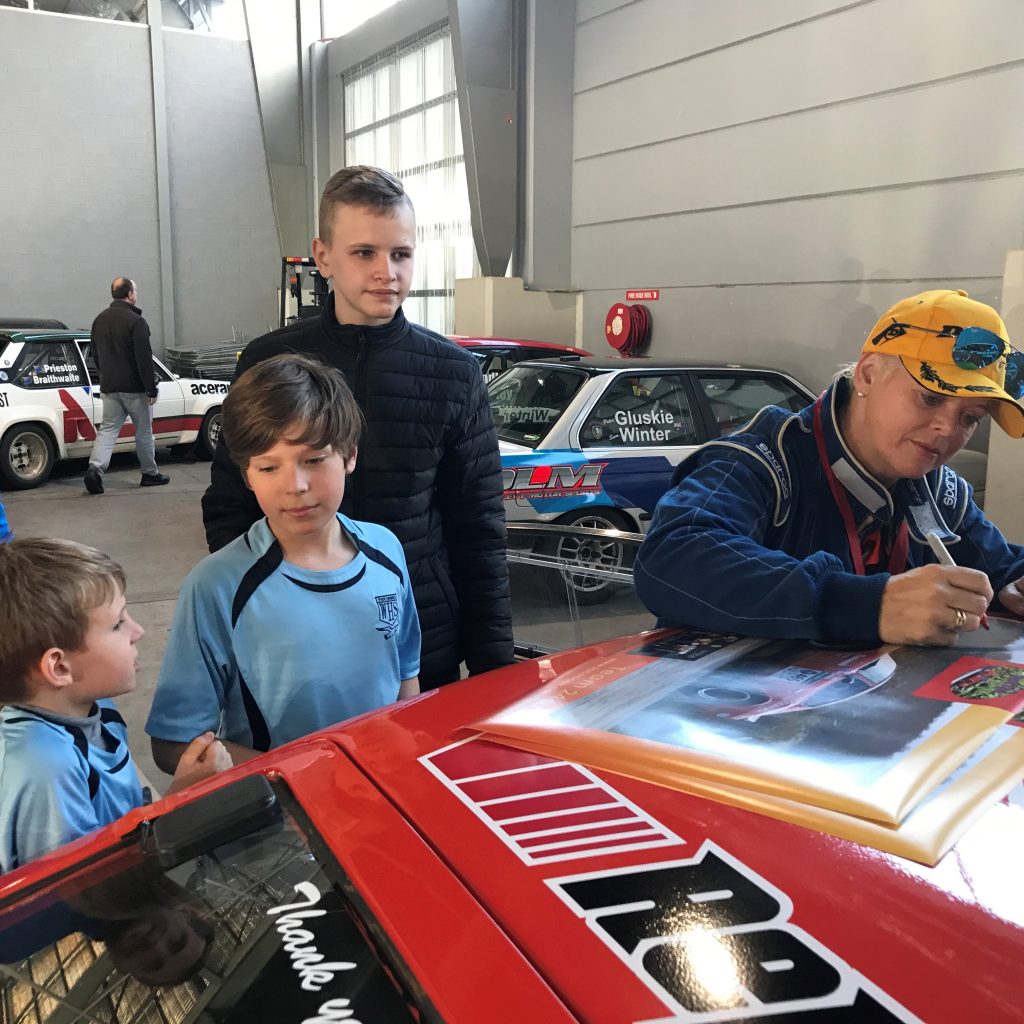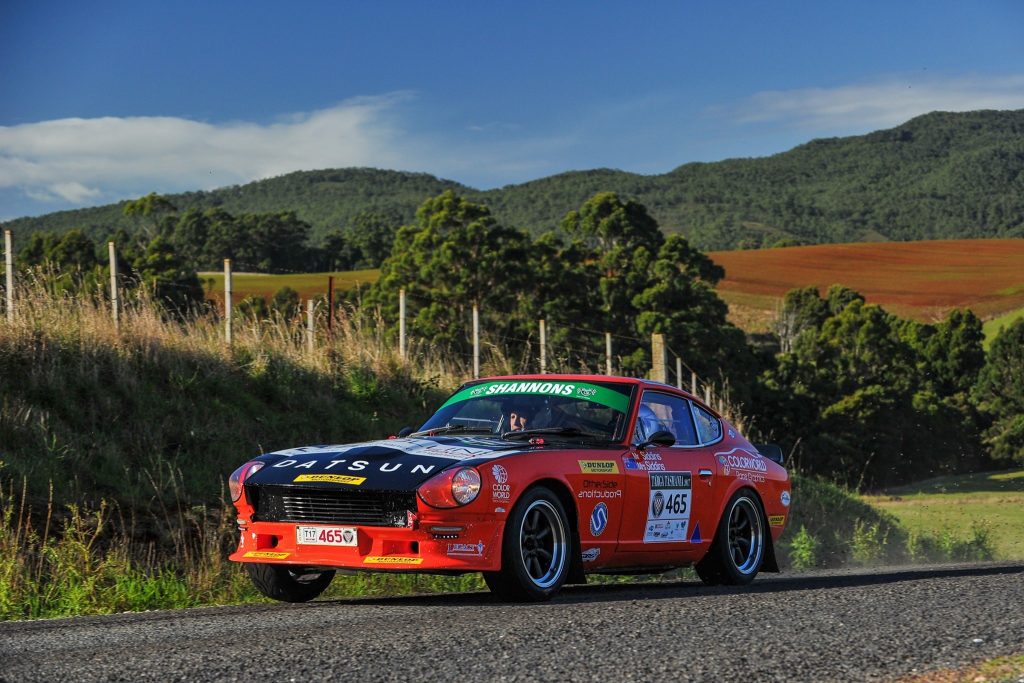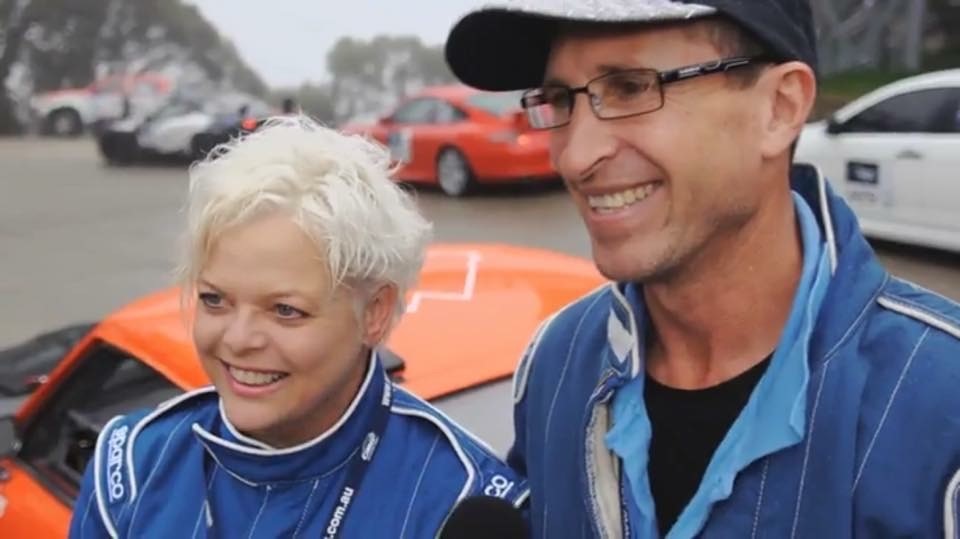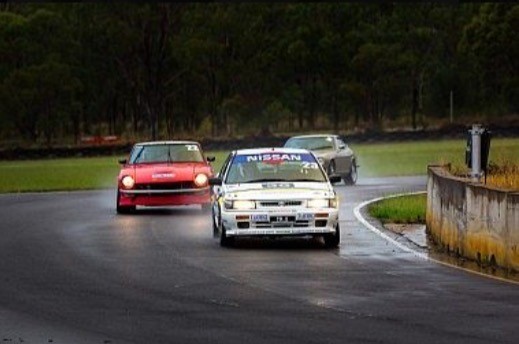 06.03.2020
Kelly Handley advocating female participation in motor sport
Kelly Handley's introduction to motor sport came via her husband, Duncan. He started doing track days when he bought a sports car many years ago.
"I'm not the kind of person that likes sitting on the sideline, so I jumped into the driver's seat at an Oran Park track day, and the rest is history as they say," Handley said.
Handley initially got into navigating because Duncan gets horribly travel sick! TARGA Tasmania was on both of their bucket lists, but since there was no chance Duncan would make it through the first stage without turning green, Handley jumped into the nav seat.
"I loved it from the moment I did my first prologue at George Town, worked out I was not too bad at navigating and have ended up doing more racing than Duncan over the years as a result. In fact, all going to plan next year will be my 15th Targa Tasmania.
"I've now been participating in motor sport at a club, state and national level for 15+ years, across a range of other disciplines including gravel rallying, super sprints, motorkhanas and hill climbs. I've also been an active member of CAMS affiliated clubs through this time including taking on leadership roles such as the Vice President of the Skyline Club NSW."
Handley believes the people you meet and friendships you make with people from all walks of life is one of the biggest reasons she stayed in the sport for so long.
"There are many amazing people in my life today who I would have never met if not for Motorsport.
"The thing I love specifically about rally is the teamwork that goes into getting a car to the finish line and the fact that it's not just your own service crew but the rally field that's got your back. We all help and look out for each other & do everything we can to make sure everyone makes the finish line."
Handley attributes her self-confidence to her career in motor sport, "when you get into a rally car as a navigator, you take on a huge responsibility, and it has given me the ability to perform well under pressure and maintain focus. It's also given me lots of practical life skills like being able to change a tyre quickly and diagnose and fix basic car problems.
"Finally – and most importantly – I love that motor sport is an equaliser when it comes to gender – many of the best drivers I've navigated for just so happen to be women including Matilda Mravičić, Melinda Bergmann and Luana Garwood. In fact, I stood on my first TARGA podium with a woman (Matilda at TARGA Wrest Point).
"I've always been an advocate for women's equal participation in all areas of life, and I love that rallying is the most advanced in this area within motor sport. TARGA is really leading the way in this – something like almost 40% of participants are women (accounting for competitors, service crews, officials and of course the organising team!
"The opportunities really are endless, and it's so much easier to get involved than people think.
"I think it's fair to say Motorsport has a reputation for being a male-dominated sport and that can be very intimidating. But it's also absolutely changing, and in fact, some of the biggest supporters of women in motor sport I know are men.
"The way we accelerate this change is with initiatives such as this – promoting the many ways women are involved and achieving in the sport.
"The biggest challenge is women don't necessarily realise how easy it is to get involved in Motorsport and the many ways you can do this. You don't have to be in a race car to be involved. In my experience, the people involved in motor sport are all very welcoming, and like many volunteer organisations always have many roles to fill.
"In the context of TARGA, this can be joining a service crew, getting involved as an official or even standing behind a camera/video camera!
"The key really is continuing to cover and celebrate the many great women involved in the sport, supported by the message that everyone can do the same."
International Women's Day takes place in Sunday, March 8th. For more information, visit https://www.internationalwomensday.com/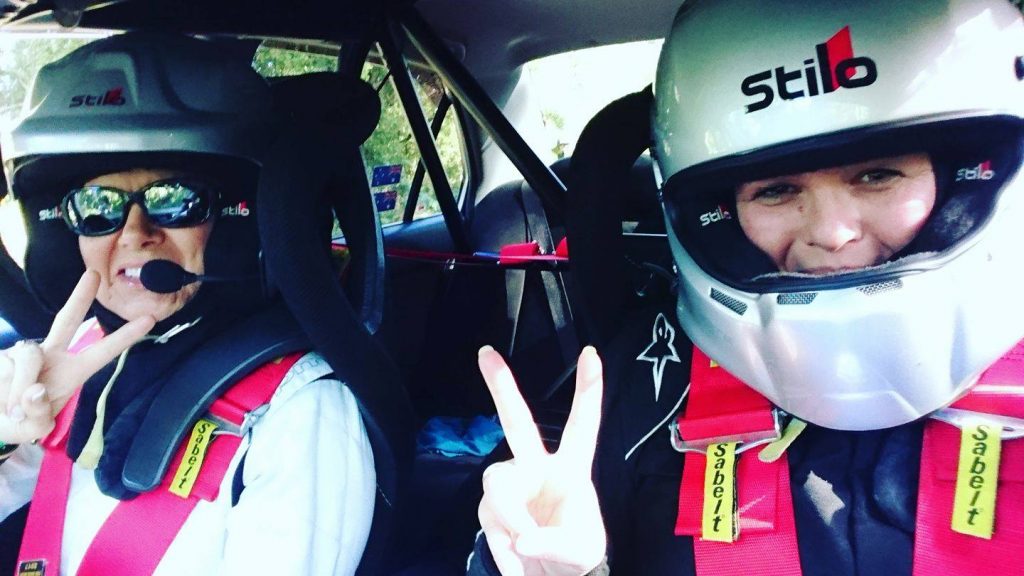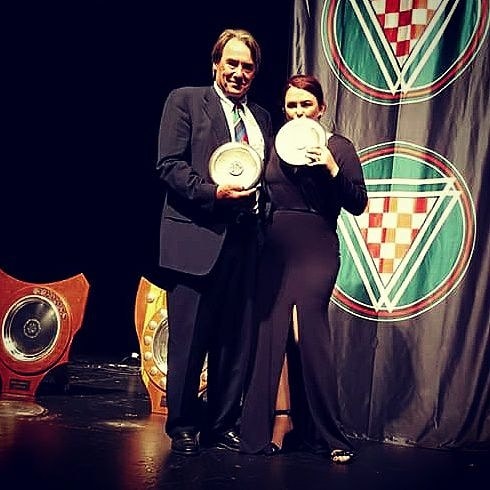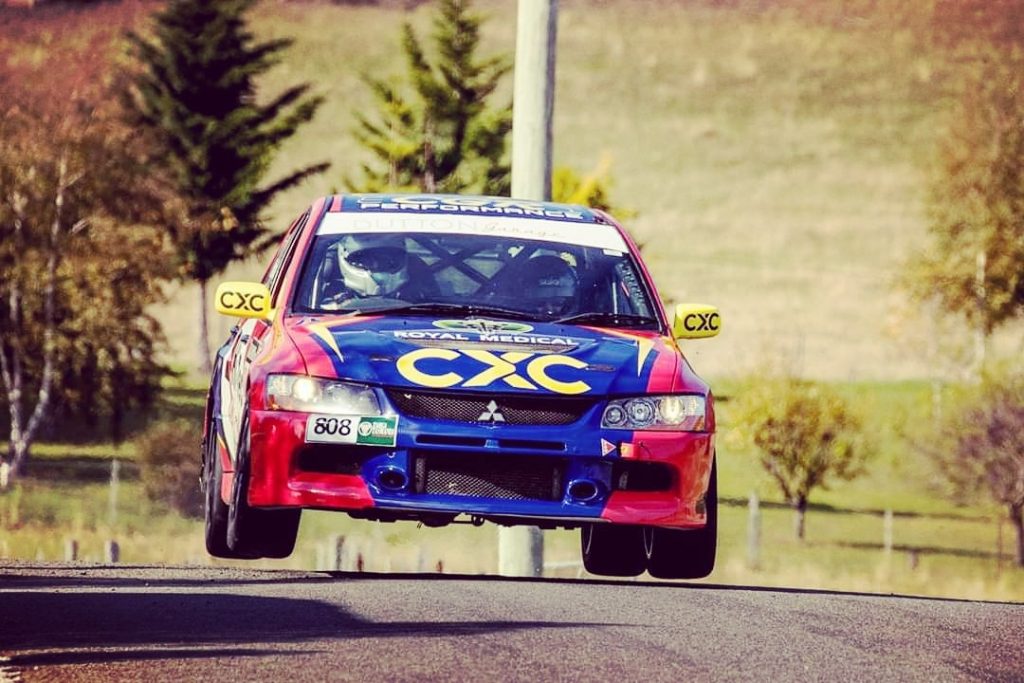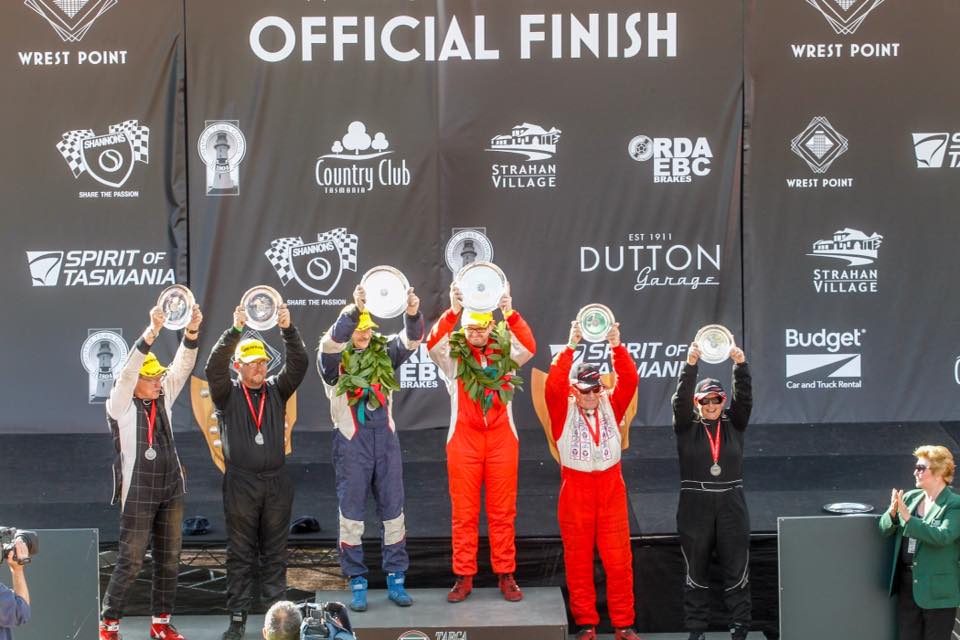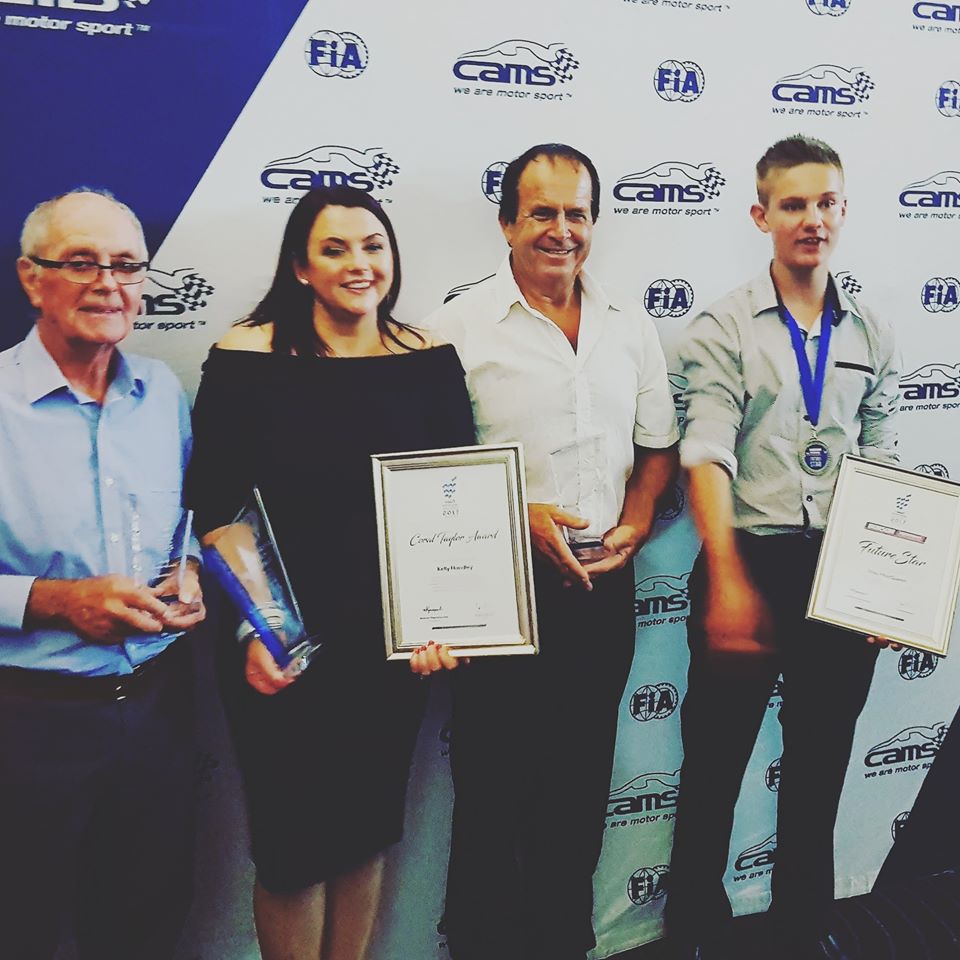 27.02.2020
ICONIC CASSOWARY COAST ADDED TO TARGA GREAT BARRIER REEF ROUTE
TARGA Great Barrier Reef will undergo a major transformation with the exciting Cassowary Coast added to the tarmac rally course from September 4-6.

The biggest route change since the maiden TARGA Great Barrier Reef in 2018 will see multiple stages run in the Cassowary Coast region, approximately 100km to the south of the event's base in Cairns.

Already widely acclaimed, the event injected $3 million in the Far North Queensland economy with 85 percent landing in the private sector last year.

The inclusion of the Cassowary Coast will see the total competitive distance of the event jump to 230.97km, an increase of 25 percent while the total number of timed stages increases to 20, up by four.

While the whole course remains provisional at the moment, the plan sees eight stages on the Cassowary Coast on the middle of the three day event, Saturday September 5. The inclusion adds an exciting new dimension to TARGA Great Barrier Reef with the area's stunning topography and unique reef location.

"TARGA Great Barrier Reef brought this large scale motorsport event to Far North Queensland that engaged many motoring enthusiasts, along with activating hundreds of volunteers with an interest in cars," TARGA chief executive Mark Perry said.

"Aside from injecting direct economic benefits to local business and trades, our various promotion and broadcast platforms offer great publicity value to the destination in which we're touring."

"We have identified provisional stages and will be issuing letters to all residents who may be impacted by the event, and encourage anyone with questions to contact TARGA direct."

Attuned to operating in regional locations with precious wildlife populations, TARGA has enlisted the advice of world leading veterinarian specialising in Cassowaries, Dr Graham Lauridsen, to mitigate any risk to the region's local population.

"I'm pleased to know that in designing this course TARGA officials are considering the habitats of local wildlife and will engage a mitigation strategy to ensure all due care is put into place for this event," Dr Lauridsen said.

"Among those strategies will be considerations of time of day that particular roads will be utilised for the course to avoid Cassowary interactions, and spotting marshals as an added safety mechanism."

TARGA's major digital campaigns and television package will showcase the region's majesty to a national and international audience through the Nine Network in HD and distributed to a potential global audience of two billion.

Cassowary Coast residents are encouraged to be part of TARGA Great Barrier Reef with the event organisers seeking to fill a multitude of volunteer positions.

Significantly more than 2000 people had direct involvement in the 2019 event with a further 40,000 spectators attending TARGAFest, TARGA Expo and the competition stages on Far North Queensland's unique roads.

TARGA Great Barrier Reef is the second leg of the three-round Motorsport Australia TARGA Championship that begins with the time-honoured TARGA Tasmania in late April and concludes with TARGA High Country based at Mt Buller in Victoria in November.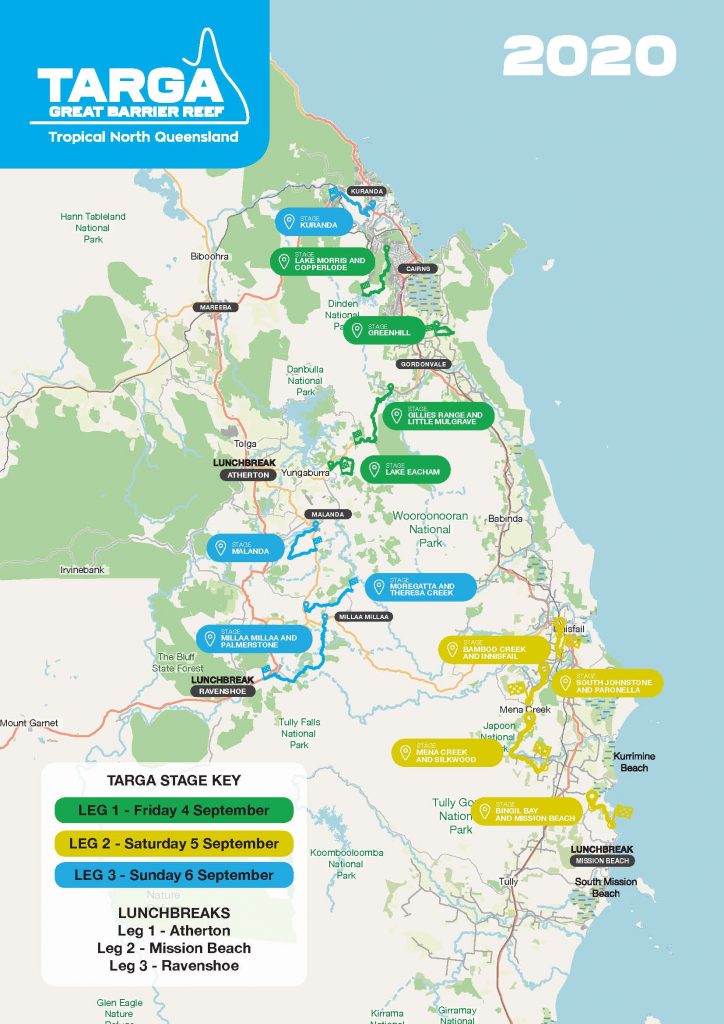 21.01.2020
TARGA launches powerful 2020 rebrand
The biggest revamp undertaken in the history of TARGA will take its suite of industry-leading tarmac rally events to the next level.

A comprehensive overhaul of TARGA's brand and business strategy will target growth in new competitors and spark greater appeal for the fan base of the iconic TARGA Tasmania, TARGA Great Barrier Reef and TARGA High Country events.

A year on from the acclaimed Dutton Group purchasing TARGA, the brand recently commissioned an extensive in-house analysis that will now see a fresh business path and marketing direction.

The business known previously as Targa Australia will make way for a brand new name, TARGA, which will incorporate a powerful new logo that re-enforces the unique tarmac rally discipline while acknowledging the rich history and heritage of the brand.

While TARGA is adopting a more modern and contemporary look, it has a clear mission that will deliver the Ultimate Tarmac Rally experience for competition entrants, and become the must-have driving experience for car enthusiasts and fans.

TARGA is committed to investing in customer experiences, starting with streamlining the rules to enable competitors to have greater freedom and more choice.

Importantly this investment will make it easier for new competitors to participate and also transform the business into a more user-friendly fan experience.

The new structure recognises the historical significance of the competition classes while also giving added weight to the burgeoning numbers of motoring enthusiasts who want to drive their cars on closed roads.

The TARGA Competitions brand ambition is to be the bona fide leader in unique rally events while TARGA Tours aims to be the ultimate driving getaway.

Central to the new TARGA focus is a completely redesigned website, TARGA logo, refreshed event logos and more streamlined and clear social media presence across all the major platforms.

The TARGA website will provide comprehensive course outlines, entry lists and Australian TARGA Championship points table.

"The past year was an incredible year of change at TARGA and it's now time to really focus our efforts, with the first step being a major rebrand and well overdue update of our customer facing website," TARGA chief executive Mark Perry said.

"These updates are a small reflection of the big changes we're making across the company to better serve our customers."

TARGA's business and marketing restructure comes soon after confirmation that TARGA Tasmania (April 27-May 2) will see the longest competitive course in the famed event's history. 

TARGA Tasmania will feature 39 stages over 626 kilometers that will include two brand new stages and a recall of several discontinued tests.
21.01.2020
2019 Modern Outright results now confirmed
The results of the 2019 CAMS Australian TARGA Championship are now official.
The positions of Modern Outright had remained provisional following TARGA High Country last November.
Paul Stokell and Kate Catford (2014 Lotus Exige 350) compiled 389 points to claim the title over Tasmanian's Jason and John White (2016 Dodge Viper) who finished on 240 points.
Motorsport Australia confirmed the results after protests were dismissed following the final round at Mt Buller.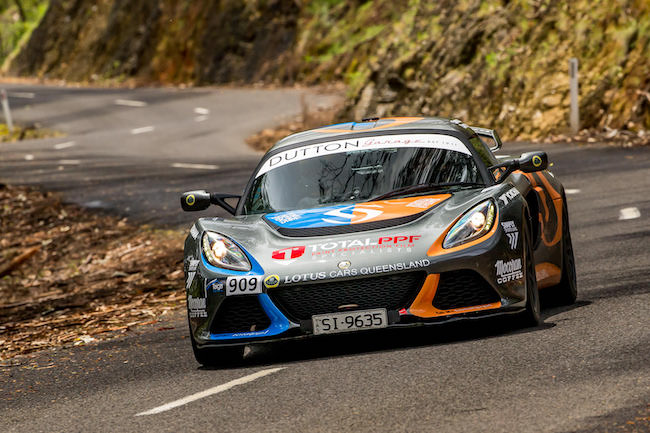 11.11.2019
Stokell and Downey secure prestigious CAMS awards
Tasmanian raised Paul Stokell is adopting a no-risk approach as he attempts to cap off a signature season at the 10th anniversary TARGA High Country from November 8 to 10.
The Brisbane-based Stokell is coming off a highly successful year highlighted by a maiden win in the flagship TARGA Tasmania six months ago.
A former highly decorated circuit racer, Stokell has combined seamlessly with the experienced co-driver Catford for the last three events (runner-up at TARGA North West, won TARGA Tasmania, runner-up TARGA Great Barrier Reef).
"Kate hasn't missed a beat and has been well and truly up to the job," Stokell appraised.
"Even when it is wet and slippery and a bit hairy on some stages she doesn't get thrown.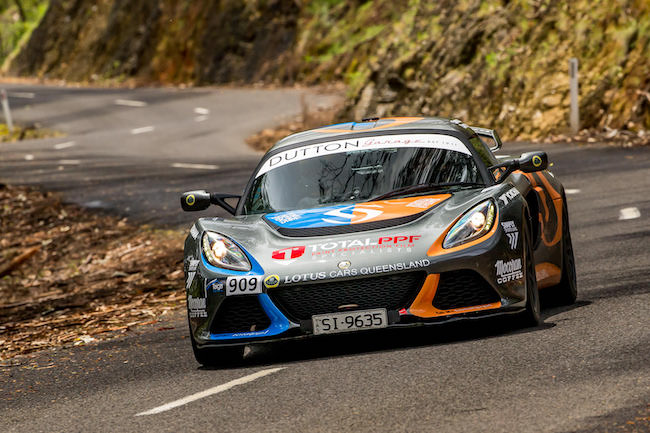 "It's a credit to her and is very good at what she does."
Stokell has taken heart that his 2014 Lotus Exige Sport 350, upgraded this year with a new supercharger package, is closer to the outright speed of his chief rival Jason White, driver of the 2016 Dodge Viper alongside uncle John White.
At the North Queensland event in early September, Stokell managed to edge the Viper in dry conditions on the Gillies Range and Little Mulgrave stages on the opening day.
"It was the first time we took him on a level playing field and beat him in the dry so I was pretty happy with our performance," Stokell said.
"I think we are in a pretty comfortable position (going into High Country) providing we stay on the road.
"I'm not going to do anything silly. It's pretty achievable for us.
"I guess when you are pushing for a podium the risks go up a bit.
"But I'll push as much as we are comfortable without making mistakes and see where that leaves us.
"The High Country roads probably don't suit us as much as other events.
"It's not ideal but we will see how we go."
Victorian Matt Close, who has netted a couple of High Country wins and is a regular competitor at the event, will run a brand-new Porsche 911 GT3 in lizard green livery.
Close and co-driver Cameron Reeves are yet to test the new Porsche however it essentially is running the same suspension as his previous GT3 in which he finished second behind the White Viper at High Country last year.
In outright classifications last year at TARGA High Country, Close was runner-up to the White Viper while Stokell was sixth.
Mick Downey and Jarrod Van Den Akker are favourites to defend their 2018 High Country crown in Classic GT after a solid year.
Similarly Luke Anear and Alan Stephensen have been strong all year in GT4 and are keen to erase memories of their DNF at the Mt Buller event last year.
In Early Modern, the season's form driver Will Gordon will be joined by new co-driver Kelly Handley as he seeks to continue his class-leading edge.
Classic Handicap is always an intriguing battle with top contender Nik Prieston joined by Stephanie Esterbauer in his 1975 Fiat Abarth 131 Rallye.
Last year's High Country handicap runners-up Peter Gluskie and Sam Winter will prove stiff competition to the Fiat after strong form in their brilliantly competitive BMW E30 325i.
Mitchell and Darryl Ringuet (2017 Lotus Exige Sport 350) and Anthony and Sandra Seymour (2013) have waged a fierce battle all season and are set to continue their fight in GT Sports Trophy)
Peter and Tristan Taylor are in the box seat to defend their High Country title from last year in the penalty-based TSD Sports Trophy category.
The ever popular Street Stage and TargaFest is scheduled to be held at Mansfield from 3pm on Saturday, November 9.
Check Road Closures and Opening Times across the three-day event.