A JACKET-FULL OF MEMORIES FOR TARGA OFFICIAL ASHMORE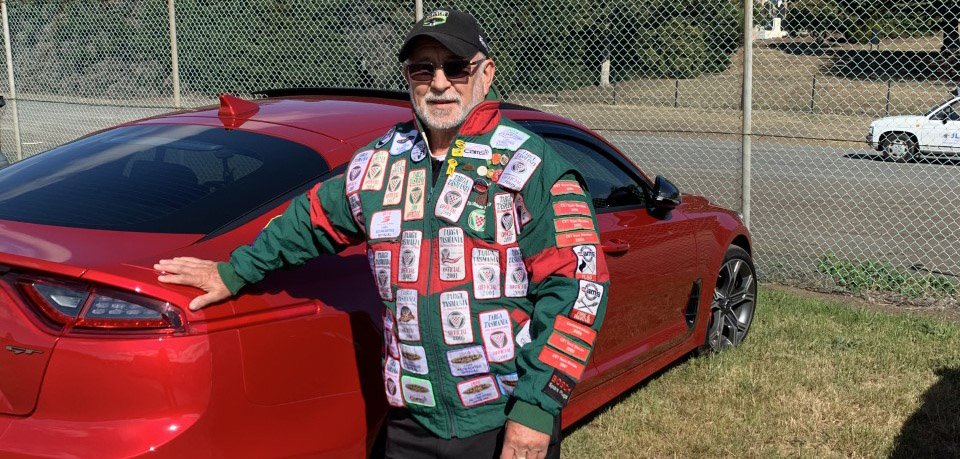 Original story from Motorsport Australia.
Michael Ashmore may not be a household name in the Australian motorsport community, but for those in the Motorsport Australia TARGA Championship, he is "kind of a big deal".
For the past 24 years, Ashmore has been an official for TARGA Tasmania's well known Woodbridge stage, a location where Ashmore is a resident himself.
However, it isn't just his work at events that has raised Ashmore's profile, it's the special jacket he owns, which features patches from every TARGA Tasmania he has attended over the past 25 years.
This year's running of TARGA Tasmania would have been his 25th year officiating at the event, however the 2020 edition was cancelled due to the COVID-19 pandemic, delaying Ashmore's impressive milestone by one year.
Remarkably, Ashmore admits his involvement in the event only came by through chance all those years ago and even more so when it came to the jacket's birth.
"I am not from Tasmania originally and I wasn't really involved in motorsport before I moved down to the apple isle," Ashmore explained.
"We moved to the town of Woodbridge, just south of Hobart, which hosted a stage and we would sit in the front yard, have a barbecue with some wine and watch the cars go by every year.
"Coincidentally, a friend of mine was asked if he could take on the Stage Director role for Woodbridge and he needed someone to be his deputy, so he casually asked me. Now, we're here 25 years later and I have done every single one since.
"As for the jacket, I won it as a prize during one of the event's appreciation barbecues for officials in my early years. I had some patches from previous events, so I just decided to have them sewed on. It's a tradition that has stuck.
"I tend not to wear it during the event but depending on where we are located, I may whip it out at dinners and there is a lot of positive feedback from people who are poking around looking for specific years.
"It has got to a point where I feel uncomfortable wearing in public as it has too many things on it, but I am still happy to bring it out here and there."
While Ashmore holds the deputy stage director role in his hometown, he also tends to travel out with the event and volunteer at other stages.
Outside of the biggest event on the tarmac rallying calendar, the 72-year-old also spends time volunteering at Symmons Plains as a fire marshal, giving him a lot of experience as a Motorsport Australia official.
Despite having such a wealth of experience, there is no specific moment that sticks out to him, even though he has seen a vast amount of change occur in that time.
"I have seen lots of change over the years. A lot of positive changes. I think it's run pretty well at the moment – especially since they have focused on bringing back the classic cars and made them prominent" Ashmore added.
"With that said, there isn't one memory that jumps out me. There are too many to choose from. Although, as a fan of champagne showers, attending the 2018 TARGA Great Barrier Reef podium as a spectator with my wife is something I'll never forget.
"Another aspect I love about volunteering at TARGA events is when competitors pull up at the finish and genuinely thank us for the doing what we do. Every year there are more and more competitors who acknowledge us, which is great.
"I just love doing TARGA events and they're special because they give small town locals a chance to see motorsport up close and from the comfort of their own home. I really hope to continue volunteering at these events for many years to come."