Anear sizzles to snatch last gasp TARGA victory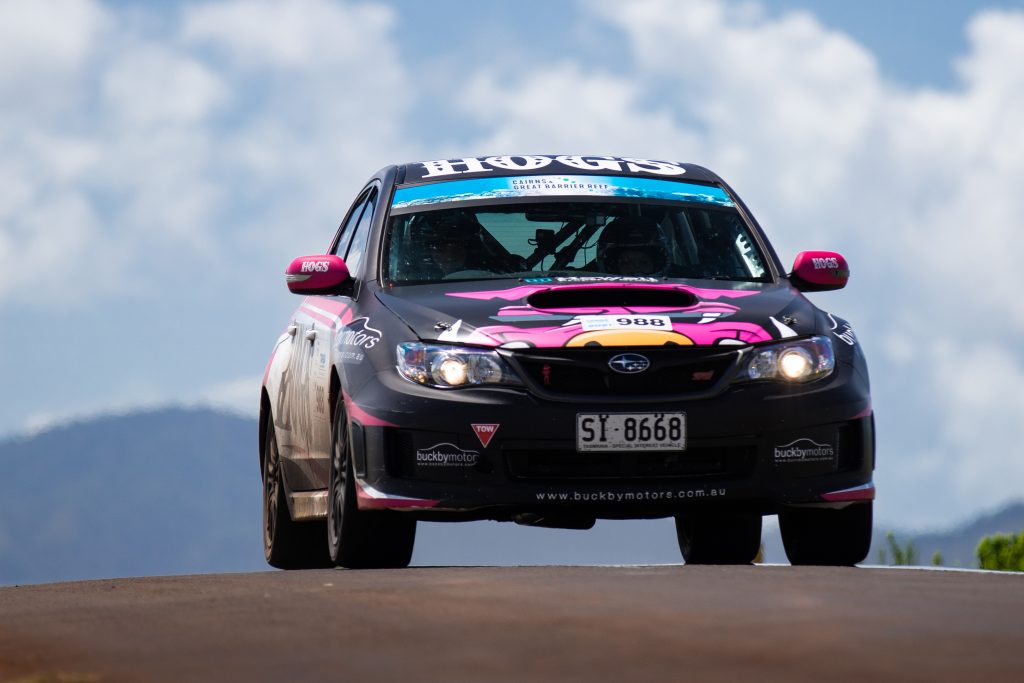 Sunday September 5, 2021
Luke Anear and Andy Sarandis unleashed a powerhouse finish to claim a gripping victory at the fourth running of TARGA Great Barrier Reef.
Going into the final day 11 seconds off the lead, Anear and Saradis surged to the front with two stages remaining in their 2010 Subaru WRX STi, securing a breath-taking win in It's Live in Queensland overall classification.The pair overhauled last year's winners Tony Quinn and Brian Foster on the 27.98km Palmerston (15th of 17 stages) test, leaping to a 10 second lead before stretching the margin to 17 seconds at the finish.It was the perfect result for gravel and tarmac regular Anear who was forced into a vehicle change just ahead of the Cairns-based event after an accident in Tasmania to his exotic Mercedes AMG GT R.
Locals Steve Van Der Brug and Linda Rankine finished third overall in 2010 Subaru WRX STi.The top three positions were duplicated in GT Outright while Anear also snared Cairns Regional Council GT Production.
"We had a red hot go and I drove the best I've ever driven and we caught him (Quinn) on the Palmerston run (TS 15)," Anear said.
"He wasn't going to let me by and it was very satisfying. Then we managed to double the lead again on the next shorter stage.""Because the roads were damp we reckon the Subaru was the right car for the conditions."I've got to thank Ben Newman who gave me the car which was prepared by Buckby Motorsport on the proviso that 'you go up there and win it'."Jon and Gina Siddins were an early casualty after the opening Gillies Range stage when their 1970 Datsun 240Zencountered gearbox problems, cruelly seeing a potential win vanish in Shannons Classic GT.
The demise of the Datsun left Anthony Genocchio and Robert Horsfall to secure a big victory in their 1983 Holden Commodore.It was a one-act affair in Shannons Classic with Patrick Barnett and Katie Barnett (1979 Ford Cortina) picking up the victory.
Paolo and Claire Buccini guided their 2008 BMW 135i to a comfortable victory in Dutton Garage Early Modern 2, while Geoff and Toni Hewitt prevailed in Early Modern 4 in their beautifully prepared 2009 Nissan GT-R.
Geoffrey Olholm and Matthew Sanders completed the event to take the win in Reef Hotel & Casino GT Sports Trophy, finishing 2 minutes 16 seconds ahead of Gwesyn Dalliston and Robert Goodwin (2003 Nissan 350Z).
Picking up from where they left off last year, Tim and Kym Hall were victorious in Shannons Thoroughbred Trophy in their 1980 Holden Commodore. The Halls won by almost nine minutes.
Darryl and Peter Marshall were unflappable in their 2002 Ford Pursuit Ute to clinch top spot in the time, speed and distance challenge presented in the Cairns Regional Council TSD Trophy.
Wayne Lamont/Errol Rosenblatt (2012 Toyota 86) took the spoils in Cairns & Great Barrier Reef Rookie Rallye.
TARGA Great Barrier Reef
Final results – Day 3 of 3 (provisional)
It's Live Queensland overall
1 Luke Anear/Andy Sarandis (2010 Subaru WRX STi)
2 Tony Quinn/Brian Foster (2018 Nissan GT-R) +17s
3 Steven Van Der Brug/Linda Rankine (2010 Subaru WRX STi) +4min07s
4 Tony/Sandra Seymour (2013 Lotus Exige) +5.03s
5 Mark Griffith/Neill Woolley (2017 Mercedes A45) +5.45s
It's Live Queensland GT Outright
1 Luke Anear/Andy Sarandis (2010 Subaru WRX STi)
2 Tony Quinn/Brian Foster (2018 Nissan GT-R) +17s
3 Steven Van Der Brug/Linda Rankine (2010 Subaru WRX STi) 4.07ss
Cairns Regional Council GT Production
1 Luke Anear/Andy Sarandis (2010 Subaru WRX STi)
2 Steven Van Der Brug/Linda Rankine (2010 Subaru WRX STi) +4.07
3 Mark Griffith/Neill Woolley (2017 Mercedes A45) +5.45s
Dutton Garage Early Modern 2
1 Paolo Buccini/Claire Buccini (2008 BMW 135i)
2 Ian Gough/Zahary Gough (1998 Nissan Skyline) +7:55s
3 Christopher Carney/Lacey Wade (1991 Toyota Corolla GTi-SX) +16.29s
Dutton Garage Early Modern 4
1 Geoffrey Hewitt/Toni Hewitt (2009 Nissan GT-R)
2 Graeme Colls/Sandra Colls (1997 Subaru WRX STi) 2:58s
3 Christopher Jaques/Kate Jaques (2001 Mitsubishi. Evo IX) 5.15s
Shannons Classic (handicap)
1 Patrick Barnett/Katie Barnett (1979 Ford Cortina)
Shannons Classic GT
1 Anthony Genocchio/Robert Horsfall (1983 Holden Commodore)
2 Stewart Reid/Jennifer Cole (1980 Ford Escort) +34s
3 Jamie MacFarlane/Raymond Priest (1982 Holden Commodore Rally) +4.46s
Reef Hotel & Casino GT Sports Trophy
1 Geoffrey Olholm/Matthew Sanders (2019 Toyota Supra GTS)
2 Gwesyn Dalliston/Robert Goodwin (2003 Nissan 350Z Track) +2.16s
3 Joe Chuadee/Jason Holt (2004 Renault Megane) +5.50s
Shannons Thoroughbred Trophy
1 Timothy Hall/Kym Hall (1980 Holden Commodore)
2 Thomas English/Trent Vidler (1967 Holden HR Ute) 4:47s
3 Leo Rodriguez/Paul Frank (1988 Mazda RX-7) +8.55s
Cairns Regional Council TSD Trophy
1 Darryl Marshall/Peter Marshall (2002 Ford Falcon Pursuit 250) +13 points
2eq Agim Selita/Gezim Bashi (2011 BMW 135i M Sports) +18
2eq Benjamin Brooksby/Rob Sheppard (2005 Mitsubishi Magna VRX) +18
Cairns & Great Barrier Reef Rookie Rallye
1 Wayne Lamont/Errol Rosenblatt (2012 Toyota 86)
Media contact details
Ian Chesterman – 0417 530902
Gordon Lomas – 0419 733 995
Social Media contact details
Jenna Carmichael – 0487 828 620