Battle heats up for Quinn with day to go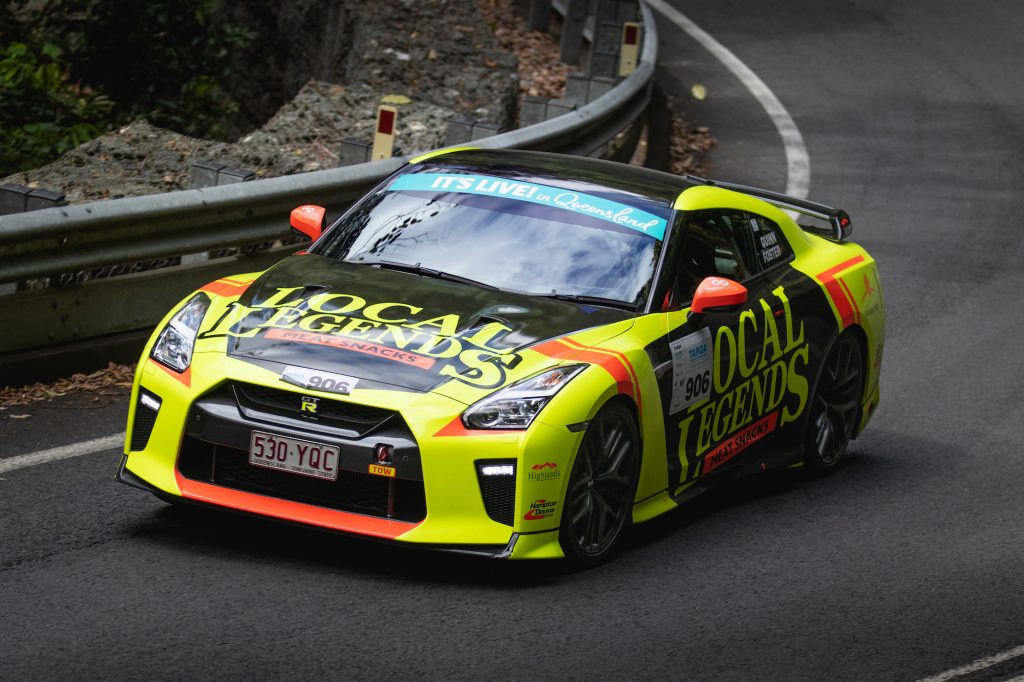 Saturday September 4, 2021
Tony Quinn has staved off a late attack to protect his lead after the second day of TARGA Great Barrier Reef.
The canny entrepreneur, who has again teamed up with Brian Foster in defence of their 2020 title in Cairns, will go into the final day of competition with a slender 11 second lead.
After completing six stages on the second day, Quinn and Foster were unflappable in the 2018 Nissan GT-R.
Luke Anear and Andy Sarandis (2010 Subaru WRX STi) started the day 16 seconds behind Quinn/Foster and put in some quick runs before lunch to keep within 20 seconds of the Quinn/Foster Nissan before ending the day within range of jumping into the lead with five stages remaining tomorrow.
Brisbane pair Tony and Sandra Seymour are peeling off some consistent stages to maintain third overall in their 2013 Lotus Exige.
Quinn and Foster also lead It's Live Queensland GT Outright by the same margin, 17 seconds from Anear and Sarandis who continue to enjoy a solid lead in Cairns Regional Council GT Production.
"We are going along okay, not pushing too hard and keeping out of trouble," Quinn said.
"We are happy to hold the lead but there are another five stages to go tomorrow so there is nothing to be gained by getting ahead of ourselves."
The experienced pairing of Jon and Gina Siddins pushed hard to move into the lead in Shannons Classic GT, climbing to a 1min12sec advantage.
The Gold Coast pair are running fresh livery for the event and have reverted to original shock absorbers in their 1970 Datsun 240Z. Overnight leaders Anthony Genocchio and Robert Horsfall (1983 Holden Commodore) are back in second place.
Shannons Classic standings sees Patrick Barnett and Katie Barnett (1979 Ford Cortina) are the sole crew left in the class.
Paolo Buccini and Claire Buccini clear out to a lead of over six minutes in Dutton Garage Early Modern 2 while in Dutton Garage Early Modern 4 Geoffrey and Toni Hewitt (2009 Nissan GT-R) hold a solid advantage.
Positions remain tight at the front of the Reef Hotel & Casino GT Sports Trophy with Geoffrey Olholm and Matthew Sanders showing the way in a 2019 Toyota Supra GTS.
The Shannons Thoroughbred Trophy class is headed by Tim and Kym Hall (1980 Holden Commodore) while the highly successful team of Darryl and Peter Marshall (2002 Ford Falcon Pursuit Ute 250) have edged clear in the points-penalty based Cairns Regional Council TSD Trophy.
The sole runner in Cairns & Great Barrier Reef Rookie Rallye, Wayne Lamont/Errol Rosenblatt (2012 Toyota 86), completed the day's test.
Results – Day 2 of 3 (provisional)
It's Live Queensland overall
1 Tony Quinn/Brian Foster (2018 Nissan GT-R)
2 Luke Anear/Andy Sarandis (2010 Subaru WRX STi) +11s
3 Steven Van Der Brug/Linda Rankine (2010 Subaru WRX STi) +2min36s
4eq Jon Siddins/Gina Siddins (1970 Datsun 240Z) +2min48s
4eq Geoffrey Hewitt/Toni Hewitt (2009 Nissan GT-R) 2.48s
It's Live Queensland GT Outright
1 Tony Quinn/Brian Foster (2018 Nissan GT-R)
2 Luke Anear/Andy Sarandis (2010 Subaru WRX STi) +11s
3 Steven Van Der Brug/Linda Rankine (2010 Subaru WRX STi) 2.36s
Cairns Regional Council GT Production
1 Luke Anear/Andy Sarandis (2010 Subaru WRX STi)
2 Steven Van Der Brug/Linda Rankine (2010 Subaru WRX STi) +2.25s
3 Mark Griffith/Neill Woolley (2017 Mercedes A45) +2.46s
Dutton Garage Early Modern 2
1 Paolo Buccini/Claire Buccini (2008 BMW 135i)
2 Ian Gough/Zahary Gough (1998 Nissan Skyline) +6mins
3 Christopher Carney/Lacey Wade (1991 Toyota Corolla GTi-SX) +10.08s
Dutton Garage Early Modern 4
1 Geoffrey Hewitt/Toni Hewitt (2009 Nissan GT-R)
2 Graeme Colls/Sandra Colls (1997 Subaru WRX STi) 4.32s
3 Aaron Dunkerton/Alan Stean (2003 Mitsubishi Evo VIII) +4.43s
Shannons Classic (handicap)
1 Patrick Barnett/Katie Barnett (1979 Ford Cortina)
Shannons Classic GT
1 Jon Siddins/Gina Siddins (1970 Datsun 240Z)
2 Anthony Genocchio/Robert Horsfall (1983 Holden Commodore) +1min27s
3 Stewart Reid/Jennifer Cole (1980 Ford Escort) +1.52s
Reef Hotel & Casino GT Sports Trophy
1 Geoffrey Olholm/Matthew Sanders (2019 Toyota Supra GTS)
2 Gwesyn Dalliston/Robert Goodwin (2003 Nissan 350Z Track) +2.27s
3 Joe Chuadee/Jason Holt (2004 Renault Megane) +4.40s
Shannons Thoroughbred Trophy
1 Timothy Hall/Kym Hall (1980 Holden Commodore)
2 Leo Rodriguez/Paul Frank (1988 Mazda RX-7) +3.37s
3 Thomas English/Trent Vidler (1967 Holden HR Ute) 4:36s
Cairns Regional Council TSD Trophy
1 Darryl Marshall/Peter Marshall (2002 Ford Falcon Pursuit 250) +8 points
2 Agim Selita/Gezim Bashi (2011 BMW 135i M Sports) +13
3 Benjamin Brooksby/Rob Sheppard (2005 Mitsubishi Magna VRX) +18
Cairns & Great Barrier Reef Rookie Rallye
1 Wayne Lamont/Errol Rosenblatt (2012 Toyota 86)
Media contact details
Ian Chesterman – 0417 530902
Gordon Lomas – 0419 733 995
Social Media contact details
Jenna Carmichael – 0487 828 620