Epic battle after TARGA High Country opening day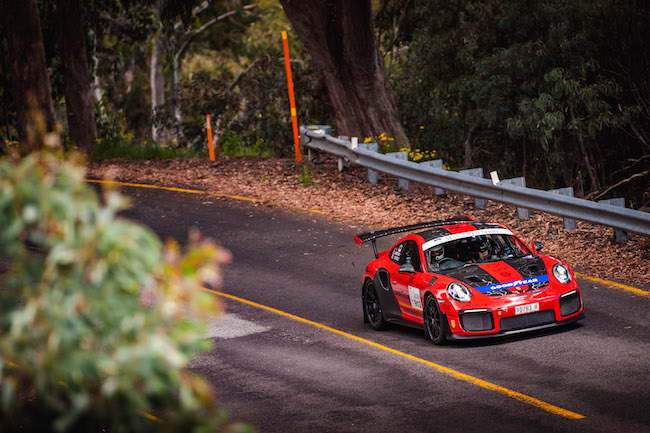 Several frontline competitors are engaged in an arm wrestle for supremacy after an enthralling Day 1 of TARGA High Country.
The showpiece Mt Buller-based event has seen Sydney driver Jeff Morton and co-driver Daymon Nicoli clinch a 38 second lead after a superb display of tarmac rallying.
The pair produced a polished run in their 2019 Porsche 911 GT2 RS, winning all seven of the day's timed stages as the opening stage off Mt Buller was declared a non-timed 'warm-up' stage.
"There's a lot to get used to with the new regulations and the maximum speed limit but I think we did the best job we could," Morton said.
"I haven't done High Country since 2018 and today it was all about the final Mt Buller stage for us.
"We managed to top all of the stages and some of them were close but I think we have the right car here. It just seems built for these roads."
Moving into second outright was Angus Kennard and co-driver Steve Glenney who chipped away all day with some cracking runs.
In a late development Luke Anear and Andy Sarandis dropped out of third after encountering a mechanical problem close to the finish of the final stage.
The problem for the Mercedes-Benz AMG GT R left Jason and Fiona Wright (2008 Nissan GT R) to move into third outright.
Adam Kaplan has enjoyed a solid return to action in his Giocattolo Group B, ending the day with co-driver Aleshia Penney to lead the Shannons Classic GT class by 21 seconds.
Peter Gluskie and Samantha Winter have taken a handy lead in Shannons Classic Handicap in their ever reliable 1989 BMW 325i.
Queenslanders Paul and Claire Buccini (2008 BMW 135) continue to show strong form following on from their TARGA Great Barrier Reef win last year, to lead Dutton Garage Early Modern 2.
The battle in Dutton Garage Early Modern 4 class remains tight with the Wrights, who inherited third overall, leading by a slender 8 seconds
In the trophy classes, TSD Trophy Neville Emond and Stephen Jones (1996 Volvo 850R) snatched the lead after the day's final stage, dropping just 11 points to shade Steve and Heather Brumby (1999 Alfa Romeo GTV) by one point.
GT Sports Trophy sees Matthew Gibbens and Timothy Jurd lead while Thoroughbred Trophy is headed by Stephen Gould and Jack Gould (1985 BMW 323).
Results – Day 1 of 3 (provisional)
Overall
1 Jeff Morton/Daymon Nicoli (2019 Porsche GT2 RS)
2 Angus Kennard/Steve Glenney (2015 Nissan GT-R) +38s
3 Jason Wright/Fion Wright (2008 Nissan GT-R) +2min10s
4 Liam Howarth/Larry Howarth (1995 Nissan Skyline GT-R) +2:18
5 Anthony Moss/Julie Hunter (2008 Mitsubishi Evo X) +2.22s
Mt Buller GT Outright
1 Jeff Morton/Daymon Nicoli (2019 Porsche GT2 RS)
2 Angus Kennard/Steve Glenney (2015 Nissan GT-R) +38s
3 Tony Quinn/Kate Catford (2018 Nissan GT-R) 2:32s
Mansfield Shire GT Production
1 Mark Griffith/Neil Woolley (2017 Mercedes-Benz AMG A45)
2 Barrie Smith/Anthony McLoughlin (2017 Audi TTRS) +1min00s
3 Critchon Lewis/Anthony Carr (2015 Subaru WRX Sti) +1:57s
Dutton Garage Early Modern 2
1 Paolo Buccini/Claire Buccini (2008 BMW 135i)
2 David Blunden/Robert Sheppard (1977 Nissan Skyline GTS) +1:11s
3 Edward Merewether/Jennifer Gillott (2007 Renault Megane F1 R26) +2.25s
Dutton Garage Early Modern 4
1 Jason Wright/Fiona Wright (2008 Nissan GT-R)
2 Liam Howarth/Larry Howarth (1995 Nissan Skyline GT-R) +8s
3 Anthony Moss/Julie Hunter (2008 Mitsubishi Evo X) +12s
Shannons Classic (handicap)
1 Peter Gluskie/Samantha Winter (1989 BMW 325)
2 Philip Jon-Buggee/Paul Freame (1975 Fiat 131) +2:57s
3 Darryl Bennett/Mary White (1989 Suzuki Swift GTi) +6:16s
Shannons Classic GT
1 Adam Kaplan/Aleshia Penney (1988 Giocattolo Group B)
2 Roger Loman/Anne Bainbridge (1972 Datsun 240Z) +21s
3 Mark Hammond/Dirk Witteveen (1980 Jaguar XJS) +1:34s
Mansfield Shire GT Sports Trophy
1 Matthew Gibbens/Timothy Jurd (2020 Lotus Exige 410)
2= Steven Sher/Fergal Murphy (2016 Lotus Exige) +23s
2= Simon Trude/Dion Morrison (2019 Lotus Exige Sport 410) +23s
Shannons Thoroughbred Trophy
1 Stephen Gould/Jack Gould (1985 BMW 323)
2 Jack Waldron/Vin Gregory (1981 Mitsubishi Sigma) +2:32s
3 John Stanton/John Blake (1981 Porsche 924 Turbo) +4:15s
Mt Buller TSD Trophy
1 Neville Emond/Stephen Jones (1996 Volvo 850R) 11 points
2 Steven Brumby/Heather Brumby (1999 Alfa Romeo GTV) 12 points
3 Justin Marshall/Spencer Marshall (2011 Volkswagen Polo) 13 points