Epic showdown looms for landmark TARGA Tasmania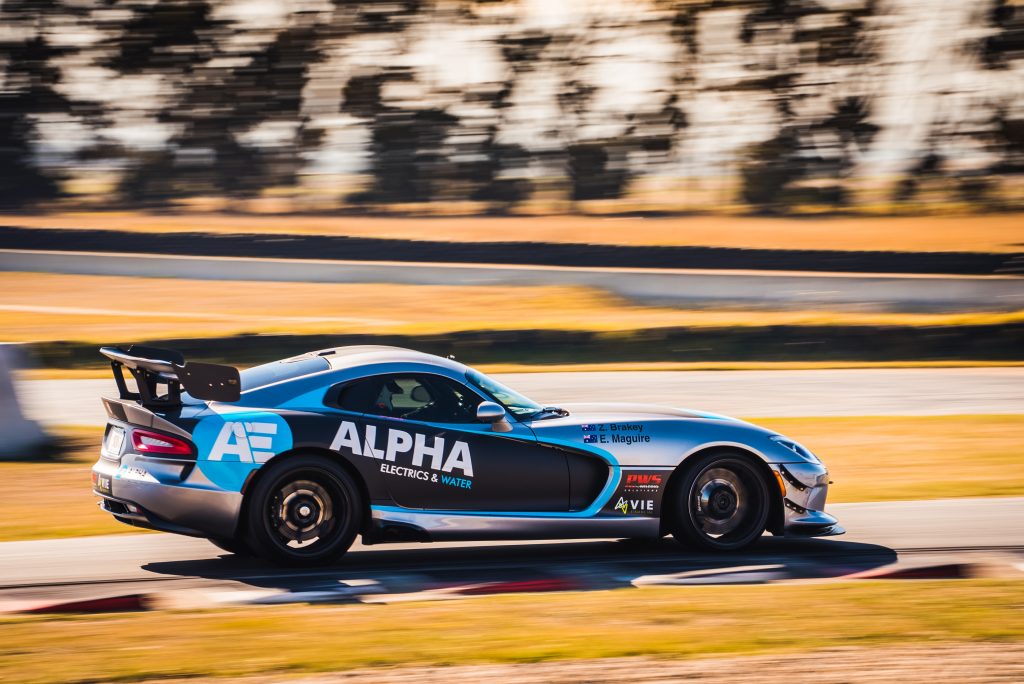 One of the mightiest fields in history will battle for a coveted plate trophy at the 30th anniversary TARGA Tasmania from April 26 to May 1.
A hot line-up of Australia's finest tarmac rally competitors and machines headline a record entry list of 500 cars across 10 categories.
Among the list of GT Outright contenders are defending champions Ed Maguire and Zak Brakey (Dodge Viper), seven-times champions Jason and John White (Dodge Viper) and two-time winner Tony Quinn and Kate Catford (Nissan GT-R).
Sydney brain cancer survivor Jeff Morton goes into the event with impeccable form after his maiden Outright win at TARGA High Country in February alongside Daymon Nicoli in their Porsche GT2 RS.
Hobart surgeon Michael Pritchard adds to the mix at the front of the field with his English supercar, a 2021 Ultima RS, which he debuted at High Country recently with co-driver Gary Mourant.
Other strong combinations in GTO include Luke Anear/Andy Sarandis (Mercedes AMG GT R), Angus Kennard/Ian Wheeler (Nissan GT-R) and Peter Nunn/Keith Johnstone (Porsche GT2 RS).
Amid a host of technical and regulation changes, competitors will be faced with the prospect of arriving for the first time with four wet weather tyres, part of the mandates from Motorsport Australia's Investigatory Tribunal which handed down 23 recommendations for all Australian tarmac rallies in a 61-page report last September.
"The wet weather tyres are a bit of an unknown but it really comes down to driving to the conditions," co-driver John White said.
The Classic competition will also hold plenty of interest for TARGA fans.
After campaigning a Nissan GT-R in GTO at TARGA Tasmania in 2021 NSW combination of Michael and Daniel Bray are back in Classic GT in their 1975 Holden Torana.
They will be pitted against Jon and Gina Siddins (Team 24oz 1970 Datsun 240Z), Adam Kaplan and Aleshia Penney (1988 Giocattolo Group B) while Dan Bowden and Tiffanie Hepburn return in the 1965 Ford Shelby Mustang GT350.
Experienced campaigner Kaplan had a nervous wait to see if the evocative Giocattolo could be prepared in time for TT30 after the machine experienced troubles toward the end of its comeback run at TARGA High Country in February,
"High Country just highlighted some of the small weaknesses we had in the car," Kaplan said.
"Some of the major ones we are not going to be able to address before TARGA Tas but the car is ready to compete nonetheless."
Some of the issues which hit the Giocattolo at High Country related to the sub axle.
Peter Gluskie and Samantha Winter (1989 BMW 325) have been in impeccable form and are one of the top fancies in Classic Handicap.
In Early Modern 2, Queenslanders Paul and Claire Buccini had the perfect build-up after winning both TARGA Great Barrier Reef last year and recently TARGA High Country in their BMW135i.
Adam Spence and Lee Challoner-Miles (BMW M3 CSL) are looking to improve on their third at TARGA Tasmania last year in EM2.
"We are excited about competing in the 30th anniversary. This is our 15th TARGA Tasmania," Spence said.
"We want to finish but at the same time we are after a strong result again."
Trevor Macleod and Steve Glenney (Nissan GT-R) are looking at back-to-back wins at TT in Early Modern 4 against a field bristling with strong contenders.
In GT Production, Stephen Maguire and Stuart Benson (Mitsubishi Evo X) are looking to defend their title from TT in 2021 against another hot field.
Earlier this month it was revealed that GTP will be boosted with the addition of Grant Denyer in a Duttons-backed Subaru WRX Sti.
The two-car WRX attack also includes an entry for carsales Editor in Chief and Director of Content Mike Sinclair who will have two-times TARGA winner Julia Barkley calling the pace notes.
The grassroots trophy classes have drawn some cracking fields with TSD Trophy headed by Queenslanders Darryl and Peter Marshall who have proven invincible in their 2002 Ford Pursuit Ute.
Jack Waldron and Gordon Gregory (1981 Mitsubishi Sigma) are again expected to pose a handful in Thoroughbred Trophy while GT Sports Trophy oozes depth with Matthew Gibbens and Timothy Jurd enjoying a last start win at TARGA High Country in their 2020 Lotus Exige 410.
Follow all the action during the competition at targalive.com
Targa Tasmania honour roll – outright winners
1992 Greg Crick/Greg Preece, Honda NSX
1993 Greg Crick/Greg Preece, Honda NSX
1994 Andrew Miedecke/Alan Taylor, Porsche 944 Turbo Cup
1995 Neal Bates/Coral Taylor, Toyota Celica GT-Four (ST205)
1996 Jim Richards/Barry Oliver, Porsche 911 Turbo (993)
1997 Jim Richards/Barry Oliver, Porsche 911 Turbo (993)
1998 Jim Richards/Barry Oliver, Porsche 911 Turbo (993)
1999 Peter Fitzgerald/Michael Mansour, Porsche 911 Turbo (993)
2000 Jim Richards/Barry Oliver, Porsche 911 GT3 CS
2001 Jim Richards/Barry Oliver, Porsche 911 Turbo (996)
2002 Jim Richards/Barry Oliver, Porsche 911 Turbo (996)
2003 Jim Richards/Barry Oliver, Porsche 911 GT3 CS
2004 Tony Sullens/Julia Rabbett, Subaru Impreza WRX STiS202
2005 Jason White/John White, Nissan Skyline GT-R V-Spec N1 (R34)
2006 Jim Richards/Barry Oliver, Porsche 911 GT2 CS (996)
2007 Tony Sullens/Julia Barkley, Subaru Impreza WRX Type RA (GC8)
2008 Steve Glenney/Bernie Webb, Mitsubishi Lancer Evolution IX RS
2009 Tony Quinn/Naomi Tillett, Nissan GT-R
2010 Jason White/John White Lamborghini, Gallardo ReiterSuper Trofeo Stradale
2011 Tony Quinn/Naomi Tillett, Nissan GT-R
2012 Jason White/John White, Lamborghini Gallardo Super Trofeo Stradale
2013 Jason White/John White, Lamborghini Gallardo Super Trofeo Stradale
2014 Jamie Vandenberg/Dennis Sims, Nissan GT-R
2015 Jason White/John White, Lamborghini Gallardo SquadraCorse
2016 Matt Close/Cameron Reeves, 2015 Porsche 911 GT3
2017 Jason White/John White, Dodge Viper
2018 Jason White/John White, Dodge Viper
2019 Paul Stokell/Kate Catford, Lotus Exige Sport 350
2020 Not held
2021 Eddie Maguire/Zak Brakey, Dodge Viper