Lillie protects High Country overall advantage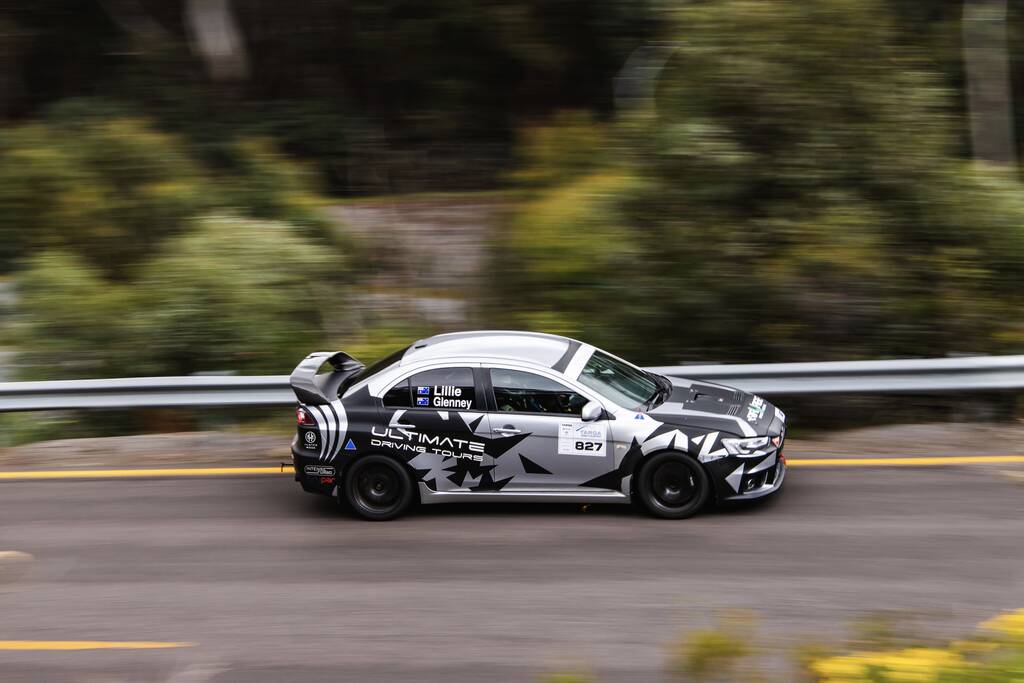 Saturday February 6, 2021
The dream run of Dean Lillie and co-driver Steve Glenney has seen the pair edge to a decisive lead in overall standings after the second day of TARGA High Country.

Lillie and Glenney, in their 2007 Mitsubishi Evo X, have been in scintillating form across the opening two days, powering away from some of their more fancied rivals.

Following a day of eight competitive stages, the pair have squeezed out their lead to a one minute 12 seconds from Luke Anear and Andy Sarandis, driving a 2018 Mercedes-Benz AMG GT R. Liam and Larry Howarth are producing an impressive drive in their 1995 Nissan Skyline GT-R, and are just one second further back in third.

Lillie and Glenney also have a one minute 13 second lead over the Howarth Nissan in Dutton Garage Early Modern 4.

There was a concerted push from experienced rally ace Anear, in the 2018 Mercedes AMG GT R, who has moved to second place overall from his overnight sixth placing. He also leads GT Outright by 21 seconds from 2020 TARGA Great Barrier Reef winner Tony Quinn and Kate Catford (2018 Nissan GT-R). Quinn is fourth in overall standings.
Anear said that as the day went on he found his rhythm.
"We are still learning how the car handles and the right suspension set-up," Anear said.

"Everything stage is a learning stage. But I think we are in pretty good shape for tomorrow.

"We lost a lot of time yesterday in the rain. I'd never driven it in wet weather and it wasn't a lot of fun going up and down the mountain yesterday."

In Classic Handicap Peter Gluskie and Samantha Winter (1989 BMW 325i) moved into the lead early in the day and finished with a handy one minute six seconds buffer from Nik Prieston and Dylan Braithwaite (1976 Fiat 131 Abarth Rallye).

Adam Spence and co-driver Lee Challoner-Miles continued to open up the gap in Dutton Garage Early Modern 2 to lead by two minutes 40 seconds in their newly acquired 2004 BMW M3 CSL.

In Classic GT, Adam Kaplan and Aleshia Penney (1988 HSV Walkinshaw) have spread-eagled the depleted field to lead by more than 12 minutes.

Thomas Monaghan and Alan Stephenson (2015 Subaru WRX) are clutching a tidy lead of 46 seconds in Mansfield Shire GT Production.

In Mt Buller TSD Trophy, Neville Emond and Stephen Jones (1996 Volvo 850R) passed through stages eight and nine without penalty to lead the way with 19 points.

Mansfield Shire GT Sports Trophy is led by Simon Trude and Dion Morrison (2019 Lotus Exige 410 Sport) who have a 20 second lead.
RESULTS – END OF DAY 2 of 3 (Provisional)
Overall
1 Dean Lillie/Steve Glenney (2007 Mitsubishi Evo X)
2 Luke Anear/Andy Sarandis (2018 Mercedes AMG GT R) +1:12s
3 Liam Howarth/Larry Howarth (1995 Nissan Skyline GT-R) +1:13s
4 Tony Quinn/Kate Catford (2018 Nissan GT-R R35) +1:33s
5 Thomas Monaghan/Alan Stephenson (2015 Subaru WRX) +1:53s
6 Geoffrey Hewitt/Toni Hewitt (2009 Nissan GT-R) +2:11s
Mt Buller GT Outright
1 Luke Anear/Andy Sarandis (2018 Mercedes AMG GT R) 
2 Tony Quinn/Kate Catford (2018 Nissan GT-R R35) +21s
3 Thomas Monaghan/Alan Stephenson (2015 Subaru WRX) +41s

Classic Handicap
1 Peter Gluskie/Samantha Winter (1989 BMW 325i) 
2 Nik Prieston/Dylan Braithwaite (1976 Fiat 131 Abarth Rallye) +1:06s
3 Brian Dermott/Linda Dermott (1961 Austin Healey 3000 Mk2) +2:39s

Mansfield Shire GT Production
1 Thomas Monaghan/Alan Stephenson (2015 Subaru WRX)
2 Barrie Smith/Dale Moscatt (2017 Audi TTRS) +46s
3 Maxwell Williams/Peter Bush (2013 Audi TTRS) +1:46s

Classic GT
1 Adam Kaplan/Aleshia Penney (HSV Walkinshaw)
2 Roger Lomman/Anne Bainbridge (1972 Datsun 240z) +12:29s

Dutton Garage Early Modern 2
1 Adam Spence/Lee Challoner-Miles (2004 BMW M3 CSL)
2 Edward Merewether/Jennifer Gillott (2007 Renault Sport Megane F1 R26) +2:40s
3 Stephen Crowe/Richard Crowe (1998 Mazda RX-7) +3:27s

Dutton Garage Early Modern 4
1 Dean Lillie/Steve Glenney (2007 Mitsubishi Evo X)
2 Liam Howarth/Larry Howarth (1995 Nissan Skyline GT-R) +1:13s
3 Geoffrey Hewitt/Toni Hewitt (2009 Nissan GT-R) +2:11s

Mansfield Shire GT Sports Trophy
1 Simon Trude/Dion Morrison (2019 Lotus Exige 410 Sport)
2 Robert Bryden/Ian Noble (2000 Lotus Exige) +20s
3 Steven Sher/Fergal Murphy (2016 Lotus Exige) +1:32s

Mansfield Shire Thoroughbred Trophy
1 John Stanton/Philip Blake (1981 Porsche 924 Turbo)
2 Brett Dillon/Geoffrey Corah (1973 Alfa Romeo 105) +1:23s
3 Laura Rogers/Gavin Rogers (1957 Austin Healey 100/6) +2:06s

TSD Trophy
1 Neville Emond/Stephen Jones (1996 Volvo 850R) 19pts
2 Shane Navin/Glenn Evans (2018 Volkswagen Golf R) 24pts
3 Tracy Hoven/Garth Davies (2018 Alpine A110) 25pts
Media contact details
Ian Chesterman – 0417 530902
Gordon Lomas – 0419 733 995