Lillie wins on TARGA debut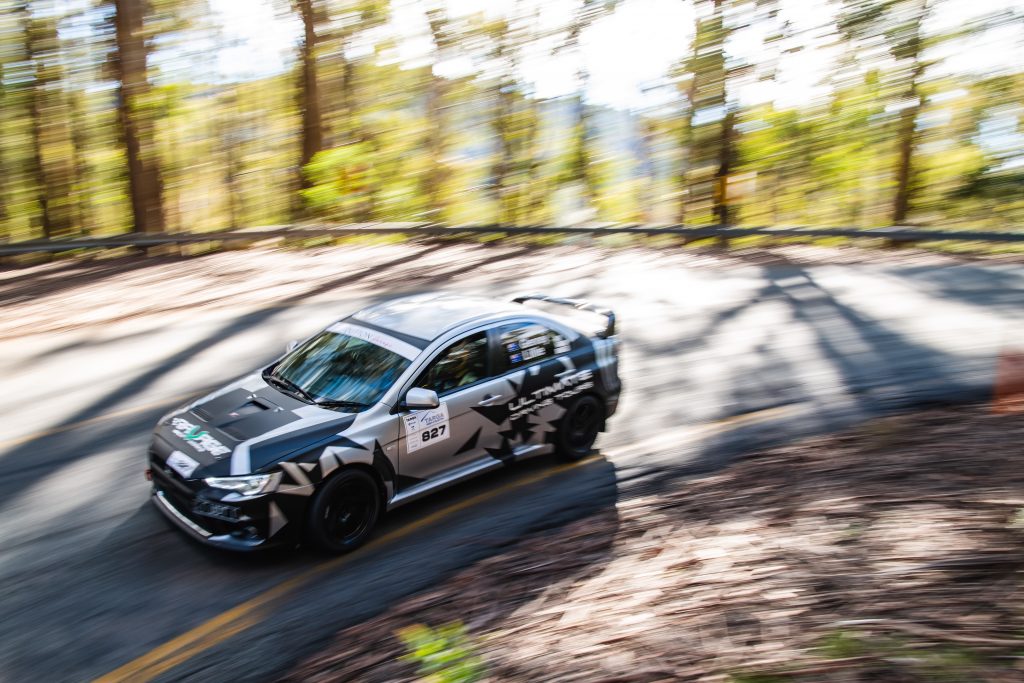 Sunday February 7, 2021
Dean Lillie has pulled off a remarkable feat to win the Mt Buller-based TARGA High Country tarmac rally in north-east Victoria.

Entering his first TARGA event, Lillie and the experienced Steve Glenney prevailed in their 2007 Mitsubishi Evo X in the three-day rally that encompassed 16 competitive stages.

The Victorian was in sizzling form right from the opening day after a master display of control and speed on some of TARGA'S most challenging roads to win overall and also land the Dutton Garage Early Modern 4 category.

Lillie and Glenney produced a polished performance to win by two minutes 27 seconds. The pair also cruised to victory in Dutton Garage Early Modern 4, ending just under three minutes ahead.

Tony Quinn and Kate Catford improved from their fourth position overnight to claim second outright in their 2018 Nissan GT-R. Liam and Larry Howarth slipped back a position to be third overall.

However it was Lillie who stole the show with a flawless and measured run.

"I've wanted to do this event since I first came to the Mt Buller Sprint back in the early days," Lillie said of his stunning TARGA debut.

"The car held up well and we drove the wheels off it ever since the opening day when it was wet.

"The twisty Jamieson and Eildon stages today really suited the Evo and Steve (Glenney) has done an amazing job on the other side of the car."

Glenney, who has a wealth of experience as a driver and co-driver, said their explicit preparation has paid dividends.

"As with everything we do, we came prepared because we always want to do the best job we can," Glenney said.

"I suppose you could call it a bit of a giant-killing performance but we are not surprised that we have done so well."

The order in GT Outright was shaken up after the opening stage off Mt Buller when Luke Anear and Andy Sarandis suffered a puncture in their 2018 Mercedes AMG GT R, cruelly dropping the pair from the lead.

It left 2020 TARGA Great Barrier Reef winner Tony Quinn and his co-driver Kate Catford to take victory in their 2018 Nissan GT-R. Anear fought back strongly in an inspired drive to finish third just behind Thomas Monghan/Alan Stephenson's 2015 Subaru WRX.

In Classic Handicap, Melbourne competitors Peter Gluskie and Samantha Winter continued their dream form to win by forging clear in their 1989 BMW 325i to win by just over three minutes.
TARGA crews will now prepare for the next event, the showpiece TARGA Tasmania from April 19-24.


RESULTS FINAL (provisional)

Overall
1 Dean Lillie/Steve Glenney (2007 Mitsubishi Evo X)
2 Tony Quinn/Kate Catford (2018 Nissan GT-R R35) +2:27s
3 Liam Howarth/Larry Howarth (1995 Nissan Skyline GT-R) ++2:54s
4 Geoffrey Hewitt/Toni Hewitt (2009 Nissan GT-R) +4:13s
5 Thomas Monaghan/Alan Stephenson (2015 Subaru WRX) +4.25s

Mt Buller GT Outright
1 Tony Quinn/Kate Catford (2018 Nissan GT-R R35)
2 Thomas Monaghan/Alan Stephenson (2015 Subaru WRX) +1:58s
3 Luke Anear/Andy Sarandis (2018 Mercedes AMG GT T) +3:22s

Classic Handicap
1 Peter Gluskie/Samantha Winter (1989 BMW 325i)
2 Paul Byrne/Colin Byrne (1975 Alfa Romeo GTV 2000) +3:04s
3 Philip-Jon Buggee/Paul Freame (1975 Fiat 131) +7:01s



Mansfield Shire GT Production
1 Thomas Monaghan/Alan Stephenson (2015 Subaru WRX)
2 Barrie Smith/Dale Moscatt (2017 Audi TTRS) +2:03s
3 Michael Minshall/Julie Winton-Monet (2011 Audi TTRS) +9:55s



Classic GT
1 Roger Lomman/Anne Bainbridge (1972 Datsun 240z)
2 Adam Kaplan/Aleshia Penney (1988 HSV Walkinshaw) +1:06s
3 Mark Griffith/Neil Woolley (1976 Datsun 1600) +2:30:43s
Dutton Garage Early Modern 2
1 Adam Spence/Lee Challoner-Miles (2004 BMW M3 CSL)
2 Edward Merewether/Jennifer Gillott (2007 Renault Sport Megane F1 R26) +5:56s
3 David Blunden/Robert Sheppard (1997 Nissan Skyline) +7:36s

Dutton Garage Early Modern 4
1 Dean Lillie/Steve Glenney (2007 Mitsubishi Evo X)
2 Liam Howarth/Larry Howarth (1995 Nissan Skyline GT-R) +2:54s
3 Geoffrey Hewitt/Toni Hewitt (2009 Nissan GT-R) +4:13s

Mansfield Shire GT Sports Trophy
1 Simon Trude/Dion Morrison (2019 Lotus Exige 410 Sport)
2 Robert Bryden/Ian Noble (2000 Lotus Exige) +25s
3 Steven Sher/Fergal Murphy (2016 Lotus Exige) +2:07s

Mansfield Shire Thoroughbred Trophy
1 Brett Dillon/Geoffrey Corah (1973 Alfa Romeo 105)
2 Laura Rogers/Gavin Rogers (1957 Austin Healey 100/6) +3:26s
3 Robert Greig/Stephen Harris (1971 Datsun 240z) +15.45

TSD Trophy
1 Neville Emond/Stephen Jones (1996 Volvo 850R) 41pts
2 Tracy Hoven/Garth Davies (2018 Alpine A110) 43pts
3 Shane Navin/Glenn Evans (2018 Volkswagen Golf R) 55pts