Maguire boosts targa Tasmania lead but challengers linger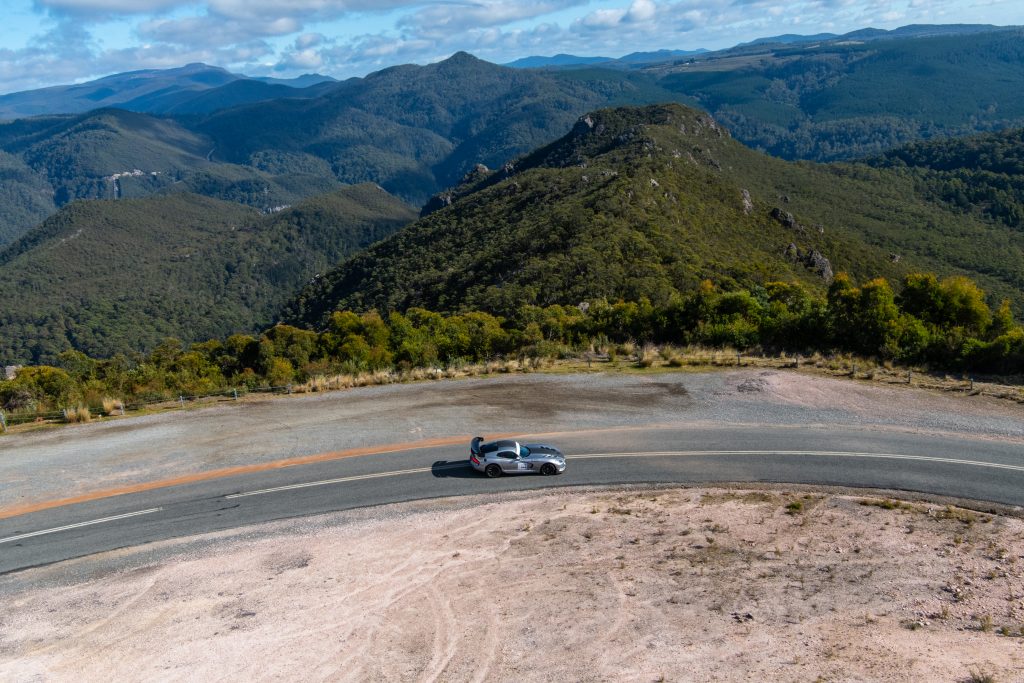 Wednesday 21st April, 2021
Local driver Ed Maguire is closing on his maiden TARGA Tasmania overall victory after a solid run through the third day.
At the completion of the 17th TARGA stage, Maguire and co-driver Zak Brakey (2016 Dodge Viper) managed to increase their overall lead to a neat two minutes at the half way mark of the event.
Trevor Macleod and Steve Glenney (2009 Nissan GT-R) continued their strong push to be second overall with Angus Kennard and Ian Wheeler in close attendance in third place, just another 13 seconds back in their 2015 GT-R.
With two-time winner Tony Quinn and Kate Catford (2019 Nissan GT-R) just 11 seconds further in arrears, the push for a podium position is intense.
"I've just been taking it as it comes and driving the road," Quinn said. "Everybody's been adjusting tyre pressures and suspension settings but I haven't touched the car at all.
"I learnt from the great Jim Richards to just fill up the car in the morning and at lunch and keep it on the road in between."
A star performer early on was Jeff Morton and Daymon Nicoli (2019 Porsche GT2 RS), the pair surging to stage wins on Cethana (TS 13) and Castra (TS 14) in their 2019 Porsche 911 GT2 RS before Maguire ended that streak by taking his fourth stage win of the event on Oldina (TS 15).
As Hellyer Gorge 1 (TS 16) was downgraded to a transport stage, it left the 34.75km Rinadeena test to close proceedings for the day. The final stage of the day was won by Kennard and Wheeler.
"We've been taking it pretty easy today," Maguire admitted. "We've just got to get to the finish by conserving our lead."
"If we can gain a bit of time in a safe manner, then we will, but it's still about conserving tyres for us.
"We had a very easy run over Cethana this morning because it's hard on tyres."
Maguire and Brakey also lead the Dutton Garage GTO leaderboard by two minutes 13 seconds ahead of Kennard and Wheeler with Tony Quinn and Kate Catford (2018 Nissan GT-R) third.
In other class news, Macleod and Glenney have surged to a decisive lead in Dutton Garage Early Modern 4, six minutes 34 seconds clear of Larry and Liam Howarth's 1995 Nissan GT-R.
Adam Kaplan and Aleshia Penney (2004 BMW M3 CSL) have maintained a strong pace to protect their lead in Dutton Garage Early Modern 2 by just over three minutes.
Jon and Gina Siddins are showing their experience by continuing a mistake-free showing to lead Shannons Classic GT in their 1970 Datsun 240Z. The Gold Coast pair moved to a three minute, 16 second advantage.
"Our plan for the rest of the week is now to defend the lead and not try too much to extend it – as Jack Brabham used to say, you've only got to win by one second," Jon Siddins said
There has been no change to the top of Shannons Classic Handicap as Ashley Yelds and Mary Hughes (1961 Volvo 122s) hold station at the top of the category standings. The Volvo pair lead by just over two minutes.
In the hotly contested Classic Throttle Shop GT Production, Ben Newman and Adam Kudra (2010 Subaru WRX STi) hold a one minute 13 second advantage over Peter Nunn and Keith Johnstone (2016 Porsche Cayman GTS).
Daryl and Peter Marshall have been ultra consistent in the time, speed and distance category (Budget TSD Trophy) to lead by 14 points. The Marshalls only dropped two penalty points for the day.
Matthew Gibbens and Timothy Jurd (2020 Lotus Exige 410) are locked in a tight battle in Spirit of Tasmania GT Sports Trophy.
The pair are just under two minutes in front of Stephen Sher and Fergal Murphy ((2016 Lotus Exige) with Robert Bryden and Ian Noble's Lotus Exige a further two seconds back.
Jack Waldron and Graham Mitchell maintain a big five minutes 12 second in Shannons Thoroughbred Trophy.
Queenslanders Tony and Sandra Seymour have a comfortable buffer in Spirit of Tasmania Rookie Rallye, guiding their 2013 Lotus Exige to a three minute 35 second lead.
The field travels from Strahan to Penguin and back, which includes another scheduled six stages, including the demanding Riana and Reece Dam tests.
TARGA Tasmania 2021 Day 3 of 6 results (provisional)
Dutton Garage Overall
1 Ed Maguire/Zak Brakey (2016 Dodge Viper ACR)
2 Trevor Macleod/Steve Glenney (2009 Nissan GT-R) +2 minutes
3 Angus Kennard/Ian Wheeler (2015 Nissan GT-R) +2:13s
4 Tony Quinn/Kate Catford (2018 Nissan GT-R) +2:24s
5 Jeff Morton/Daymon Nicoli (2019 Porsche GT2 RS) +3:32s
6 Peter Rullo/Dennis Sims (2020 Lotus Exige TARGA GT) +3:45s
Dutton Garage GT Outright
1 Ed Maguire/Zak Brakey (2016 Dodge Viper ACR)
2 Angus Kennard/Ian Wheeler (2015 Nissan GT-R) +2min:13sec
3 Tony Quinn/Kate Catford (2018 Nissan GT-R) +2:24s
Dutton Garage Early Modern 4
1 Trevor Macleod/Steve Glenney (2009 Nissan GT-R)
2 Liam Howarth/Larry Howarth (1995 Nissan Skyline GT-R) +6min:34sec
3 Jason Wright/Fiona Wright (2001 Nissan Skyline GT-R) +7:14s
Dutton Garage Early Modern 2
1 Adam Kaplan/Aleshia Penney (2004 BMW M3 CSL)
2 Peter Roberts/Suzanne Atkins (1992 Nissan Skyline GTS-1) +3min:10sec
3 Paul Henry/Katherine Henry (2006 Porsche Cayman S) +4:26s
Classic Throttle Shop GT Production
1 Ben Newman/Adam Kudra (2010 Subaru WRX STi)
2 Peter Nunn/Keith Johnstone (2016 Porsche Cayman GTS) +1min:13sec
3 Steve Maguire/Stuart Benson (2011 Mitsubishi Evo X) +2:10s
Shannons Classic GT
1 Jon Siddins/Gina Siddins (1970 Datsun 240Z)
2 Stuart McAuley/Philippe Etienne (1985 Porsche 911 Carrera) +3min:16secs
3 Stephen Thatcher/Phillip Parker (1989 Nissan Skyline GT-R) +4:54s
Shannons Classic Handicap
1 Ashley Yelds/Mary Hughes (1960 Volvo 122S)
2 Steve McClintock/Jann Skinner (1972 BMW 2002) +2min:08secs
3 Peter Ullrich/Sari Ullrich (1964 Studebaker Avanti) +3:50s
Spirit of Tasmania GT Sports Trophy
1 Matthew Gibbens/Timonthy Jurd (2020 Lotus Exige 410)
2 Stephen Sher/Fergal Murphy (2016 Lotus Exige) +1min:57secs
3 Robert Bryden/Ian Noble (2020 Lotus Exige) +1:59s
Shannons Thoroughbred Trophy
1 Jack Waldren/Graham Mitchell (1981 Mitsubishi Sigma)
2 John Stanton/John Blake (1981 Porsche 924 Turbo) +5min:12secs.
3 David Currow/Kate O'Donnell (1969 Fiat 124 AC) +33:42s
Budget TSD Trophy
1 Daryl Marshall/Peter Marshall (2002 Ford Pursuit Ute) 10 points
2 Christopher Waldock/Cristine Kirby (2016 Jaguar F-Type SVR) 24 points
3 Neville Emond/Stephen Jones (1996 Volvo 850R) 45 points
Spirit of Tasmania Rookie Rallye
1 Anthony Seymour/Sandra Seymour( 2018 Lotus Exige)
2 Tyler Page/Ryan Sheehan (2007 Subaru WRX) +3min:35secs
3 Stuart Collison/Lance Arundel (2006 Subaru WRX STi Spec c) +6:50s
Media contact details
Ian Chesterman – 0417 530 902
Gordon Lomas – 0419 733 995
Social media contact details
Jenna Carmichael – 0487 828 620