Maguire snares lead after dramatic opening to TARGA Tasmania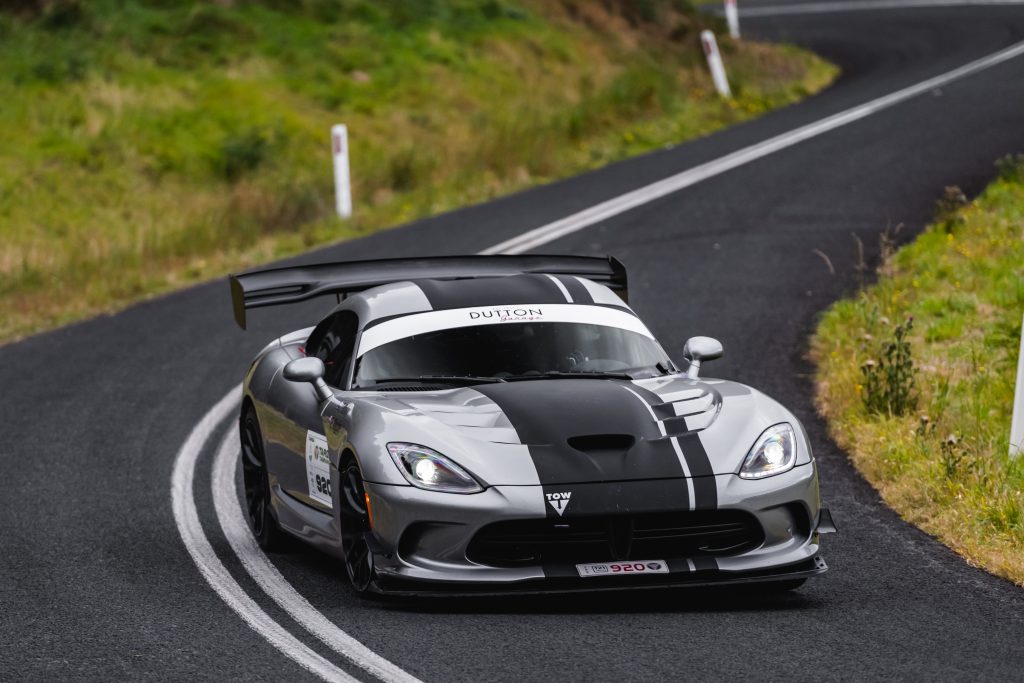 Monday April 19, 2021
Local hope Ed Maguire has speared to a shock lead after a dramatic start to the 29th edition of TARGA Tasmania.
As the field tackled the first of six stages scheduled for the day, perennial front-runners Jason and John White stamped their authority early, however the Dodge Viper pair stalled at the start of the fifth stage, Golden Valley, which saw them tumble from the lead.
Maguire and his co-driver Zak Brakey, also driving a Dodge Viper, then seized a 17 second lead.
White experienced further mechanical issues on the way to the start of the final stage of the day, to finish the run down Poatina 38 seconds behind his mate and fellow Viper driver.
While content with his day's work, Maguire is remaining cautious, believing tyres will become a key issue across the remaining five days.
"It's been a pretty interesting battle with the Whites today, but unfortunately for us, it's been dry," Maguire said.
"He's (White) got a different tyre on the front of his Viper now and our wheels didn't turn up in time for the event, so we're not able to push as hard as he is in the dry, so bring on the rain.
"Other than that we're really happy."
Jason White was less so.
"We had some serious electrical issues and stalled it at the start line of Golden Valley and it wouldn't start, so we had to bump start it in reverse and we were lucky to get going again'" White said.
"We had a battery explode on the way to Poatina and we've had acid fumes all through the cabin. Hopefully we can fix it tonight – if we can't then we're pretty much screwed."
Jeff Morton and Daymon Nicoli 92019 Porsche 911 GT2 RS were eight seconds further back in third after a solid start to his campaign, with the top three overall positions mirrored in the GTO category.
Gold Coast competitors Jon and Gina Siddins carved out a handy lead in Shannons Classic GT.
Driving their 1970 Datsun 240Z, the pair managed to build an advantage through the day following a solid start. Siddins leads the popular category by one minute 13 seconds.
Moving up to second is Graham Copeland and Josh Herbert in a 1986 Porsche 944 Turbo, with the Toowoomba-based driver debuting his newly purchased machine.
The Shannons Classic handicap field has seen the well-prepared Volvo 122s of Ashley Yelds and co-driver Mary Hughes assume the top spot in the handicap-based category.
Adam Kaplan and Aleshia Penney hold a 29 second lead after completing a strong charge in their 2004 BMW M3 CSL in Dutton Garage Early Modern 2.
Dutton Garage Early Modern 4 saw Trevor MacLeod and Steve Glenney (Nissan GT-R) be given a derived time for stopping on the final stage with the pair ending the day with a one minute 4 seconds lead. Guy and John Lilleyman (2006 Mitsubishi Evo IX) are in second ahead of Liam and Larry Howarth (1995 Nissan Skyline).
In Classic Throtle Shop GT Production, Peter Nunn and Keith Johnstone (2016 Porsche Cayman GTS) have established a 53 second lead over fellow Launceston resident Ben Newman and Adam Kudra (2010 Subaru WRX STI).
A sweep of the trophy classes sees Daryl and Peter Marshall (2002 Ford Pursuit Ute) claim the lead in Budget TSD Trophy, Matthew Gibbens/Timothy Jurd (2020 Lotus Exige 410) lead Spirit of Tasmania GT Sports Trophy.
Jack Waldron and Vin Gregory (1981 Mitsubishi Sigma) head the Shannons Thoroughbred Trophy while Queenslanders Tony and Sandra Seymour (2013 Lotus Exige) lead the Spirit of Tasmania Rookie Rallye.
The event continues tomorrow to the east of Launceston with another six stages. The first competition car is set to start TS7, the famous The Sideling stage, on the run out to St Helens and back.
Media contact details
Ian Chesterman – 0417 530 902
Gordon Lomas – 0419 733 995
Social media contact details
Jenna Carmichael – 0487 828 620