Maguire turns up wick on TARGA Tasmania assault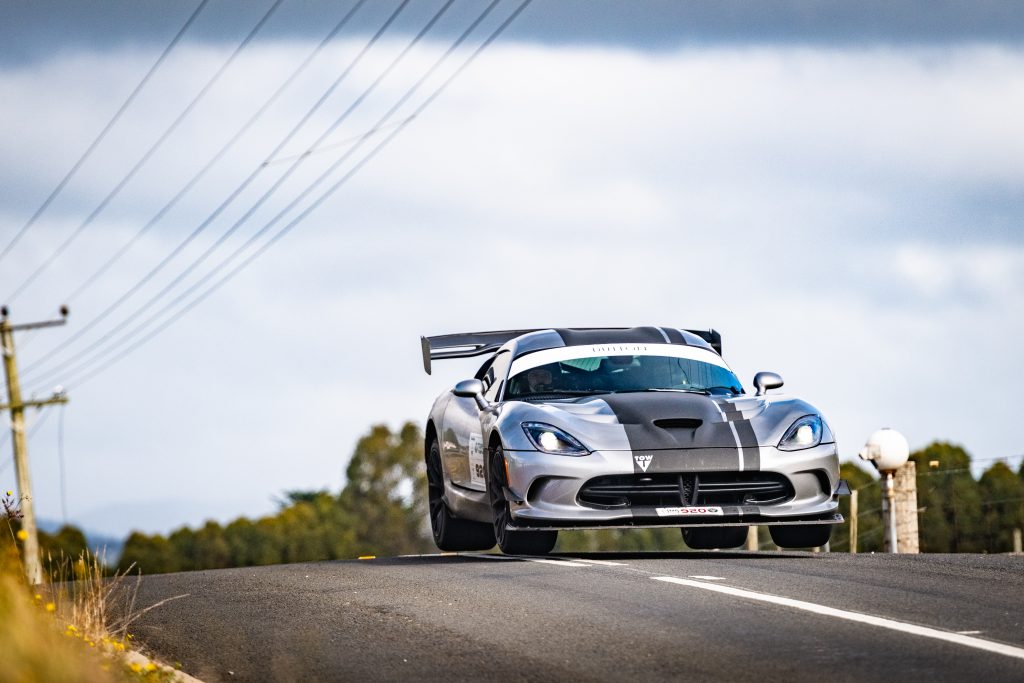 Thursday 22nd April, 2021
Eddie Maguire and Zak Brakey have turned in an electrifying performance to dominate day four of TARGA Tasmania.
On a day of largely wet conditions, Maguire aced four of the six stages in his potent 2016 Dodge Viper in a blistering display around Tasmania's north-west.
The Burnie flyer has now forged a two minute 23 second lead in overall standings. Angus Kennard and Ian Wheeler (2015 Nissan GT-R) have moved into second with Trevor Mcleod and Steve Glenney third.
Maguire also tops the Dutton Garage GTO leaderboard from Kennard and Wheeler with Tony Quinn and Kate Catford third in their 2018 Nissan GT-R.
"We've just been doing our thing and staying consistent," Maguire said. "We won every stage today except for Gunns Plains and the last one, Reece Dam.
"The temperature on our tyres came up too much on that stage and we had to nurse them and back off a bit.
"The weather so far has really helped our tyres. They're looking great – in fact, much better than I thought they would on day four, but there's still a long way to go."
Kennard is still pushing hard hoping for a first overall win at TARGA Tasmania.
"We haven't given up trying to catch Eddie yet'" Kennard said.
"It's such a long event and anything can happen, so you just have to keep going. We are going really hard and not holding anything back at this stage."
Another GT Outright contender, Jeff Morton and Daymon Nicoli, who starred by winning the first two stages on Day 3, pushed hard today but remain in fifth position overall.
An electronic glitch with their gearbox knocked the shine off an otherwise solid performance by Macleod and Glenney (2009 Nissan GT-R) but the pair still hold a big lead in Dutton Garage Early Modern 4 by more than 11 minutes.
Macleod and Glenney put in a sterling run to record the fastest time by 13 seconds over Maguire and Brakey on the 14.77km Gunns Plains stage.
Adam Kaplan and Aleshia Penney continue to show the way in Dutton Garage Early Modern 2 ahead of Peter Roberts and Suzanne Atkins. Adam Spence and Lee Challoner-Miles have jumped back into third after a time penalty on their 2004 BMW M3 CSL was withdrawn.
Jon and Gina Siddins are pressing on with a sublime performance to dominate the pace in Shannons Classic GT in their popular 1970 Datsun 240Z. Gina Siddins has swapped seats, driving a couple of stages with Jon calling the notes.
The Siddins have increased their lead by five minutes and 23 seconds.
Ashley Yelds and Mary Hughes (1961 Volvo 122s), who stopped to offer assistance to a fellow competitor who had spun in TS 19, were given a derived time and maintain the top of the table in Shannons Classic Handicap.
Peter Nunn and Keith Johnstone have taken over the lead of Classic Throttle Shop GT Production following the unfortunate withdrawal of Ben Newman/Adam Kudra for personal reasons.
Nunn/Johnstone have a two minutes 19 second break over Crichton Lewis/Anthony Carr (2015 Subaru WRX STi).
Day four saw a change of lead in Spirit of Tasmania Rookie Rallye with Tyler Page and Ryan Sheehan (2007 Subaru WRX) taking over from previous front-runners Tony and Sandra Seymour (2018 Lotus Exige).
Darryl and Peter Marshall are putting on a clinic by extending their gap in the time-speed-distance and penalty points-based Budget TSD Trophy. The Marshalls are now 31 points clear.
Shannons Thoroughbred Trophy is a one-act affair with Jack Waldren and Graham Mitchell forging a huge 10 minutes 44 second lead over John Stanton/John Blake (1981 Porsche 924 Turbo).
Matthew Gibbens and Timothy Jurd (2020 Lotus Exige 410) maintain the top position in Spirit of Tasmania GT Sports Trophy, one minute 54 seconds over Stephen Sher/Fergal Murphy's 2016 Lotus Exige.
The penultimate day of the rally takes cars from Strahan down into Hobart with a further 116 competitive kilometres.
TARGA Tasmania 2021 Day 4 of 6 results (provisional)
Dutton Garage Overall
1 Ed Maguire/Zak Brakey (2016 Dodge Viper ACR)
2 Angus Kennard/Ian Wheeler (2015 Nissan GT-R) +2m:23s
3 Trevor Macleod/Steve Glenney (2009 Nissan GT-R) +3:29s
4 Tony Quinn/Kate Catford (2018 Nissan GT-R) +3:57s
5 Jeff Morton/Daymon Nicoli (2019 Porsche GT2 RS) +7:16s
6 Peter Nunn/Keith Johnstone (2016 Porsche Cayman GTS) +10:32s
Dutton Garage GT Outright
1 Ed Maguire/Zak Brakey (2016 Dodge Viper ACR)
2 Angus Kennard/Ian Wheeler (2015 Nissan GT-R) +2m:23s
3 Tony Quinn/Kate Catford (2018 Nissan GT-R) +3:57s
Dutton Garage Early Modern 4
1 Trevor Macleod/Steve Glenney (2009 Nissan GT-R)
2 Jason Wright/Fiona Wright (2001 Nissan Skyline GT-R) +11m:07s
3 Geoffrey Hewitt/Toni Hewitt (2009 Nissan GT-R) +11.13s
Dutton Garage Early Modern 2
1 Adam Kaplan/Aleshia Penney (2004 BMW M3 CSL)
2 Peter Roberts/Suzanne Atkins (1992 Nissan Skyline GTS-1) +4m:20s
3 Adam Spence/Lee Challoner-Miles (2004 BMW M3 CSL) +4:45s
Classic Throttle Shop GT Production
1 Peter Nunn/Keith Johnstone (2016 Porsche Cayman GTS)
2 Stephen Maguire/Stuart Benson (2011 Mitsubishi Evo X) +35s
3 Crichton Lewis/Anthony Carr (2015 Subaru WRX STi) +2:19s
Shannons Classic GT
1 Jon Siddins/Gina Siddins (1970 Datsun 240Z)
2 Stuart McAuley/Philippe Etienne (1985 Porsche 911 Carrera) +5m:23s
3 Stephen Thatcher/Phillip Parker (1989 Nissan Skyline GT-R) +6:08s
Shannons Classic Handicap
1 Ashley Yelds/Mary Hughes (1960 Volvo 122S)
2 Steve McClintock/Jann Skinner (1972 BMW 2002) +4m:11s
3 Peter Ullrich/Sari Ullrich (1964 Studebaker Avanti) +6:09s
Spirit of Tasmania GT Sports Trophy
1 Matthew Gibbens/Timothy Jurd (2020 Lotus Exige 410)
2 Stephen Sher/Fergal Murphy (2016 Lotus Exige) +1m:54s
3 Robert Bryden/Ian Noble (2020 Lotus Exige) +2:35s
Shannons Thoroughbred Trophy
1 Jack Waldren/Graham Mitchell (1981 Mitsubishi Sigma)
2 John Stanton/John Blake (1981 Porsche 924 Turbo) +10m:44s
3 David Currow/Kate O'Donnell (1969 Fiat 124 AC) +41.41s
Budget TSD Trophy
1 Darryl Marshall/Peter Marshall (2002 Ford Pursuit Ute) 11 points
2 Christopher Waldock/Cristine Kirby (2016 Jaguar F-Type SVR) 42 points
3 Neville Emond/Stephen Jones (1996 Volvo 850R) 71 points
Spirit of Tasmania Rookie Rallye
1 Tyler Page/Ryan Sheehan (2007 Subaru WRX) 
2 Anthony Seymour/Sandra Seymour( 2018 Lotus Exige) +4m:10s
3 Murray Young/Paul McBean (2012 BMW M3) +13:06s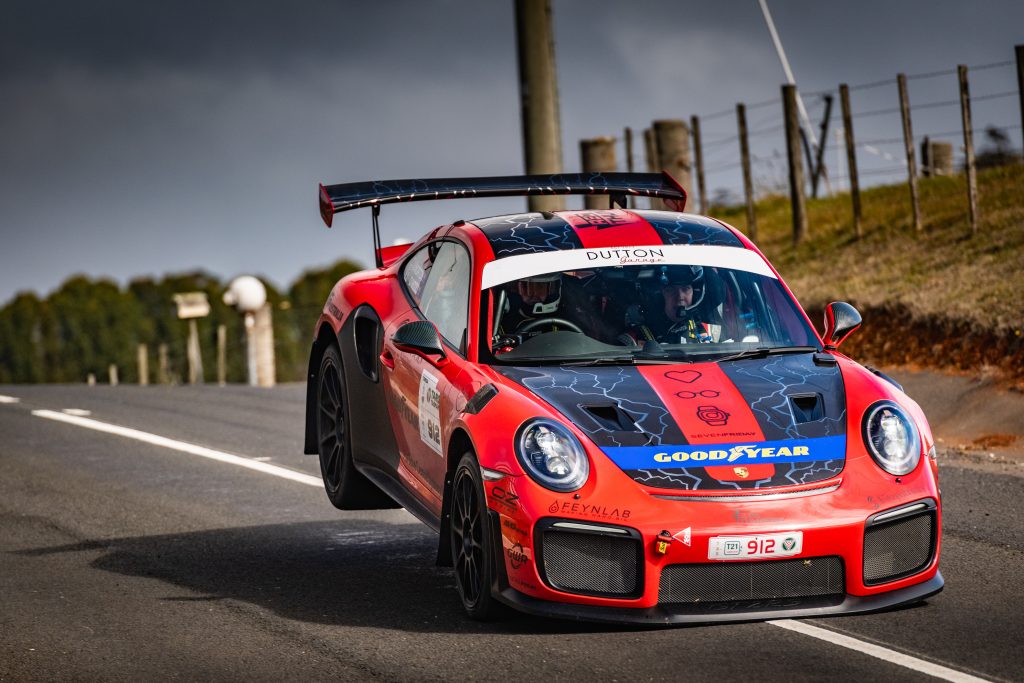 Media contact details
Ian Chesterman – 0417 530 902
Gordon Lomas – 0419 733 995
Social media contact details
Jenna Carmichael – 0487 828 620