Morton extends TARGA High Country buffer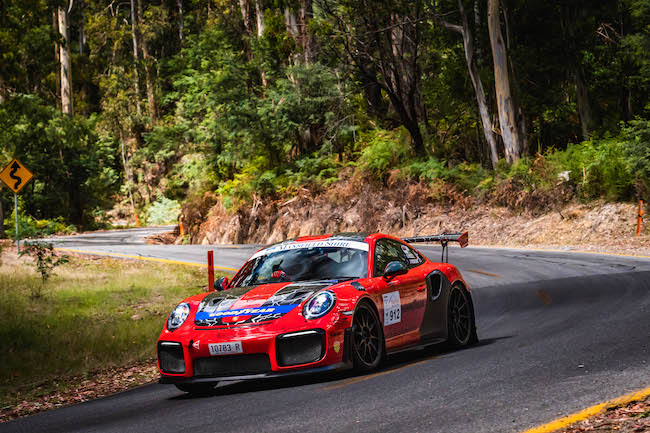 Brain cancer survivor Jeff Morton continued his sizzling form by completing the second day of TARGA High Country with a solid lead.
Negotiating the day's six stages, Morton and co-driver Daymon Nicoli returned to Mt Buller armed with a 1min41sec advantage in their 2019 Porsche GT2 RS.
Angus Kennard and Steve Glenney (2015 Nissan GT-R) hold second overall while Trevor Macleod and Ian Wheeler (2009 Nissan GT-R) are third.
With 14 of the 20 stages in the books, the methodical Morton is on track to pull off what would be a dream result 12 years after being diagnosed with a brain tumor.
The Sydney competitor has remarkably won all but one of the timed stages going into the final day.
"We managed to win the Mansfield street stage and I was a bit conservative but still enjoyed it," Morton said.
"The car is amazing and is built for exactly these type of roads. But we were tested a bit today with some changeable and bumpy conditions.
"I didn't expect to be in the position we are in and we are very happy with where we are but it's also testing for us ahead of TARGA Tasmania in late April."
While everything was clicking into place for Morton the same cannot be said for Luke Anear and co-driver Andy Sarandis.
The pair had another day soured by mechanical issues in the Mercedes-Benz AMG GT R when a power steering belt broke on TS10. The team returned for the Mansfield street stage at the end of the day but have dropped way down the order.
The GTO category is led by Morton from Kennard while Tony Quinn and co-driver Kate Catford (2018 Nissan GT-R) is in third.
In a dramatic development at the top of Shannons Classic GT standings, South Australians Roger Lomman and Anne Bainbridge (1972 Datsun 240Z) powered into the lead.
Adam Kaplan and Aleshia Penney (1988 Giocattolo Group B) clutched a narrow lead on TS10, but were struck with a mechanical issue on TS11 (Harrys Creek), taking them out of the Classic GT top three.
Perennial front-runners Peter Gluskie and Samantha Winter edged closer to another victory in Shannons Classic Handicap, the Melbourne pair clutching a 5min09s lead.
Mansfield Shire GT Production sees Queenslanders Mark Griffith and Neill Woolley hold a solid 2min11s lead.
Dutton Garage Early Modern 2 and Early Modern 4 are topped by Paul and Claire Buccini (2008 BMW 135) and Trevor Macleod/Ian Wheeler (2009 Nissan GT-R) respectively.
Lotus machines dominate the GT Sports Trophy class with Matthew Gibbens and Timothy Jurd (2020 Lotus Exige 410) holding a slender 11-second lead as the brand occupies the top three spots.
Mansfield Shire Thoroughbred Trophy is topped by Stephen Gould and Jack Gould (1985 BMW 323), the pair holding a cushion of over three minutes.
In the regularity TSD Trophy section, Tracy Hoven and Garth Davies (2018 Alpine A110) have surged into the lead after sitting outside the top three after the opening day.
Results – Day 2 of 3 (provisional)

Overall
1 Jeff Morton/Daymon Nicoli (2019 Porsche GT2 RS)
2 Angus Kennard/Steve Glenney (2015 Nissan GT-R) +1min41s
3 Trevor Macleod/Ian Wheeler (2009 Nissan GT-R) +3.37s
4 Anthony Moss/Julie Hunter (2008 Mitsubishi Evo X) +4.26s
5 Jason Wright/Fiona Wright (2008 Nissan GT-R) +5mins

Mt Buller GT Outright
1 Jeff Morton/Daymon Nicoli (2019 Porsche GT2 RS)
2 Angus Kennard/Steve Glenney (2015 Nissan GT-R) +1.41s
3 Tony Quinn/Kate Catford (2018 Nissan GT-R) +5.30s

Mansfield Shire GT Production
1 Mark Griffith/Neil Woolley (2017 Mercedes-Benz AMG A45)
2 Barrie Smith/Anthony McLoughlin (2017 Audi TTRS) +2min11s
3 Crichton Lewis/Anthony Carr (2015 Subaru WRX Sti) +2.47s

Dutton Garage Early Modern 2
1 Paolo Buccini/Claire Buccini (2008 BMW 135i)
2 David Blunden/Robert Sheppard (1977 Nissan Skyline GTS) +2.47s
3 Christopher Exner/Bernie Webb (1995 Mazda RX-7 SP) +3.13s

Dutton Garage Early Modern 4
1 Trevor McLeod/Ian Wheeler (2009 Nissan GT-R)
2 Anthony Moss/Julie Hunter (2008 Mitsubishi Evo X) +49s
3 Jason Wright/Fiona Wright (2008 Nissan GT-R) +1.23s

Shannons Classic (handicap)
1 Peter Gluskie/Samantha Winter (1989 BMW 325)
2 Philip Jon-Buggee/Paul Freame (1975 Fiat 131) 5min09s
3 Darryl Bennett/Mary White (1989 Suzuki Swift GTi) +11.21s
Shannons Classic GT
1 Roger Lomman/Anne Bainbridge (1972 Datsun 240Z)
2 Mark Hammond/Dirk Witteveen (1980 Jaguar XJS) +1.50s
3 Meng Chung/Nicholas Vardos (1987 BMW M3) +2.15s

Mansfield Shire GT Sports Trophy
1 Matthew Gibbens/Timothy Jurd (2020 Lotus Exige 410)
2 Simon Trude/Dion Morrison (2019 Lotus Exige Sport 410) +11s
3 Steven Sher/Fergal Murphy (2016 Lotus Exige) +23s

Shannons Thoroughbred Trophy
1 Stephen Gould/Jack Gould (1985 BMW 323)
2 Geoffrey Corah/Sharon Alcock (1973 Alfa 105) 3:27s
3 Jack Waldron/Vin Gregory (1981 Mitsubishi Sigma) 4.57s

Mt Buller TSD Trophy
1 Tracy Hoven/Garth Davies (2018 Alpine A110) 18 points
2 Steven Brumby/Heather Brumby (1999 Alfa Romeo GTV 29 points
3= Justin Marshall/Spencer Marshall (2011 Volkswagen Polo) 31 points
3= Neville Emond/Stephen Jones (1996 Volvo 850R) 31 points