Morton stuns with maiden TARGA victory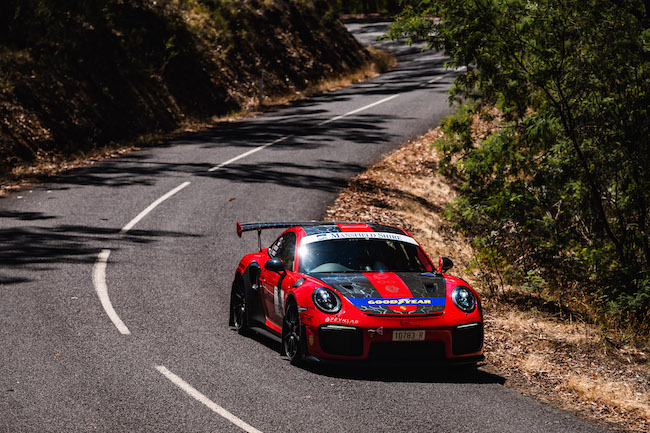 Sydney driver Jeff Morton has completed a career defining achievement with a dominant victory at TARGA High Country in Victoria's alpine region.
With his regular co-driver Daymon Nicoli alongside calling the notes, Morton broke the shackles on his TARGA career in emphatic style.
It was a supreme display of tarmac rallying by Morton who dominated the three-day event, winning by 2mins24s, after increasing his advantage by 43seconds on an incident-filled final day.
Leading from the start on Friday, Morton maintained a controlled pace to stave off all challengers in the 2019 Porsche GT2 RS which he calls 'red thunder'.
"We were here to enjoy this rally and we didn't expect to be in a position we are in," the talented Morton said.
"It's also valuable testing for us ahead of TARGA Tasmania (April 26-May 1). There is no bigger test for a tyre than the Jamieson/Eildon stages.
"This is just a dream result and we are over the moon."
Experienced driver Angus Kennard was ready to pounce throughout with Steve Glenney calling the notes as the 2015 Nissan GT-R pair finished second overall.
Third overall was the Early Modern 4 class 2008 Mitsubishi Evo X of Anthony Moss and Julie Hunter following an outstanding run.
Morton also claimed the MT Buller GT Outright category ahead of Kennard with Tony Quinn and Kate Catford third in their 2018 Nissan GT-R.
South Australians Roger Lomman and Anne Bainbridge withstood a strong challenge to win Shannons Classic GT in their 1972 Datsun 240Z. In a cruel twist their main rivals, Adam Kaplan and Aleshia Penney (1988 Giocattolo Group B) broke a driveshaft on the final stage.
Melbourne pair Peter Gluskie and Samantha Winter successfully defended their crown in Shannons Classic Handicap, leading throughout in their 1989 BMW 325.
Queenslanders Mark Griffith and Neill Woolley (2017 Mercedes-Benz AMG A45) completed a dominant victory in Mansfield Shire GT Production.
Brisbane duo Paul and Claire Buccini were never headed to win Dutton Garage Early Modern 2 in their 2008 BMW 135) while Dutton Garage Early Modern 4 saw Anthony Moss and Julie Hunter finish powerfully to claim the class in their 2008 Mitsubishi Evo X.
New South Wales pair, Matthew Gibbens and Timothy Jurd (2020 Lotus Exige 410) prevailed in a keenly fought Mansfield Shire GT Sports Trophy class.
Stephen and Jack Gould took the honours Mansfield Shire Thoroughbred Trophy decisively in their 1985 BMW 323.
In the time, speed and distance regulated Mt Buller TSD Trophy, Tracy Hoven and Garth Davies landed the class by finishing on 20 points in their 2018 Alpine A110, dropping only two penalty points during the day.
The opening stage off Mt Buller (TS15 Mirimbah) was downgraded to touring after an incident with a tour car before there was another lengthy delay for an incident on the 48.91km Jamieson stage (TS16).

Classic GT driver Geoffrey Nicolls (driver The Mercedes-Benz 450SE) was taken to hospital following a crash 28.4km into that stage. His co-driver Ray Farrell escaped serious injury.
The incident caused a lengthy delay with the Skyline stage (TS18) downgraded to touring status.
TARGA will be back for the 30th anniversary edition of TARGA Tasmania from April 26-May 1.
Final results – Day 3 of 3 (provisional)
Overall
1 Jeff Morton/Daymon Nicoli (2019 Porsche GT2 RS)
2 Angus Kennard/Steve Glenney (2015 Nissan GT-R) +2min24s
3 Jason Wright/Fiona Wright (2008 Nissan GT-R) +7min42s
4 Tony Quinn/Kate Catford (2018 Nissan GT-R) +7min47s
5 Liam Howarth/Larry Howarth (1995 Nissan Skyline GT-R) +9min05s
Mt Buller GT Outright
1 Jeff Morton/Daymon Nicoli (2019 Porsche GT2 RS)
2 Angus Kennard/Steve Glenney (2015 Nissan GT-R) +2min24s
3 Tony Quinn/Kate Catford (2018 Nissan GT-R) +7min47s
Mansfield Shire GT Production
1 Mark Griffith/Neil Woolley (2017 Mercedes-Benz AMG A45)
2 Crichton Lewis/Anthony Carr (2015 Subaru WRX Sti) +2min15s
3 Barrie Smith/Anthony McLoughlin (2017 Audi TTRS) +6min02s
Dutton Garage Early Modern 2
1 Paolo Buccini/Claire Buccini (2008 BMW 135i)
2 David Blunden/Jaidyn Gluskie (1977 Nissan Skyline GTS) +4min56s
3 Allan Rumble/Casey Rumble (2003 Holden Commodore) +15min06s
Dutton Garage Early Modern 4
1 Anthony Moss/Julie Hunter (2008 Mitsubishi Evo X)
2 Jason Wright/Fiona Wright (2008 Nissan GT-R) +1min36s
3 Liam Howarth/Larry Howarth (1995 Nissan Skyline GT-R) +2min59s
Shannons Classic (handicap)
1 Peter Gluskie/Samantha Winter (1989 BMW 325)
2 Philip Jon-Buggee/Paul Freame (1975 Fiat 131) 11min01s
3 Darryl Bennett/Mary White (1989 Suzuki Swift GTi) +22min19s
Shannons Classic GT
1 Roger Lomman/Anne Bainbridge (1972 Datsun 240Z)
2 Meng Chung/Nicholas Vardos (1987 BMW M3) +2min22s
3 Mark Clair/Lee Harper (1974 Porsche 911 Carrera RSR) +5min29s
Mansfield Shire GT Sports Trophy
1 Matthew Gibbens/Timothy Jurd (2020 Lotus Exige 410)
2 Steven Sher/Fergal Murphy (2016 Lotus Exige) +49s
3 Robert Bryden/Ian Noble (2020 Lotus Exige) +1min25s
Shannons Thoroughbred Trophy
1 Stephen Gould/Jack Gould (1985 BMW 323)
2 Geoffrey Corah/Sharon Alcock (1973 Alfa 105) 9min13s
3 Jack Waldron/Vin Gregory (1981 Mitsubishi Sigma) +21:32s
Mt Buller TSD Trophy
1 Tracy Hoven/Garth Davies (2018 Alpine A110) 20 points
2 Neville Emond/Stephen Jones (1996 Volvo 850R) 51 points
3 Justin Marshall/Spencer Marshall (2011 Volkswagen Polo) 66 points