New tyre and brake package to boost White Viper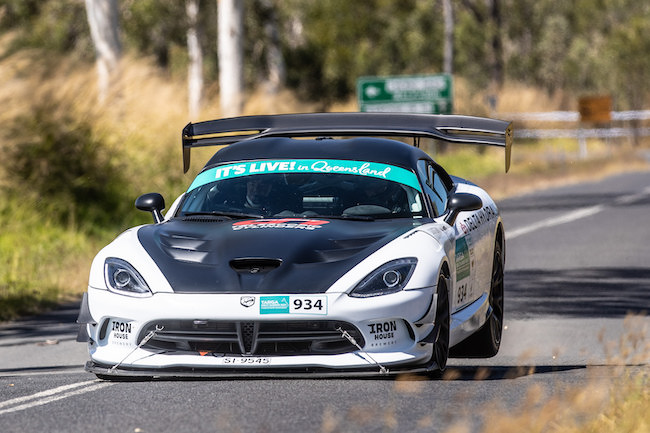 Saturday April 17th, 2021
Perennial TARGA Tasmania charger Jason White says the move to a smaller tyre and rim will assist his chances of equalling a record at the iconic tarmac rally.
Jason and John White have now combined to seven Targa Tasmania titles, one behind the record set by Jim Richards and Barry Oliver.
The Dodge Viper will switch from wear sensitive and extremely low profile 19-inch tyres on the front to a more durable 18-inch rim and tyre combination.
"We have a different tyre package on the front which will hopefully stop us whingeing about our tyre wear," White says.
"The only option we had before was the OEM tyre that came on the car.
"So now it has eased our mind as far as the front of the car goes but the rear is still as big an issue as it has ever been.
"There is a massive tyre on the rear so there is no-one that makes a tyre that would be compatible for it."
Together with the front tyre change, the Viper will see the carbon/ceramic brake package binned. Instead White has opted for a more conventional steel brake set-up all-round.
"Hopefully it will give us more consistency in the feel of the brake pedal," White says.
"We are happy with it at this stage but it is still unproven.
"It won't be until we push hard down the side of Cethana(37.71km) on Day 3 whether the decision has been correct or not.
"There is no racetrack on the planet that is as hard going down the mountain as Cethana.
"If you still have brakes at the bottom then you know you've pretty much got it right."
White tried the new arrangement for the first time at the HellyerGorge rally earlier this year but has not competed in a TARGA event since High Country in 2019.
The changes come as White and his co-driver uncle John White eye the record of eight wins by Jim Richards and Barry Oliver.
"That (eight wins) is the starting point for us. John has always said that he would retire at 10 (wins)," White declared.
"We've had a couple of failed attempts in the last five or six years.
"We've been in the lead of more TARGAS that we've won and have lost them for one reason or another.
"An eighth win is something we are really, really desperate to get on the board. The eighth win would just be a stepping stone to 10.
"But you can be too confident about a TARGA attempt. We are well aware of the battles ahead to actually get to the finish line and win it. Turning up with the fastest car is a very secondary thing.
"This year is very important to us and it certainly has got our attention and we are not heading into it lightly."
GT Outright will also see Dodge Viper machinery for Eddie Maguire and Zak Brakey and John Ireland and Janet Binns.
Former TARGA Tasmania winner and 2020 TARGA Great Barrier Reef champion Tony Quinn and Kate Catford are in fine form and return as top chances in their 2018 Nissan GT-R.
The 29th edition of TARGA Tasmania will kick off from the Launceston Silverdome to the first stage, High Plains, on April 19 with the event finishing after 37 stages and 618km of competitive distance at PW1 in Hobart on April 24.
Targa Tasmania honour roll – outright winners
1992 Greg Crick/Greg Preece, Honda NSX
1993 Greg Crick/Greg Preece, Honda NSX
1994 Andrew Miedecke/Alan Taylor, Porsche 944 Turbo Cup
1995 Neal Bates/Coral Taylor, Toyota Celica GT-Four (ST205)
1996 Jim Richards/Barry Oliver, Porsche 911 Turbo (993)
1997 Jim Richards/Barry Oliver, Porsche 911 Turbo (993)
1998 Jim Richards/Barry Oliver, Porsche 911 Turbo (993)
1999 Peter Fitzgerald/Michael Mansour, Porsche 911 Turbo (993)
2000 Jim Richards/Barry Oliver, Porsche 911 GT3 CS
2001 Jim Richards/Barry Oliver, Porsche 911 Turbo (996)
2002 Jim Richards/Barry Oliver, Porsche 911 Turbo (996)
2003 Jim Richards/Barry Oliver, Porsche 911 GT3 CS
2004 Tony Sullens/Julia Rabbett, Subaru Impreza WRX STiS202
2005 Jason White/John White, Nissan Skyline GT-R V-Spec N1 (R34)
2006 Jim Richards/Barry Oliver, Porsche 911 GT2 CS (996)
2007 Tony Sullens/Julia Barkley, Subaru Impreza WRX Type RA (GC8)
2008 Steve Glenney/Bernie Webb, Mitsubishi Lancer Evolution IX RS
2009 Tony Quinn/Naomi Tillett, Nissan GT-R
2010 Jason White/John White Lamborghini, Gallardo ReiterSuper Trofeo Stradale
2011 Tony Quinn/Naomi Tillett, Nissan GT-R
2012 Jason White/John White, Lamborghini Gallardo Super Trofeo Stradale
2013 Jason White/John White, Lamborghini Gallardo Super Trofeo Stradale
2014 Jamie Vandenberg/Dennis Sims, Nissan GT-R
2015 Jason White/John White, Lamborghini Gallardo SquadraCorse
2016 Matt Close/Cameron Reeves, 2015 Porsche 911 GT3
2017 Jason White/John White, Dodge Viper
2018 Jason White/John White, Dodge Viper
2019 Paul Stokell/Kate Catford, Lotus Exige Sport 350
2020 Not held
Media contact details
Ian Chesterman – 0417 530 902
Gordon Lomas – 0419 733 995
Social media contact details
Jenna Carmichael – 0487 828 620