Quinn establishes commanding TARGA Championship points lead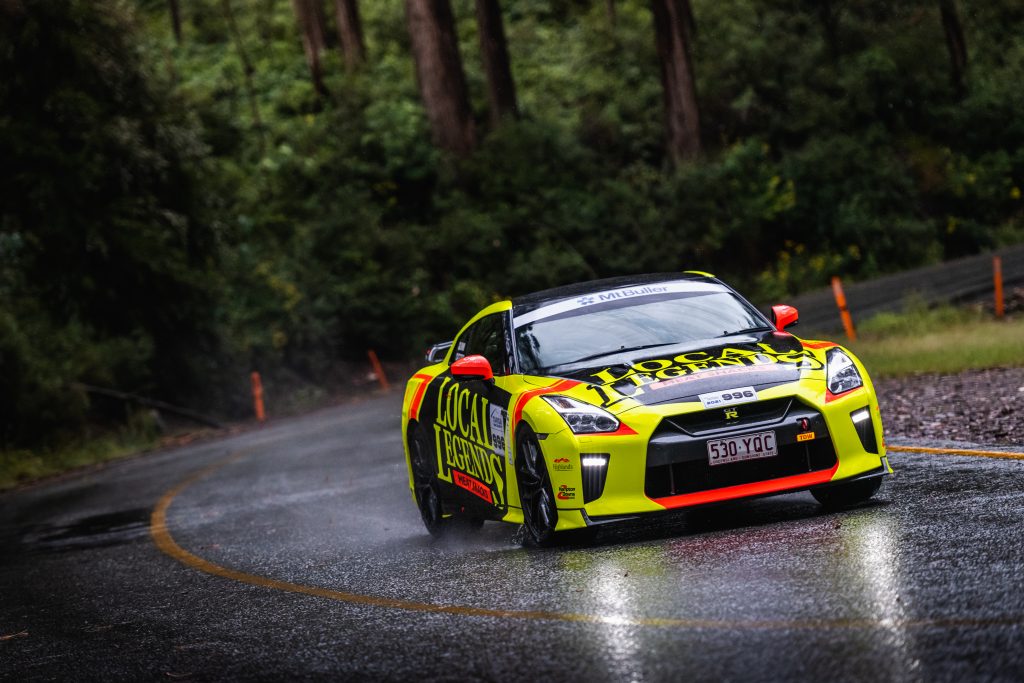 Outstanding tarmac rally driver Tony Quinn holds a decisive lead in the coveted Modern Outright category of the 2021 Motorsport Australia TARGA Championship.
Following COVID-19 disruptions, the national TARGA title embraces the already run TARGA Great Barrier Reef (staged in September 2020), the recently completed TARGA High Country and the blue riband TARGA Tasmania scheduled from April 19 to 24.
Quinn brilliantly won the opening round in Queensland in his Nissan GT-R and followed that success with second outright at the rescheduled High Country event earlier this month, clawing his way back from fourth on the final day. He has been crewed each time by co-drivers Brian Foster and Kate Catford respectively.
From a maximum of 140 points, Quinn has accumulated 133 points ahead of the gruelling six-day TARGA Tasmania that will see competitors tackle 38 stages totaling more than 626 kilometres of competition.
Quinn is favourite to take his first Modern Outright national gong. The business and motor racing entrepreneur made a big splash at High Country with his Nissan, decorated for the first time in the striking fluro green colours.
That result came only days after it was announced that he had taken a 40 percent majority shareholding in the Brisbane-based Triple Eight Race Engineering Supercars squad.
The closest challenger is experienced dirt and tarmac rally driver Luke Anear, who with co-driver Andy Sarandis, sit on 90 points following solid results at both TARGA Great Barrier Reef and High Country.
A 43-point difference is decisive but by no means insurmountable given the unpredictability and relentless nature posed by the deciding TARGA Tasmania rally.
Quinn also leads GT Outright with a maximum haul of 140 points after winning the category at both TGBR and THC.
Melbourne-based Peter Gluskie and his regular co-driver Samantha Winter are leading Classic Outright after the opening two events of the three-event 2021 Motorsport Australia TARGA Championship.
The 1989 BMW 325i competitors are on 133 points, 32 ahead of Mark Griffith and Neil Woolley in their 1976 Datsun 1600.
Leaders in other classes are Tommy Monaghan/Alan Stephenson (GT Production), Bo Williams/Alice McKenzie (Early Modern 2), Dean Lillie/Steve Glenney and Andrew Horn/Sally Coning (equal in Early Modern 4), Peter Gluskie/Samantha Winter (Classic Handicap) and Mark Griffith/Neil Woolley (Classic GT).
The trophy class picture sees Darryl Marshall/Peter Marshall and Neville Emond/Stephen Jones share the lead in TSD Trophy, Paolo Buccini/Claire Buccini lead (GT Sports Trophy) while Tim Hall/Kym Hall and Brett Dillon/Geoffrey Corah are equal in Thoroughbred Trophy.
All classes will be decided at the forthcoming TARGA Tasmania.
The iconic event from April 19 to 24 has been heavily revised with a big increase in distance that sees the addition of new tests and old favorites. The opening stage of the event will be 5.80km run at High Plains.