Quinn establishes early advantage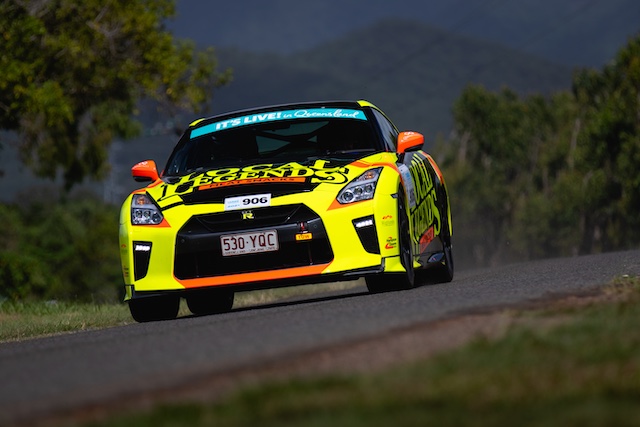 Friday September 3, 2021
Champion driver Tony Quinn delivered a copybook exhibition of tarmac rallying to lead the overall field following the opening leg of competition in Cairns.
Chasing a second successive victory at the event on Tropical North Queensland's striking and demanding roads, Quinn and co-driver Brian Foster have established a handy 24 second lead in their Nissan GT-R in the It's Live Queensland overall standings.
The highly experienced Quinn, whose extensive list of track and rally triumphs is spearheaded by winning the coveted TARGA Tasmania twice, is attempting to duplicate his effort at Cairns last year by leading from the outset.
Officials downgraded the final stage of the day, Copperlode (TS 6) due to road conditions.
"It was a reasonable day of driving," the laid-back Quinn said.
"It was steady as she goes so we just have to maintain the pace and not make any mistakes. But there is no time to get comfortable."
Luke Anear and Andy Sarandis are in second place overall. After a late switch of car just before the event, Anear and Sarandis are now doing battle in a 2010 Subaru WRX STi.
Tony and Sandra Seymour are third overall, 37 seconds behind the leaders, in a 2013 Lotus Exige. The leading three positions are duplicated in the GT Outright class.
Anear and Sarandis also lead GT Production with a 60 second advantage ahead of Mark Griffith and Neill Wooley's 2017 Mercedes-Benz A45.
Paolo and Claire Buccini (2008 BMW 135i) have forged a tidy lead in Dutton Garage Early Modern 2 while Geoff and Toni Hewitt (2009 Nissan GT-R) are showing the way in Dutton Garage Early Modern 4.
Classic GT stars Jon and Gina Siddins showed the way in their 1970 Datsun 240z before ending proceedings in second, nine seconds behind Anthony Genocchio and Robert Horsfall (1983 Holden Commodore) in Shannons Classic GT.
A tight battle is raging in Shannons Classic Handicap with Patrick Barnett and Katie Barnett (1979 Ford Cortina) clinging to a 24 second lead over Tyrone Gilbert and Tania Wearing (1967 Holden HR Ute).
A scan through the trophy classes sees Darryl Marshall/Peter Marshall (2002 Ford Falcon Pursuit 250) and Agim Selita/Gezim Bashi (2011 BMW 135i M Sports) co-leaders on three points. Thoroughbred Trophy is headed by Tim and Kym Hall in their 1980 Holden Commodore. GT Sports Trophy is topped by the 2019 Toyota Supra GTS of Geoffrey Olholm and Matthew Sanders.
The sole Rookie Rallye entry of Wayne Lamont and Errol Rosenblatt (2012 Toyota 86) completed the day's five stages.
For more information on key components of TARGA Great Barrier Reef and road closures, visit targa.com.au and download the Spectator Guide. Results – Day 1 of 3 (Provisional)It's Live Queensland Overall
1 Tony Quinn/Brian Foster (2018 Nissan GT-R)
2 Luke Anear/Andy Sarandis (2010 Subaru WRX STi) +24secs
3 Tony Seymour/Sandra Seymour (2013 Lotus Exige) +37s
4 Anthony Genocchio/Robert Horsfall (1983 Holden Commodore) +1min16s
5 Mark Griffith/Neill Woolley (2017 Mercedes A45) +1.24s
It's Live Queensland GT Outright
1 Tony Quinn/Brian Foster (2018 Nissan GT-R)
2 Luke Anear/Andy Sarandis (2010 Subaru WRX STi) +24s
3 Tony Seymour/Sandra Seymour (2013 Lotus Exige) +37s
Cairns Regional Council GT Production
1 Luke Anear/Andy Sarandis (2010 Subaru WRX STi)
2 Mark Griffith/Neill Woolley (2017 Mercedes A45) +1min0s
3 Steven Van Der Brug/Linda Rankine (2010 Subaru WRX STi) +1:10s
Dutton Garage Early Modern 2
1 Paolo Buccini/Claire Buccini (2008 BMW 135i)
2 Ian Gough/Zahary Gough (1998 Nissan Skyline) +4mins:32s
Dutton Garage Early Modern 4
1 Geoffrey Hewitt/Toni Hewitt (2009 Nissan GT-R)
2 Gregg Taylor/Craig Milich (2008 Subaru WRX) +1min:38s
3 Aaron Dunkerton/Alan Stean (2003 Mitsubishi Evo VIII) +1:49s
Shannons Classic (handicap)
1 Patrick Barnett/Katie Barnett (1979 Ford Cortina)
2 Tyrone Gilbert/Tania Wearing (1981 Mazda RX-7) +24secs
Shannons Classic GT
1 Anthony Genocchio/Robert Horsfall (1983 Holden Commodore)
2 Jon Siddins/Gina Siddins (1970 Datsun 240Z) +9secs
3 Stewart Reid/Jennifer Cole (1980 Ford Escort) +1min07s
Reef Hotel & Casino GT Sports Trophy
1 Geoffrey Olholm/Matthew Sanders (2019 Toyota Supra GTS)
2 Gwesyn Dalliston/Robert Goodwin (2003 Nissan 350Z Track) +1min08s
3 Warren Hendry/Mitchell Hendry (2020 Toyota Yaris) +1:26s
Shannons Thoroughbred Trophy
1 Timothy Hall/Kym Hall (1980 Holden Commodore)
2 Leo Rodriguez/Paul Frank (1988 Mazda RX-7) +1min:41s
3 Thomas English/Trent Vidler (1967 Holden HR Ute) +3m:12s
Cairns Regional Council TSD Trophy
=1 Darryl Marshall/Peter Marshall (2002 Ford Falcon Pursuit 250) +3 points
=1 Agim Selita/Gezim Bashi (2011 BMW 135i M Sports) +3
3 Benjamin Brooksby/Rob Sheppard (2005 Mitsubishi Magna VRX) +4
Cairns & Great Barrier Reef Rookie Rallye
1 Wayne Lamont/Errol Rosenblatt (2012 Toyota 86)
Media contact details
Ian Chesterman – 0417 530902
Gordon Lomas – 0419 733 995
Social Media contact details
Jenna Carmichael – 0487 828 620