Quinn sets cracking pace in tropics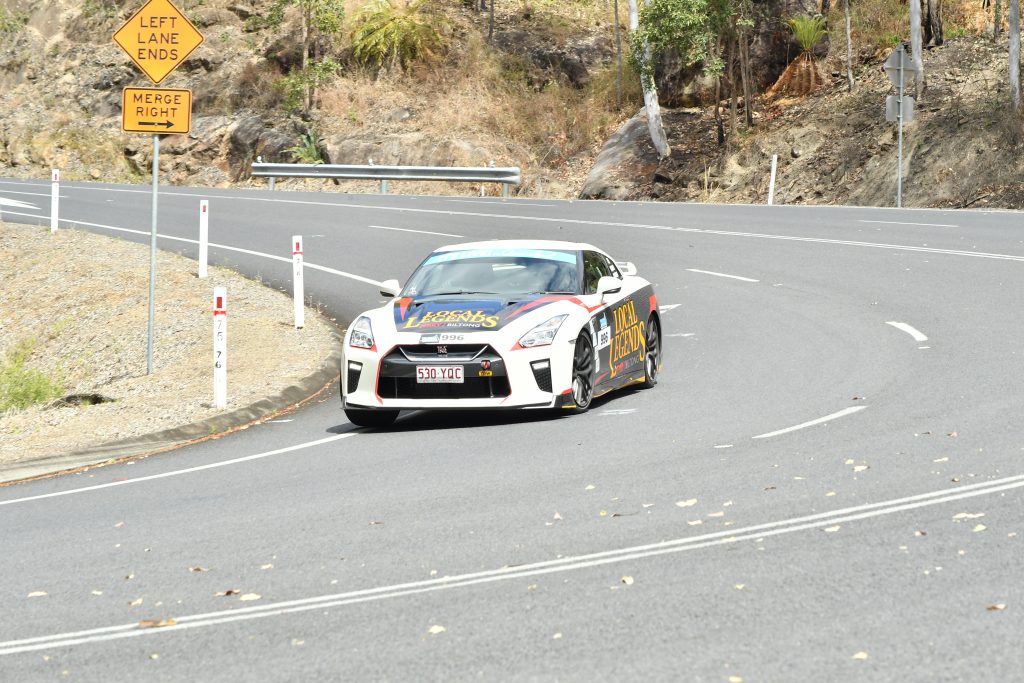 Experienced racer Tony Quinn has produced a storming start to set an early marker at TARGA Great Barrier Reef.
After departing the ceremonial start at the Reef Hotel & Casino, Quinn and co-driver Brian Foster mounted an immediate challenge in their Nissan GT-R R35.
Quinn, a double Targa Tasmania champion, launched his day by blitzing the consecutive Gillies Range and Lake Eacham stages, completing the day with a 37 second lead.
The ideal start from the canny Scottish expat continues his sizzling form that saw him a winner in an Aston Martin on the streets of Townsville the previous weekend.
Tony and Sandra Seymour maintained a solid day by claiming the Little Mulgrave stage win which helped the Lotus Exige crew stay within striking distance of the Nissan.
It was a strong TARGA debut for the stunning Mercedes AMG GT R with driver Luke Anear and co-driver Andy Sarandis ideally positioned to pounce.
Anear enters Day 2 third in outright and GTO classification with a promise of more pace to come from the Stuttgart-born supercar.
After a tense fight developed in Classic GT, Anthony Genocchio/Robert Horsfall (1983 Commodore VH Group III SS) speared to a comfortable lead following the final stage of the day.
The pair lead Gold Coast combination of Jon and Gina Siddins, in their beautifully presented 1970 Datsun 240Z by 11 seconds.
Cairns driver Steve Van der Brug and co-driver Linda Rankine (2009 Subaru WRX STi) have a comfortable lead in GT Production.
Fellow Cairns competitor Murray Young, debuting his freshly acquired BMW M3, is second just under 2:30 seconds back.
Victorian pair Peter Gluskie and Samantha Winter (1985 BMW 325i) have built a 1:49s lead in Classic Handicap over Lindsay Stone and Simon Martin (1989 Mazda RX7).
Bo Williams/Dirk Witteveen (2001 BMW M3) are the sole survivors in Early Modern 2 while Andrew Horn and Sally Coning (1998 Mitsubishi Evo V) are 1:32sec ahead of Townsville-based Aaron Dunkerton and Brisbane's Matt Davidson (2003 Mitsubishi Evo VIII).
In the trophy classes, Wayne Udy and Mia Williams (2019 Lotus Exige 410 Sport) lead GT Sports Trophy, the Thoroughbred Trophy sees Tim Hall and Kym Hall (1980 Holden Commodore) hold a commanding lead while TSD Trophy is headed by Darryl and Peter Marshall (Ford Falcon Pursuit Ute).
The competition moves south tomorrow with six stages based around the Cassowary Coast region starting with Bamboo Creek (5.5km) with the first competition cars set to start from 9am.
Results – end of day 1 of 3 (Provisional)
Outright
1 Tony Quinn/Brian Foster (2018 Nissan GT-R R35)
2 Tony Seymour/Sandra Seymour (2013 Lotus Exige) +37s
3 Luke Anear/Andy Sarandis (2019 Mercedes AMG GT R) +52s
4 Wayne Udy/Mia Williams (2019 Lotus Exige 410 Sport) +1:03s
5 Anthony Genocchio/Robert Horsfall (1983 Holden Commodore VH) +2:07s

It's Live GT In Queensland GT Outright
1 Tony Quinn/Brian Foster (2018 Nissan GT-R R35)
2 Tony Seymour/Sandra Seymour (2013 Lotus Exige) +37s
3 Luke Anear/Andy Sarandis (2019 Mercedes AMG GT R) +52s

Shannons Classic Handicap
1 Peter Gluskie/Samantha Winter (1985 BMW 325i)
2 Lindsay Stone/Simon Martin (1989 Mazda RX7) +1:49s

Cairns Regional Council GT Production
1 Steve Van der Brug/Linda Rankine (2009 Subaru WRX STi)
2 Murray Young/Scott Griffin (2012 BMW M3) +3:58s

Shannons Classic GT
1 Anthony Genocchio/Robert Horsfall (1983 Holden Commodore VH)
2 Jon Siddins/Gina Siddins (1970 Datsun 240Z) +11s
3 Mark Griffith/Ryan Preston (1969 Datsun 1600SSS) +1:09.16s

Dutton Garage Early Modern 2
1 Bo Williams/Dirk Witteveen (2001 BMW M3)

Dutton Garage Early Modern 4
1 Andrew Horn/Sally Coning (1998 Mitsubishi Evo V)
2 Aaron Dunkerton/Matt Davidson (2003 Mitsubishi Evo VIII) +1:32s
3 Graeme Colls/Sandra Colls (1997 Subaru WRX STi) +1:50s

Reef Hotel & Casino GT Sports Trophy
1 Wayne Udy/Mia Williams (2019 Lotus Exige 410 Sport)
2 Gwesyn Dalliston/Rob Goodwin (2003 Nissan 350Z Track) +1:31s
3 Rob Oshlack/Neysa Ellison (2017 Ford Focus RS) +1:56s

Shannons Thoroughbred Trophy
1 Tim Hall/Kym Hall (1980 Holden Commodore)
2 Paul Frank/Leo Rodriguez (1988 Mazda RX7) +1:22.59s

Cairns Regional Council TSD Trophy
1 Darryl Marshall/Peter Marshall (2002 Ford Falcon Pursuit Ute 250) 9 points
2 Agim Selita/Gezim Bashi (2007 BMW M5) 12
3 Robert Nash/Keira Nash (2010 Lexus ISF) 68