Stokell and Downey secure prestigious CAMS awards
Tasmanian raised Paul Stokell is adopting a no-risk approach as he attempts to cap off a signature season at the 10th anniversary TARGA High Country from November 8 to 10.
The Brisbane-based Stokell is coming off a highly successful year highlighted by a maiden win in the flagship TARGA Tasmania six months ago.
A former highly decorated circuit racer, Stokell has combined seamlessly with the experienced co-driver Catford for the last three events (runner-up at TARGA North West, won TARGA Tasmania, runner-up TARGA Great Barrier Reef).
"Kate hasn't missed a beat and has been well and truly up to the job," Stokell appraised.
"Even when it is wet and slippery and a bit hairy on some stages she doesn't get thrown.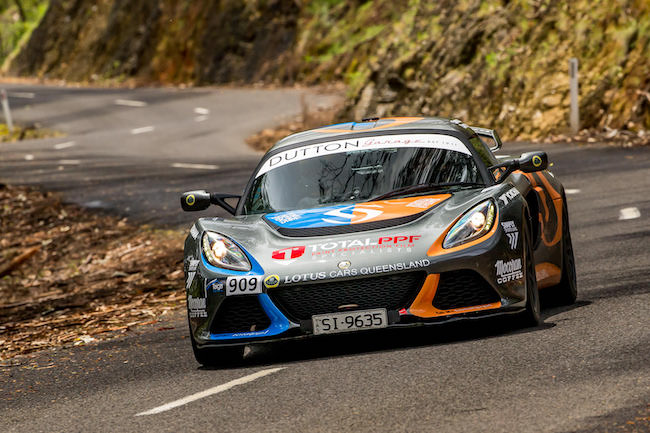 "It's a credit to her and is very good at what she does."
Stokell has taken heart that his 2014 Lotus Exige Sport 350, upgraded this year with a new supercharger package, is closer to the outright speed of his chief rival Jason White, driver of the 2016 Dodge Viper alongside uncle John White.
At the North Queensland event in early September, Stokell managed to edge the Viper in dry conditions on the Gillies Range and Little Mulgrave stages on the opening day.
"It was the first time we took him on a level playing field and beat him in the dry so I was pretty happy with our performance," Stokell said.
"I think we are in a pretty comfortable position (going into High Country) providing we stay on the road.
"I'm not going to do anything silly. It's pretty achievable for us.
"I guess when you are pushing for a podium the risks go up a bit.
"But I'll push as much as we are comfortable without making mistakes and see where that leaves us.
"The High Country roads probably don't suit us as much as other events.
"It's not ideal but we will see how we go."
Victorian Matt Close, who has netted a couple of High Country wins and is a regular competitor at the event, will run a brand-new Porsche 911 GT3 in lizard green livery.
Close and co-driver Cameron Reeves are yet to test the new Porsche however it essentially is running the same suspension as his previous GT3 in which he finished second behind the White Viper at High Country last year.
In outright classifications last year at TARGA High Country, Close was runner-up to the White Viper while Stokell was sixth.
Mick Downey and Jarrod Van Den Akker are favourites to defend their 2018 High Country crown in Classic GT after a solid year.
Similarly Luke Anear and Alan Stephensen have been strong all year in GT4 and are keen to erase memories of their DNF at the Mt Buller event last year.
In Early Modern, the season's form driver Will Gordon will be joined by new co-driver Kelly Handley as he seeks to continue his class-leading edge.
Classic Handicap is always an intriguing battle with top contender Nik Prieston joined by Stephanie Esterbauer in his 1975 Fiat Abarth 131 Rallye.
Last year's High Country handicap runners-up Peter Gluskie and Sam Winter will prove stiff competition to the Fiat after strong form in their brilliantly competitive BMW E30 325i.
Mitchell and Darryl Ringuet (2017 Lotus Exige Sport 350) and Anthony and Sandra Seymour (2013) have waged a fierce battle all season and are set to continue their fight in GT Sports Trophy)
Peter and Tristan Taylor are in the box seat to defend their High Country title from last year in the penalty-based TSD Sports Trophy category.
The ever popular Street Stage and TargaFest is scheduled to be held at Mansfield from 3pm on Saturday, November 9.
Check Road Closures and Opening Times across the three-day event.