TARGA Great Barrier Reef secured for three more years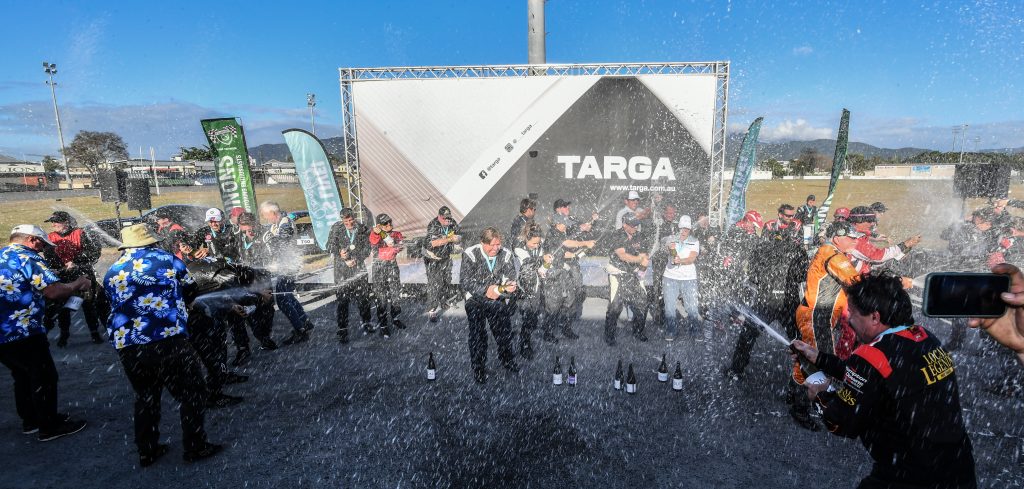 Following on from the running of a successful TARGA Great Barrier Reef this month, a new three-year deal has been made with both state and local governments which secures the event's future in Tropical North Queensland until at least 2023.
The Cairns-based event started in 2018 and for much of 2020, the final year of the initial three-year government contract, it looked in doubt because of the impact of the COVID-19 crisis both in Australia and overseas.
But TARGA Australia managed to restructure its rally and the associated activities to pull off a COVID-compliant event warmly received by the competitors and the community.
TARGA Australia CEO, Mark Perry, said he was thrilled that the 2020 event had proceeded and delighted to know TARGA Great Barrier Reef had a strong future with the on-going commitment of both Tourism and Events Queensland and the Cairns Regional Council.
"The on-going support from Tourism and Events Queensland and the Cairns Regional Council is absolutely fantastic and allows us to continue to plan for the future," Perry said.
"We are enormously grateful to the Minister for State Development, Tourism and Innovation, Kate Jones, and also to Cairns Mayor, Bob Manning.
"This region is the perfect location for an event like ours. Great roads, welcoming communities and the real ability to bring economic benefits to the regional areas around Cairns as well as to the city itself.
"There is no doubt getting the event in 2020 off the ground pushed us to the limit, but we were absolutely determined to do it," Perry said.
"We had great support from the local volunteers and from our Queensland competitor base, and we even had a few from interstate go into quarantine just to make it to the start line.
"And the old adage that necessity is the mother of all invention made us look at things differently in 2020. As we were unable to run the highly successful TARGAFest on The Esplanade, we decided to take the cars to the people instead with the 27-kilometre TARGAcavalcade through the suburbs and the city."
"That innovation has received rave reviews, so we will certainly look to keep it place for future as well as hopefully bringing TARGAfest back in 2021."
"We can't thank everyone enough for helping us keep TARGA Great Barrier Reef alive in 2020, and I'm absolutely convinced that the event has a big future."
Member for Cairns Michael Healy said the event had performed strongly over the past three years, delivering more than $3 million and 8700 visitor nights for local businesses in 2019.

"This government has a clear strategy to rebuild our economy and safeguard local jobs. Events will play an important part in our plan," he said.

"Despite the impact of COVID-19, this year's rally hosted hundreds of drivers and support crews from around Australia.

"Today I'm happy to confirm we've inked a deal to keep this event running – pumping millions of dollars into local businesses – from 2021 to 2023.

Tourism Minister Kate Jones said motor rallies had huge appeal throughout Australia.

"No other tarmac motor rally race overlooks the Great Barrier Reef and takes in the amazing scenery of the Coral Sea coastline between Tully and Port Douglas," she said.

"This event provide thousands of tourists yet another reason to come to the Far North."
Tourism and Events Queensland Chief Executive Officer Mark Olsen said the organisation was delighted to extend its support to TARGA Great Barrier Reef.
"Cairns has a reputation for delivering world-class sporting events which will be crucial for the economic recovery of the region," he said.
Cairns Mayor, Bob Manning, was also delighted that event will call his city home for an extended period.
"It is fantastic that Cairns will be home to the TARGA Great Barrier Reef tarmac rally for another three years," Mayor Manning said.
"This Council is committed to supporting high profile and successful events that are of public interest, attract visitors to our region and lift community spirit.
"The value of events tourism – in particular sports tourism – cannot be understated, and the inclusion of TARGA Great Barrier Reef continues to build on our reputation as the home of dynamic and prized events.
"Over the past three years, this event has become a 'must-do' on the rally circuit and I am confident it will continue to grow; not surprising when you consider there is no other place in Australia offers such a breathtaking backdrop for such an iconic event."
The 2021 running of TARGA Great Barrier Reef is set for September 3 to 5 next year, with the 2022 event scheduled for September 2 to 4 and 2023 for September 1 to 3.