TARGA Tasmania continues after tragic day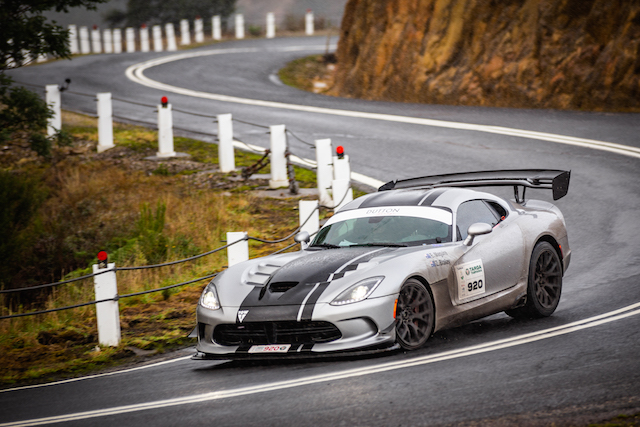 Targa Australia is deeply saddened to report a fatal crash on the Mt Arrowsmith stage on day 5 of TARGA Tasmania.
A 1979 Mazda RX-7 of Shane Navin and co-driver Glenn Evans crashed 35.4 kilometres into the stage at approximately 10am yesterday morning. 
Medical teams were immediately dispatched to attend the scene of the accident but were unable to revive Shane, who died at the scene.
Co-driver Glenn Evans, was assessed by the attending medical crew and cleared of injuries.
Targa Australia CEO, Mark Perry, said:
"This is a very sad time for the Targa community. Shane was a much loved and admired member of our Targa family. We send our heartfelt condolences to Shane's family and friends on their loss."
Targa organisers made the considered decision to continue with the event.
At the front of the field, Eddie Maguire edged closer to overall victory in TARGA Tasmania.
On the arrival of the field in Hobart, Maguire and co-driver Zak Brakey had a one minute 59 seconds lead.
Maguire claimed four of the day's six timed stages with one day remaining.
Angus Kennard and Ian Wheeler (2015 Nissan GT-R) took a big chunk out of the overall lead by topping the 52.51km Mount Arrowsmith stage before Maguire responded to top the final three stages of the day.
Trevor Macleod and Steve Glenney are two minutes and 51 seconds back in third overall.
Maguire and Brakey also lead the Dutton Garage GTO standings by the same margin from Kennard/Wheeler with Tony Quinn and Kate Catford third.
Macleod and Glenney have a decisive lead in Dutton Garage Early Modern 4. The pair are 14 minutes 59 seconds ahead.
In Dutton Garage Early Modern 2, Adam Kaplan and Aleshia Penney (2004 BMW M3 CSL) hold a six minutes 56 second advantage.
Jon and Gina Siddins (1970 Datsun 240Z) have proved the class of the Shannons Classic GT field all week and go into the final day with a decent six minutes 18 second lead.
Ashley Yelds and Mary Hughes (1961 Volvo 122s) have gone further ahead in Shannons Classic Handicap after their nearest rivals Steve McClintock and Jann Skinner went off on the morning's first stage (Strahan) in their 1972 BMW 2002. Peter and Sari Ullrich are second more than eleven minutes adrift.
The Classic Throttle Shop GT Production category has seen an epic battle with the lead chopping and changing. Peter Nunn and Keith Johnstone (2016 Porsche Cayman GTS) finished the day with a one second lead over Stephen Maguire and Stuart Benson (2011 Mitsubishi Evo X).
Jack Waldron and Graham Mitchell look untouchable in Shannons Thoroughbred Trophy, leading the way in their 1981 Mitsubishi Sigma by 12 minutes and 5 seconds.
Spirit of Tasmania GT Sports Trophy remains a tight affair with Matthew Gibbens and Timothy Jurd leading by 54 seconds.
Another close battle continues in Spirit of Tasmania Rookie Rallye with Tyler Page and Ryan Sheehan (2007 Subaru WRX S204) clutching an eight second lead over Tony and Sandra Seymour (2013 Lotus Exige).
Queenslanders Darryl and Peter Marshall have all but sewn-up the Budget TSD Trophy category in their 2002 Ford Pursuit Ute with 37point lead.
The 29th Targa Tasmania concludes today with a further eight stages before finishing back PW1 in Hobart around 1:30pm.