Top Early Modern 2 contenders primed for TARGA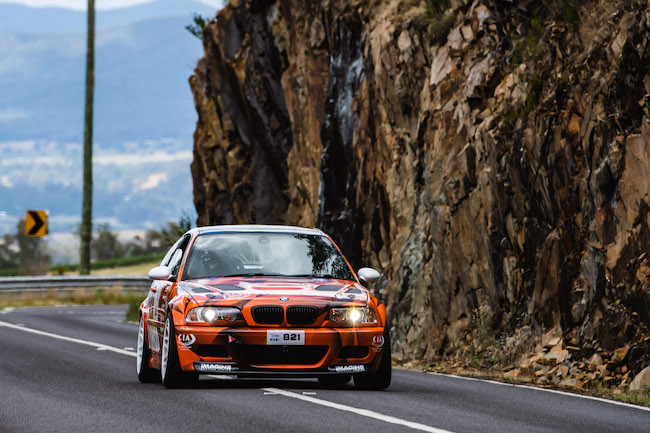 Saturday April 10, 2021
Sydney-based competitor Adam Spence and co-driver Lee Challoner-Miles have touched off the perfect preparation ahead of the 29th edition of TARGA Tasmania.
The world's most celebrated tarmac rally is set to kick off from Launceston on April 19 with the event finishing in Hobart after six gruelling days of competition on April 24.
Spence and Challoner-Miles recently completed a thorough reconnaissance of the course that this year sees the longest cumulative competitive stages in the event's storied history.
The pair are considered strong contenders in the Dutton Garage Early Modern 2 category following their class-winning result at High Country in Victoria in February when they debuted their newly acquired 2004 BMW M3 CSL.
The lightweight version of BMW's super coupe will face its strongest challenge in Tasmania across the 37 stages that cover almost 620km of the state's diverse network of roads.
"We recently did the recce, taking in the whole course in just under three days. It almost killed me," Spence said.
"The thing that we really noticed is that there are a lot of mixed surfaces and surfaced impacts and there are a lot of resurfaced areas on certain stages.
"Primarily we have learnt that there is a lot of time to be gained if you can understand the grip levels. So we spent a lot of time on that in the notes."
Spence said that apart from some minor tweaks, the E46 model M3 that exudes sports-car balance and cracking performance, remains relatively untouched following its High Country romp.
The M3 managed to win EM2 by almost six minutes and was classified in a highly commendable 10th outright following the rescheduled Mt Buller High Country event.
"It was really satisfying because we went a lot better than expected," Spence said.
"We have done a few little suspension tweaks that we weren't able to do prior to High Country. But that is all we have had to do to be honest."
Spence announced that one of his sponsorship spots for the TARGA Tasmania campaign has been given up to the Sydney-based charity Can4Cancer which also has support from the two-car Team Sydney Supercars team (drivers Fabian Coulthard and Garry Jacobson).
"We have given up one of our sponsorship spots on the bonnet to Can4Cancer and part of the deal will see Lee and I do a 350 kilometre bike ride for the charity a few weeks after TARGA," Spence said.
The EM2 field also sees another 2004 BMW M3 CSL in the hands of experienced TARGA Tasmania runner Adam Kaplan and co-driver Aleshia Penney as the Munich manufacturer is represented by five entries in the 14-strong EM2 field.
Media contact details
Ian Chesterman – 0417 530 902
Gordon Lomas – 0419 733 995
Social media contact details
Jenna Carmichael – 0487 828 620