Tragic end to Targa Tasmania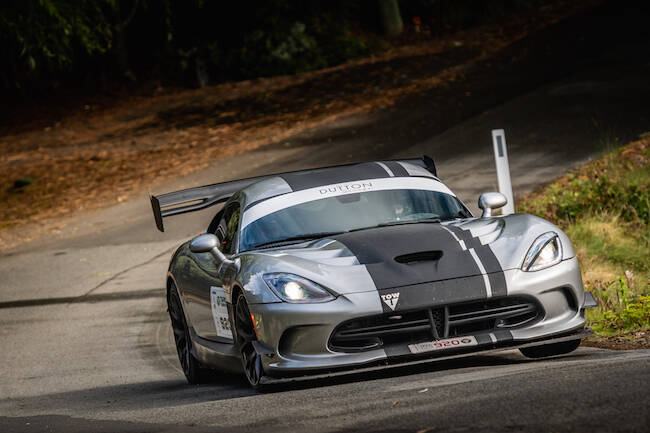 Saturday 24th April, 2021
TARGA Tasmania has been struck with tragedy for a second successive day.
A double fatality occurred 6.2km into the Cygnet 1 stage.
A 2019 Porsche 911 GT3 RS was involved in an accident with both driver Leigh Mundy and co-driver Dennis Neagle killed after the car hit a tree.
Medical teams arrived at the scene but both occupants could not be saved.
"This has been a devastating few days for the Targa family," said Mark Perry, TARGA Australia chief executive.
"Today our thoughts and deepest condolences go to Leigh and Dennis' family and friends.
"Both loved Targa and we knew them so well, which makes their passing so difficult for everyone in our community.
"They will be sorely missed by us all."
Organisers downgraded the stages to touring at 12.17 pm.
It left Eddie Maguire and Zak Brakey as the winners of the Dutton Garage Overall category in their 2016 Dodge Viper.
Maguire and Brakey ran at the front on all six days, ending with a one minute 57 second win over Angus Kennard and Ian Wheeler (2015 Nissan GT-R).
Running at the front on all six days, Maguire withstood a pressure-packed event to win the Dutton Garage Overall class alongside co-driver Zak Brakey in their 2016 Dodge Viper.
The all-Tasmanian crew managed to win 12 of the event's 37 stages across more than 600km of stages. Angus Kennard and Ian Wheeler (2015 Nissan GT-R) were one minute 57 seconds behind in second.
"It's not the feeling we thought we'd get as we had been working 30 years for this," Maguire said.
"I was my son Hunter's age (four) when the first TARGA Tasmania was on and it has been a dream to win this since then.
"It's great to do it with Zak (Brakey) who is a good mate. We went to primary school together.
"My service crew, mum and dad and Jason White have been amazing. I wouldn't be here if it wasn't for Jason, he's a great mentor.
"I also want to offer my condolences to the family and friends of the people we have lost yesterday and today.
Trevor Macleod and Steve Glenney topped the opening two stages of the final day to finish third overall in their 2009 Nissan GT-R.
Maguire and Brakey also topped Dutton Garage GT Outright standings.
Macleod and Glenney took Dutton Garage Early Modern 4 by more than 16 minutes.
Dutton Garage Early Modern 2 was won convincingly by Adam Kaplan and Aleshia Penney (2004 BMW M3 CSL).
Queenslanders Jon and Gina Siddins were never headed in Shannons Classic GT, the pair guiding their 1970 Datsun 240Z six minutes 31 seconds clear of second-placed Stephen Thatcher and Phillip Parker (1989 Nissan Skyline)
Ashley Yelds and Mary Hughes were untouchable throughout, claiming Shannons Classic Handicap by 11 minutes 35 seconds in their beautifully prepared 1961 Volvo 122S.
A raging battle continued to the end in Classic Throttle Shop GT Production with Stephen Maguire, brother of Eddie, prevailing by 18 seconds in the 2011 Mitsubishi Evo X he shared with Stuart Benson.
In one of the most hotly contested categories, Tyler Page and Ryan Sheenan (2007 Subaru WRX) took honours in Spirit of Tasmania Rookie Rallye by a slender eight seconds.
Queenslanders Darryl and Peter Marshall were never headed after completing a solid campaign in their 2002 Ford Pursuit Ute to dominate Budget TSD Trophy. The Marshalls were only docked a total of 15 points with their nearest challengers, Christopher Waldock and Cristine Kirby (2016 Jaguar F-Type) finishing on 60 points.
Jack Waldron and Graham Mitchell powered to victory in Shannons Thoroughbred Trophy in their 1981 Mitsubishi Sigma, claiming the category by 12 minutes 25 seconds.
In Spirit of Tasmania GT Sports Trophy, Matthew Gibbens and Timothy Jurd (2020 Exige 410) prevailed by just over one minute from Stephen Sher and Fergal Murphy (2016 Lotus Exige).
TARGA Tasmania 2021 Day 6 of 6 results (provisional)
Dutton Garage Overall
1 Ed Maguire/Zak Brakey (2016 Dodge Viper ACR)
2 Angus Kennard/Ian Wheeler (2015 Nissan GT-R) +1:57s
3 Trevor Macleod/Steve Glenney (2009 Nissan GT-R) +2:37s
4 Tony Quinn/Kate Catford (2018 Nissan GT-R) +6:53s
5 Jeff Morton/Daymon Nicoli (2019 Porsche GT2 RS) +11:53s
6 Stephen Maguire/Stuart Benson (2011 Mitsubishi Evo X) +15:05s
Dutton Garage GT Outright
1 Ed Maguire/Zak Brakey (2016 Dodge Viper ACR)
2 Angus Kennard/Ian Wheeler (2015 Nissan GT-R) +1:57s
3 Tony Quinn/Kate Catford (2018 Nissan GT-R) +6:53s
Dutton Garage Early Modern 4
1 Trevor Macleod/Steve Glenney (2009 Nissan GT-R)
2 Geoffrey Hewitt/Toni Hewitt (2009 Nissan GT-R) +16:18s
3 Guy Lilleyman/John Lilleyman (2006 Mitsubishi Evo IX) +18:13s
Dutton Garage Early Modern 2
1 Adam Kaplan/Aleshia Penney (2004 BMW M3 CSL)
2 Peter Roberts/Suzanne Atkins (1992 Nissan Skyline GTS-1) +7:03s
3 Adam Spence/Lee Challoner-Miles (2004 BMW M3 CSL) +7:06s
Classic Throttle Shop GT Production
1 Stephen Maguire/Stuart Benson (2011 Mitsubishi Evo X)
2 Peter Nunn/Keith Johnstone (2016 Porsche Cayman GTS) +18s
3 Crichton Lewis/Anthony Carr (2015 Subaru WRX STi) +1:48s
Shannons Classic GT
1 Jon Siddins/Gina Siddins (1970 Datsun 240Z)
2 Stephen Thatcher/Phillip Parker (1989 Nissan Skyline GT-R) +6:31s
3 Stuart McAuley/Philippe Etienne (1985 Porsche 911 Carrera) +7:23s
Shannons Classic Handicap
1 Ashley Yelds/Mary Hughes (1960 Volvo 122S)
2 Peter Ullrich/Sari Ullrich (1964 Studebaker Avanti) +11:25s
3 Bruce Power/Russell Hannah (1979 Mazda RX-7) +13:16s
Spirit of Tasmania GT Sports Trophy
1 Matthew Gibbens/Timothy Jurd (2020 Lotus Exige 410)
2 Stephen Sher/Fergal Murphy (2016 Lotus Exige) +1:03s
3 Robert Bryden/Ian Noble (2020 Lotus Exige) +2:05s
Shannons Thoroughbred Trophy
1 Jack Waldron/Graham Mitchell (1981 Mitsubishi Sigma)
2 John Stanton/John Blake (1981 Porsche 924 Turbo) +12:25s
3 David Currow/Kate O'Donnell (1969 Fiat 124 AC) +50:16s
Budget TSD Trophy
1 Darryl Marshall/Peter Marshall (2002 Ford Pursuit Ute) 15 points
2 Christopher Waldock/Cristine Kirby (2016 Jaguar F-Type SVR) 60 points
3 Michael Graver/Nicholas Graver (2020 BMW M340i) 86 points
Spirit of Tasmania Rookie Rallye
1 Tyler Page/Ryan Sheehan (2007 Subaru WRX)
2 Anthony Seymour/Sandra Seymour( 2018 Lotus Exige) +08s
3 Stuart Collison/Lance Arundel (2006 Subaru WRX STi) +6:53s