Udy eyes TARGA Great Barrier Reef upset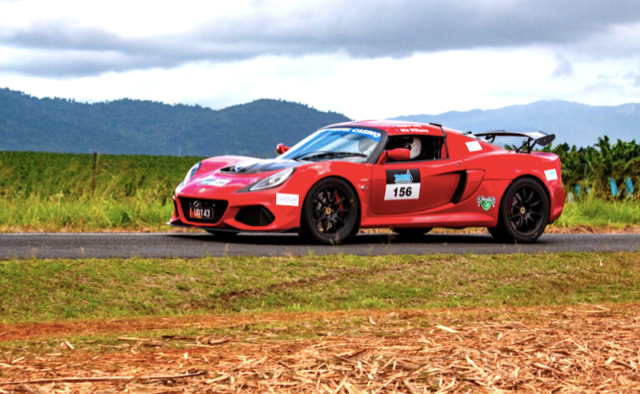 Wednesday September 1, 2021
Whitsunday competitor Wayne Udy is angling to produce another barnstorming run when TARGA Great Barrier Reef gets underway this Friday.
Alongside co-driver Mia Williams, Udy almost pulled off one of the biggest upsets in tarmac rallying when the pair finished second overall at the Cairns-based event last year.
After three days of hard toil on the picturesque and demanding Tropical North Queensland roads, Udy and Williams were only bested by GTO Outright class favourites Tony Quinn and Brian Foster.
While the field was depleted due to COVID restrictions, the performance from Udy and Williams was outstanding given they had soared so highly in their GT Sports Trophy 2019 Lotus Exige 410 Sport machine.
Easily winning their class, the pair are confident of featuring prominently again in overall standings.
"There was a lot of pressure on us last year to perform and we proved we could do it," Udy explained.
"So this year I'm going out to have a lot more fun. This year the pressure is off a little bit."
"We are definitely going to aim to be up there in the overall standings again.
"We have only driven the Lotus twice since last year. It's been sitting in the shed. I bought the car new and it's only got 3500km on it so with the low mileage it should be pretty reliable."
Quinn is strongly fancied to defend his TARGA Great Barrier Reef title from last year when he produced a clean run across the three days to prevail in the 2018 Nissan GT-R.
This year's event has attracted 130 entries, despite the lingering COVID restrictions nationwide and is up from the 83 last year when the event defied the pandemic to stage a highly successful third edition of what has become a signature event on the TARGA calendar.
Highlights of TGBR 2021 include the TARGAcavalcade which features the entire field streaming through the northern suburbs of Cairns under police escort from 3.30pm-4.45pm on Friday, September 3.
The event will conclude with a new-look TARGAfest and official finish at Fogarty Park in the heart of Cairns from 3pm on Sunday, September 5.
TARGA Great Barrier Reef is the opening round of the Motorsport Australia-sanctioned TARGA Championship which also embraces TARGA High Country from November 12-14 and the 30th anniversary TARGA Tasmania from March 8-13 next year.
Please note that the Kuranda Range stage is scheduled to be the first stage on the Saturday (September 4) morning. This is a change from previous years when the Kuranda stage was held on Sunday morning.
For more information on key components of TGBR and road closures, visit targa.com.au and download the Spectator Guide.
Media contact details
Ian Chesterman – 0417 530902
Gordon Lomas – 0419 733 995