A TRIBUTE TO SIR STIRLING MOSS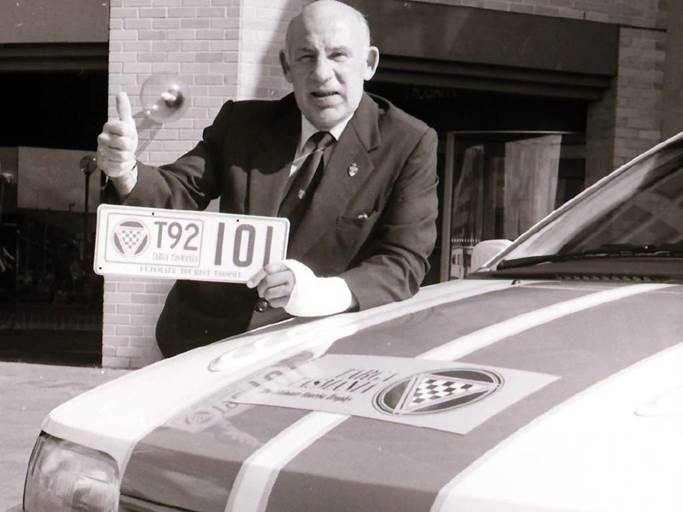 We salute you Stirling Moss for choosing to include TARGA Tasmania in your stellar career.
For John Large and myself, a chance meeting with Stirling and Suzie Moss, at the 1991 Adelaide Formula One Grand Prix, ignited Stirling's desire to compete in our new Event on the World Motor Sport stage – TARGA Tasmania 1992.
Stirling quickly grasped the uniqueness of the Competition – he tagged the TARGA Trophy base time trophy concept as brilliant.
As negotiations became official, Suzie was also swept up in the journey to down under.
Their LHD Shelby Mustang arriving in plenty of time for the inaugural Event in April, 1992.
As promoters of a brand new motor sport event, to have Stirling and his wife, standing alongside three former World Champions of the Sport, was every promoter's dream.
Like Sir Jack Brabham, Denny Hulme and Roger Clark, they knuckled down to the high level of competition from the locals.
Having immersed themselves in the people of Tasmania's obvious passion for this unique Event, they won their Class and a TARGA Trophy, returning to Europe, singing the praises of TARGA Tasmania as a must do motor sport experience for owners of Sports, Classic, GT Cars of distinction.
Over the ensuing years, the Moss' continued to promote the event we all love so dearly – The perfect ambassadors for TARGA Tasmania.
The TARGA Family say, thank you Suzie and son, Elliot, for loaning your "Special' Man to the world of motor sport – we're in your debt.
Ronda Matthews – Co-founder, TARGA Tasmania