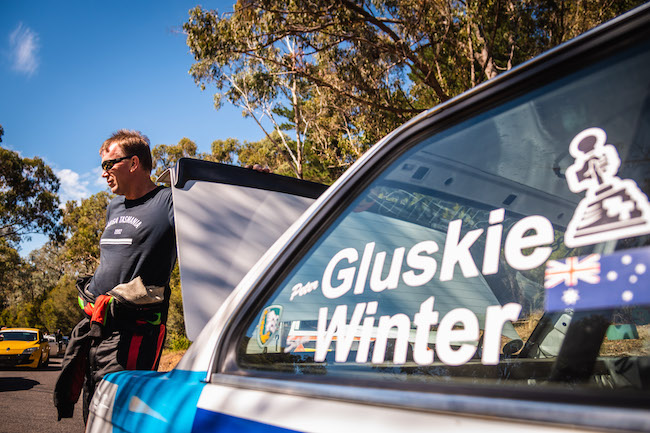 Our reporter caught up with some of the class winners following the 12th running of TARGA High Country.
Overall and Mt Buller GT Outright winner
Jeff Morton/Daymon Nicoli (2019 Porsche GT2 RS)
"The main thing for us was the long stage (Jamieson), we were on it and we got about halfway through and thought we had a flat but it turned out we didn't," Morton said.
"We kept going and came across the crash and had to pull over but the good news is no-one was badly injured.
"I started at TARGA High Country in 2016 and only got my racing licence 10 months before the event and we ended up doing TSD in my Lotus Elise and we ended up getting on the podium.
"I was hooked after that.
"I had a third in High Country in 2018 behind Jason White and Matt Close in the Lotus Elise and I thought I need to find a car that I could feel I could win in.
"Going up Mt Buller on the last stage today, was just awesome as we felt really hooked up.
"To come over that line and have the amazing feeling of winning, I felt like I'm in a dream."
Shannons Classic GT winner
Roger Lomman/Anne Bainbridge (1974 Datsun 240Z)
"The competition gets tougher every year with new cars in Classic GT which is fantastic," Lomman said.
"It's really good to see cars like the Giocattolo, the Stratos and the old Jaguar and we are happy to be a part of it.
"The Datsun hasn't have the power of the V8s but it is just really well balanced and the fast flowing roads are really good for us.
"We had a bit of a dice with Adam (Kaplan) in the Giocattolo on Day 1 then they had some issues creep in and they had a driveshaft failure on the start line at the last stage."
Dutton Garage Early Modern 4
Anthony Moss/Julie Hunter (2008 Mitsubishi Evo X)
"We were just finding our way on Friday then we clicked up another gear and didn't look back," Moss said.
"We were fifth overall on Friday, fourth overall on Saturday and then third overall at the end of the weekend.
"It's been three years since we've been in the car in a rally at least. Business has been pretty tough in the business and tourism industry the last couple of years.
"We are stoked to come back in EM4 which is a highly competitive category."
Shannons Classic Handicap
Peter Gluskie/Samantha Winter (1989 BMW 325i)
"We are very pleased with our speed and the win," Gluskie said.
"But I just want to acknowledge all the volunteers and officials who worked really hard to get this event over the line.
"It is more important at this point in time to acknowledge them. I know there has been some hard yards done to get this one over the line and we really do appreciate everything they do."