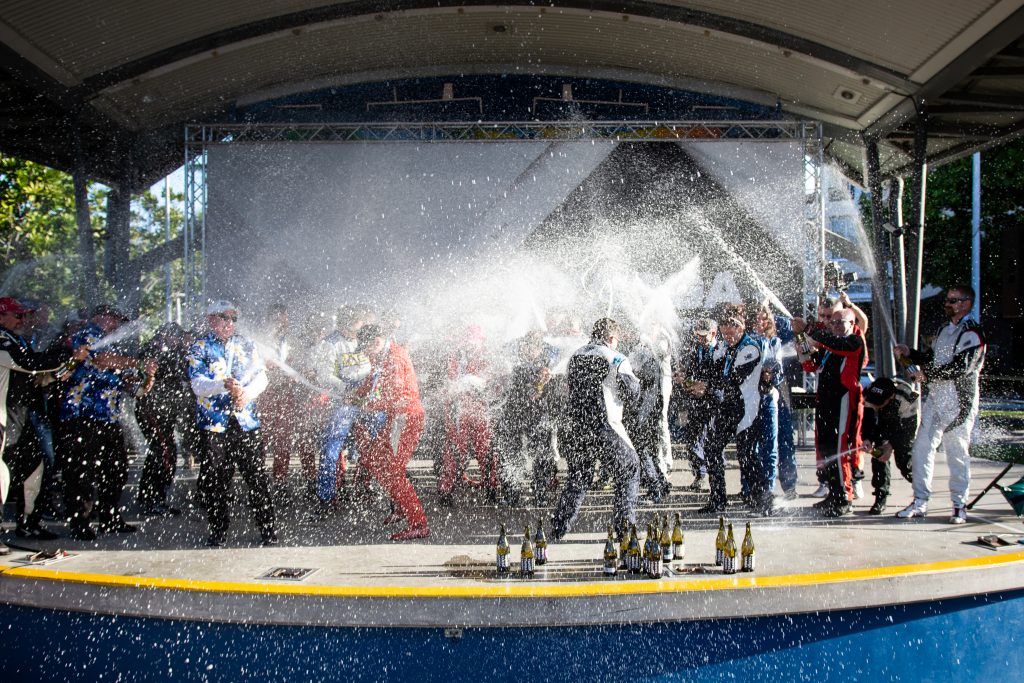 Our reporter caught up with the class winners following the fourth edition of TARGA Great Barrier Reef.
It's Live in Queensland overall/It's Live in Queensland GT Outright, Cairns Regional Council GT Production winner:
Luke Anear/Andy Sarandis (2010 Subaru WRX STi)
"We had a red hot go and I drove the best I've ever driven and we caught him (Quinn) on the Palmerston run (TS 15)," Anear said.
"He wasn't going to let me by and it was very satisfying. Then we managed to double the lead again on the next shorter stage."
"Because the roads were damp we reckon the Subaru was the right car for the conditions.
"I've got to thank Ben Newman who gave me the car which was prepared by Buckby Motorsport on the proviso that 'you go up there and win it'.
"If it wasn't for those guys we wouldn't have made it here so I can't thank them enough."
Dutton Garage Early Modern 2 winner:
Paolo Buccini/Claire Buccini (2008 BMW 135i)
"We had a bit of fun. It was a little bit greasy out there today but as long as you treated it with respect you were fine," Buccini said.
"The stages were amazing and it was well organised. It was great."
Dutton Garage Early Modern 4 winner:
Geoff Hewitt/Toni Hewitt (2009 Nissan GT-R)
"Not quite the perfect weekend because if you look closely at the back and the front of the car on the driver's side it wasn't the best weekend we could have had," Geoff Hewitt said, pointing to some scrapes.
"That was on the Palmerston stage so I guess it could have been worse but we are delighted to have won the class."
Shannons Classic GT winner:
Anthony Genocchio/Robert Horsfall (1983 Holden Commodore)
"We had a good first day and then on the second day it was dry up until the afternoon," Genocchio explained.
"I didn't really like the last two stages on Saturday because they were very wet so we eased off and got the car home.
"That's where (Jon) Siddins put a minute on me I think on the Palmerston stage. We were having a good battle in the dry but unfortunately he had some mechanical issues (gearbox).
"I've had plenty of those and not finished so I have plenty of sympathy for them."
Shannons Classic Handicap winner:
Patrick Barnett/Katie Barnett (1979 Ford Cortina)
"Very enjoyable event and couldn't be happier."
Reef Hotel & Casino GT Sports Trophy winner:
Geoffrey Olholm/Matthew Sanders (2019 Toyota Supra GTS)
"The car was really strong in wet conditions. Matthew (co-driver) is from Adelaide and has never been here before so the course was new to him," Olholm said.
"So Matthew did a great job calling the notes. I was battling the Traction Control system all weekend and couldn't turn it off.
"That meant I was losing time on the dry stages. But we are stoked to get the win."
Shannons Thoroughbred Trophy winner:
Tim Hall/Kym Hall (1980 Holden Commodore)
"We had a bit of an incident on the Palmerston stage on the timber bridges and had a bit of an off and (hit) a bit of a wall,"
Cairns Regional Council TSD Trophy winner:
Darryl Marshall/Peter Marshall (2002 Ford Pursuit Ute)
"It was on from the word go," Darryl Marshall said.
"We really didn't have a moment to ease off at all and had to be right on the ball the whole time. It was as exhausting an event as TARGA Tasmania.
"The three of us (second and third) fought it out the whole weekend. It was really entertaining."
Cairns & Great Barrier Reef Rookie Rallye winner:
Wayne Lamont/Errol Rosenblatt (2012 Toyota 86)
"We had a ball. It was 10 times better than I thought it would be," Lamont said.