White crash leaves Maguire in control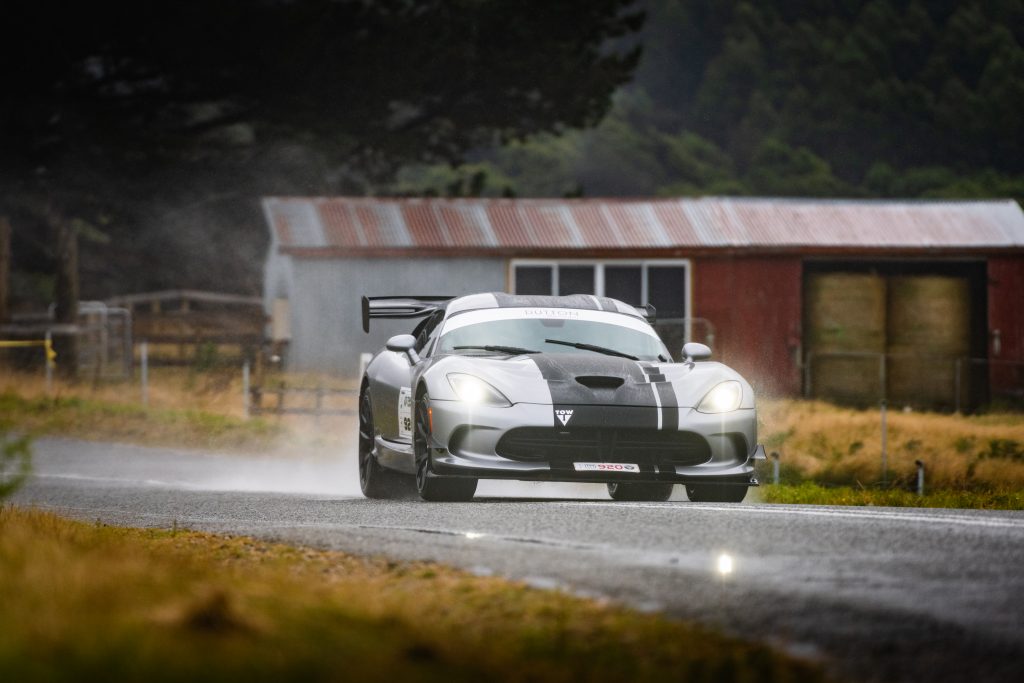 Tuesday April 20, 2021
Dodge Viper driver Ed Maguire survived a difficult day which saw several cars eliminated as fickle weather hit day two of TARGA Tasmania.Local charger Maguire is looking to add to his successful rally and hillclimb record in the coveted tarmac rally where he and co-driver Zak Brakey clutch a one minute 33 second overall lead as rain lashed the day's six stages.The pair had earlier in the day stopped at the scene of Jason and John White's nasty accident on the Moorina stage which saw the Dodge Viper catch fire after spearing off the road and cannoning off a dirt bank.
Maguire was awarded a derived time after selflessly stopping to assist his fellow Viper competitor, ensuring his noble actions did not compromise his position at the head of the standings.
"Jason (White)'s accident today was very unfortunate, but we've also had a few dramas of our own today," Maguire said.
"We had a wheel-speed sensor fail on the first transport stage, so we had no ABS for the Sideling, and in this weather and this car, it's quite un-drive-able in those conditions.
"We got that rectified straight after and we've been cruising through a bit today in the wet.
"Today has been the worst tarmac conditions I've ever driven in and I reckon all that gravel rally experience has come into play to help."
Maguire also leads Dutton Garage GTO standings ahead of Angus Kennard and Ian Wheeler (2015 Nissan GT-R).
In a stunning display, local Trevor Macleod and Steve Glenney bagged three stage wins to be second overall and lead Dutton Garage Early Modern 4.
Dutton Garage Early Modern 2 sees overnight leader Adam Kaplan and Aleshia Penney (2004 BMW M3 CSL) maintain their edge as Jon and Gina Siddins have opened up a handy two minute 46 second lead in Shannons Classic GT.
The picture in Shannons Classic Handicap sees a tight battle emerging with Ashley Yelds and Mary Hughes (1961 Volvo 122S) holding a two minute 24 second lead.
In one of the tightest battles Ben Newman and Adam Kudra (2010 Subaru WRX STi) are shading Peter Nunn and Keith Johnstone (2016 Porsche Cayman GTS) in Classic Throttle Shop GT Production by 38 seconds.
Spirit of Tasmania Rookie Rallye leaders Tony and Sandra Seymour (2013 Lotus Exige) continue a solid run with the Queenslanders leading by two minutes and 28 seconds.
Trophy class action sees Daryl and Peter Marshall (2002 Ford Pursuit Ute) lead Budget TSD Trophy by 11 points while Spirit of Tasmania GT Sports Trophy has Matthew Gibbens and Timothy Jurds (2020 Lotus Exige) leading by one minute.
The 1981 Mitsubishi Sigma pair of Jack Waldron and Graham Mitchell lead the Shannons Thoroughbred Trophy by a healthy two-and-a-half minutes.
The day was overshadowed by the heavy shunt involving the White Viper 200m from the finish of TS 8 (Moorina).
The Viper suffered chassis and fire damage in the impact with both Jason White and his co-driver uncle John White taken to St Helens hospital for precautionary checks but were otherwise unhurt.
The accident followed on from an opening day of drama for the Whites who stalled at the start of the penultimate stage and then had a battery explode which dropped them from the lead.
"We weren't really trying to do anything too heroic at the time," White explained.
""As soon as we hit the stream (of water) it just snapped sideways and snapped back the other way.
"It is one of the only things I've been nervous about with these cars is the really wide rear tyres which act like a couple of boogie boards under your rear wheels when you hit water.
"It was on the exit of a blind corner and there was no time to prepare for it."
"It burst into flames pretty quick and there was a full engine bay fire.
"We managed to get our extinguishers on it and then Eddie (Maguire) and Zak (Brakey) turned up and put their extinguishers on it. Then one of the radiator hoses burst and extinguished most of the flames under the bonnet.
"The rest of the car is quite salvageable and it looks a lot worse than it is. There is a little bit of fire damage in the middle of the console where the wiring started to ignite.
"Apart from the bumper and a bonnet and a bit of wiring, It's just a bit of chassis damage which will probably take more in time than actual monetary damage.
"We look forward to next year."
Day three of TARGA Tasmania takes the field from Launceston across to Strahan on the West Coast, with further bad weather forecast set to add to the test ahead.
TARGA Tasmania 2021 Day 2 of 6 results (provisional)
Dutton Garage Overall
1 Ed Maguire/Zak Brakey (2016 Dodge Viper ACR)
2 Trevor Macleod/Steve Glenney (2009 Nissan GT-R) +1 min 33secs
3 Angus Kennard/Ian Wheeler (2015 Nissan GT-R) +1:46s
4 Tony Quinn/Kate Catford (2018 Nissan GT-R) +1:54s
5 Peter Rullo/Dennis Sims (2020 Lotus Exige TARGA GT) +2:01s
6 Guy Lilleyman/John Lilleyman (2006 Mitsubishi Evo IX) 3:02s
Dutton Garage GT Outright
1 Ed Maguire/Zak Brakey (2016 Dodge Viper ACR)
2 Angus Kennard/Ian Wheeler (2015 Nissan GT-R) +1min:46sec
3 Tony Quinn/Kate Catford (2018 Nissan GT-R) +1:54s
Dutton Garage Early Modern 4
1 Trevor Macleod/Steve Glenney (2009 Nissan GT-R)
2 Guy Lilleyman/John Lilleyman (2006 Mitsubishi Evo IX) +1min:29sec
3 Jason Wright/Fiona Wright (2001 Nissan Skyline GT-R) +4.22s
Dutton Garage Early Modern 2
1 Adam Kaplan/Aleshia Penney (2004 BMW M3 CSL)
2 Peter Roberts/Suzanne Atkins (1992 Nissan Skyline GTS-1) +1min:42sec
3 Paul Henry/Katherine Henry (2006 Porsche Cayman S) +2:14s
Shannons Classic GT
1 Jon Siddins/Gina Siddins (1970 Datsun 240Z)
2 Stuart McAuley/Philippe Etienne (1985 Porsche 911 Carrera) +2min:46sec
3 Graham Copeland/Josh Herbert (1986 Porsche 944 Turbo) +4:11s
Shannons Classic
1 Ashley Yelds/Mary Hughes (1960 Volvo 122S)
2 Patrick Mewing/Gezim Bashi (1967 Lotus Elan) +2min:24sec
3 Peter Ullrich/Sari Ullrich (1964 Studebaker Avanti) +2.34s
Spirit of Tasmania GT Sports Trophy
1 Matthew Gibbens/Timonthy Jurd (2020 Lotus Exige 410)
2 Geoffrey Olholm/John Doble (2019 Toyota Supra GTS) +1min:00s
3 Robert Bryden/Ian Noble (2020 Lotus Exige) +1:14s
Shannons Thoroughbred Trophy
1 Jack Waldren/Graham Mitchell (1981 Mitsubishi Sigma)
2 John Stanton/John Blake (1981 Porsche 924 Turbo) +2min:31sec.
3 David Currow/Kate O'Donnell (1969 Fiat 124 AC) +27:07s
Budget TSD Trophy
1 Daryl Marshall/Peter Marshall (2002 Ford Pursuit Ute) 8 points
2 Christopher Waldock/Cristine Kirby (2016 Jaguar F-Type SVR) 19 points
3 Ben Brooksby/Robert Shepphard (2005 Mitsubishi Magna VRX) 38 points
Spirit of Tasmania Rookie Rallye
1 Anthony Seymour/Sandra Seymour( 2018 Lotus Exige) 
2 Tyler Page/Ryan Sheehan (2007 Subaru WRX) +2min:28sec
3 Stuart Collison/Lance Arundel (2006 Subaru WRX STi Spec c) +4:26s
Media contact details
Ian Chesterman – 0417 530 902
Gordon Lomas – 0419 733 995
Social media contact details
Jenna Carmichael – 0487 828 620