ENTRIES OPEN FOR TARGA GREAT BARRIER REEF & TARGA TASMANIA
VEHICLE CHANGES & COMPETITIONS GUIDE RELEASED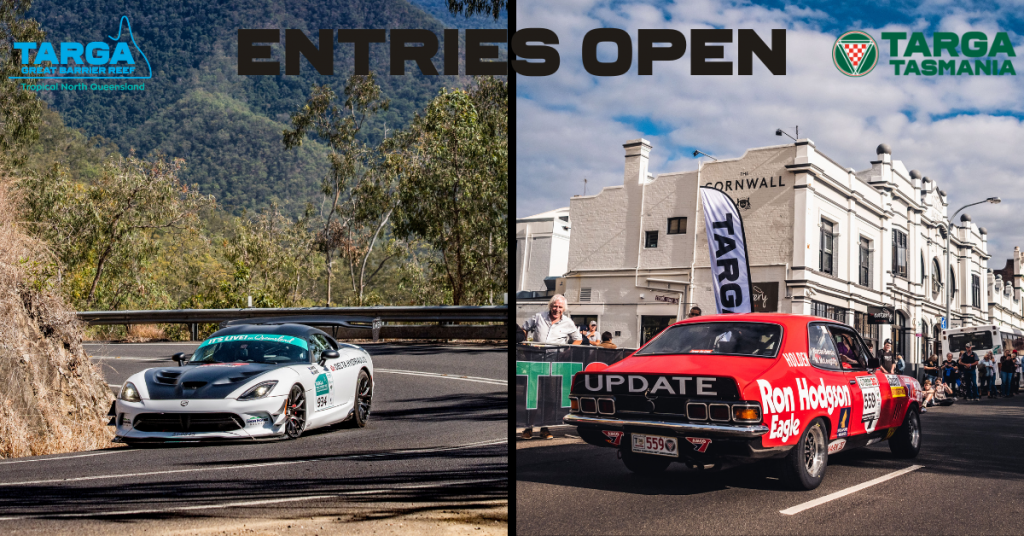 As part of TARGA's hard reset for a bright future, TARGA Great Barrier Reef and TARGA Tasmania have both opened for entries today with a complete overhaul of the entry fees to offer more pricing options to its loyal customer base.
Following the release of the Review Panel Report in late February, TARGA events will return at TARGA Great Barrier Reef from September 1 to 3, with the flagship TARGA Tasmania to follow from October 23 to 28, seven weeks later.
For the first time, entry fees will be based on competitors, instead of the cars they drive, with discounts applied based on time of entry and/or more importantly, years of competition. Years of attendance discounts start at just five years, which is applicable to people entering their fifth event of the same name and so on through to 30 years.
'Fully Paid' pricing also returns for the first time in many years, providing further discounted entry fee options. See the revamped entry fees for TARGA Great Barrier Reef HERE and TARGA Tasmania HERE. Terms and Conditions are available HERE, while all updated documents can be found on the TARGA website and the TARGA online entry portal.
To assist loyal and patient TARGA competitors get prepared over the winter months ahead, TARGA has also released a Vehicle Changes & Competitions Guide, outlining the key changes required to TARGA competition vehicles and the competition structure for future TARGA events. The guide can also be found on the TARGA website under competitor information.
TARGA CEO Mark Perry said "It has been a very interesting period in TARGA's long and successful history, one no one would have imagined just five years ago. On the back of the restrictions imposed during COVID, we have had to navigate through multiple tragedies and our sincere thoughts remain with all those affected by these incidents.
"Everyone wants to see a bright future for TARGA, but we can't sugarcoat the challenges we face, and the reality is that only our customers can ensure our survival. It has always been an obvious fact that TARGA requires very large fields of cars to operate at the scale it does, so we need them, old and new, to join us on the journey ahead, if we all wish to continue living out our TARGA dreams."
There is plenty of news to come with course layouts and other exciting innovations due for release in the weeks and months ahead.
The 5th running of TARGA Great Barrier Reef will be held from 1 to 3 September followed by TARGA Tasmania's 31st running in a new October slot after the Spirit of Tasmania and the Tasmanian Tourism Industry got right behind the event, to ensure it could still happen in 2023 at some point.