Targa News
21.01.2020
TARGA launches powerful 2020 rebrand
The biggest revamp undertaken in the history of TARGA will take its suite of industry-leading tarmac rally events to the next level.

A comprehensive overhaul of TARGA's brand and business strategy will target growth in new competitors and spark greater appeal for the fan base of the iconic TARGA Tasmania, TARGA Great Barrier Reef and TARGA High Country events.

A year on from the acclaimed Dutton Group purchasing TARGA, the brand recently commissioned an extensive in-house analysis that will now see a fresh business path and marketing direction.

The business known previously as Targa Australia will make way for a brand new name, TARGA, which will incorporate a powerful new logo that re-enforces the unique tarmac rally discipline while acknowledging the rich history and heritage of the brand.

While TARGA is adopting a more modern and contemporary look, it has a clear mission that will deliver the Ultimate Tarmac Rally experience for competition entrants, and become the must-have driving experience for car enthusiasts and fans.

TARGA is committed to investing in customer experiences, starting with streamlining the rules to enable competitors to have greater freedom and more choice.

Importantly this investment will make it easier for new competitors to participate and also transform the business into a more user-friendly fan experience.

The new structure recognises the historical significance of the competition classes while also giving added weight to the burgeoning numbers of motoring enthusiasts who want to drive their cars on closed roads.

The TARGA Competitions brand ambition is to be the bona fide leader in unique rally events while TARGA Tours aims to be the ultimate driving getaway.

Central to the new TARGA focus is a completely redesigned website, TARGA logo, refreshed event logos and more streamlined and clear social media presence across all the major platforms.

The TARGA website will provide comprehensive course outlines, entry lists and Australian TARGA Championship points table.

"The past year was an incredible year of change at TARGA and it's now time to really focus our efforts, with the first step being a major rebrand and well overdue update of our customer facing website," TARGA chief executive Mark Perry said.

"These updates are a small reflection of the big changes we're making across the company to better serve our customers."

TARGA's business and marketing restructure comes soon after confirmation that TARGA Tasmania (April 27-May 2) will see the longest competitive course in the famed event's history. 

TARGA Tasmania will feature 39 stages over 626 kilometers that will include two brand new stages and a recall of several discontinued tests.
21.01.2020
2019 Modern Outright results now confirmed
The results of the 2019 CAMS Australian TARGA Championship are now official.
The positions of Modern Outright had remained provisional following TARGA High Country last November.
Paul Stokell and Kate Catford (2014 Lotus Exige 350) compiled 389 points to claim the title over Tasmanian's Jason and John White (2016 Dodge Viper) who finished on 240 points.
Motorsport Australia confirmed the results after protests were dismissed following the final round at Mt Buller.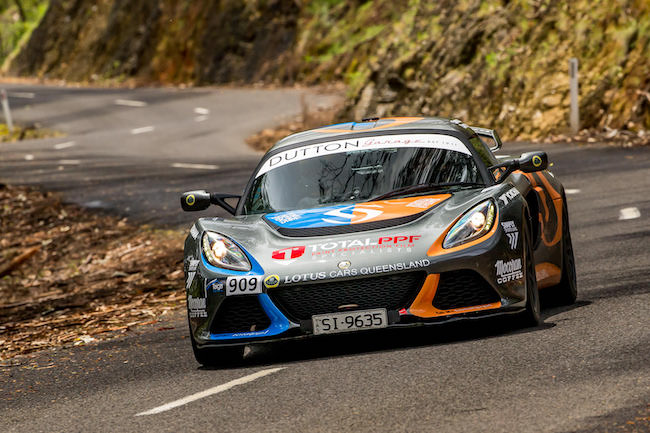 11.11.2019
Stokell and Downey secure prestigious CAMS awards
Tasmanian raised Paul Stokell is adopting a no-risk approach as he attempts to cap off a signature season at the 10th anniversary TARGA High Country from November 8 to 10.
The Brisbane-based Stokell is coming off a highly successful year highlighted by a maiden win in the flagship TARGA Tasmania six months ago.
A former highly decorated circuit racer, Stokell has combined seamlessly with the experienced co-driver Catford for the last three events (runner-up at TARGA North West, won TARGA Tasmania, runner-up TARGA Great Barrier Reef).
"Kate hasn't missed a beat and has been well and truly up to the job," Stokell appraised.
"Even when it is wet and slippery and a bit hairy on some stages she doesn't get thrown.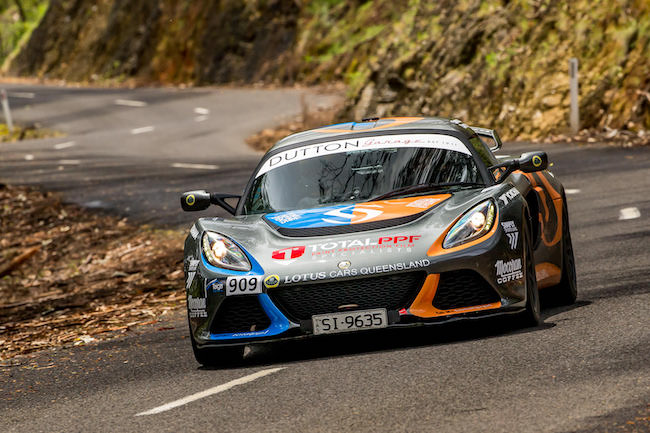 "It's a credit to her and is very good at what she does."
Stokell has taken heart that his 2014 Lotus Exige Sport 350, upgraded this year with a new supercharger package, is closer to the outright speed of his chief rival Jason White, driver of the 2016 Dodge Viper alongside uncle John White.
At the North Queensland event in early September, Stokell managed to edge the Viper in dry conditions on the Gillies Range and Little Mulgrave stages on the opening day.
"It was the first time we took him on a level playing field and beat him in the dry so I was pretty happy with our performance," Stokell said.
"I think we are in a pretty comfortable position (going into High Country) providing we stay on the road.
"I'm not going to do anything silly. It's pretty achievable for us.
"I guess when you are pushing for a podium the risks go up a bit.
"But I'll push as much as we are comfortable without making mistakes and see where that leaves us.
"The High Country roads probably don't suit us as much as other events.
"It's not ideal but we will see how we go."
Victorian Matt Close, who has netted a couple of High Country wins and is a regular competitor at the event, will run a brand-new Porsche 911 GT3 in lizard green livery.
Close and co-driver Cameron Reeves are yet to test the new Porsche however it essentially is running the same suspension as his previous GT3 in which he finished second behind the White Viper at High Country last year.
In outright classifications last year at TARGA High Country, Close was runner-up to the White Viper while Stokell was sixth.
Mick Downey and Jarrod Van Den Akker are favourites to defend their 2018 High Country crown in Classic GT after a solid year.
Similarly Luke Anear and Alan Stephensen have been strong all year in GT4 and are keen to erase memories of their DNF at the Mt Buller event last year.
In Early Modern, the season's form driver Will Gordon will be joined by new co-driver Kelly Handley as he seeks to continue his class-leading edge.
Classic Handicap is always an intriguing battle with top contender Nik Prieston joined by Stephanie Esterbauer in his 1975 Fiat Abarth 131 Rallye.
Last year's High Country handicap runners-up Peter Gluskie and Sam Winter will prove stiff competition to the Fiat after strong form in their brilliantly competitive BMW E30 325i.
Mitchell and Darryl Ringuet (2017 Lotus Exige Sport 350) and Anthony and Sandra Seymour (2013) have waged a fierce battle all season and are set to continue their fight in GT Sports Trophy)
Peter and Tristan Taylor are in the box seat to defend their High Country title from last year in the penalty-based TSD Sports Trophy category.
The ever popular Street Stage and TargaFest is scheduled to be held at Mansfield from 3pm on Saturday, November 9.
Check Road Closures and Opening Times across the three-day event.