TARGA TASMANIA TOUR ENTRY
ENTRIES ARE NOW CLOSED FOR TARGA TASMANIA 30.
If you don't hold a Motorsport Australia licence, CLICK HERE to email our expert team for all you need to know to start your journey to driving nirvana.
For pricing and tour related enquiries, please contact our expert team HERE or call 03 6144 9500.
To find out more information about our tour,

click here.
TARGA TASMANIA – 30TH ANNIVERSARY EDITION
Entries are now closed for the 30th anniversary running of TARGA Tasmania, which will run from 26th April – May 1st 2022.
The landmark event will expand to a record competitive distance of over 700 kilometres with a total of 2, 200 kilometres travelled around the island state.
It is expected that more than 400 entries across TARGA's range of classes will see TARGA Tasmania 30 feature the largest motorsport competition field in the world.
Check out the TARGA Tasmania 30 state map below to see an overview of the course.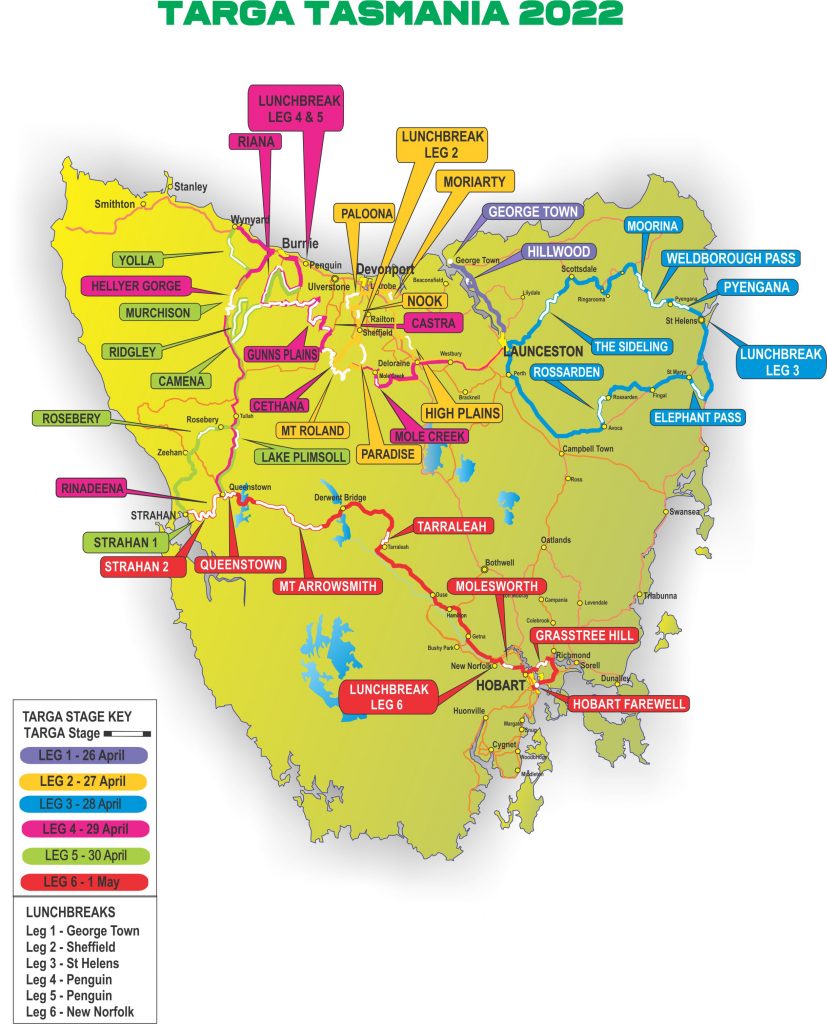 PRICING LIST
Pricing is per car, and is inclusive of tour entry only.
If you have any questions regarding tours, please contact our expert team HERE or call 03 6144 9500
EARLY BIRD PRICING
9 March 2021 – 30 June 2021
TARGA Tour (per car) – $5,790 AUD
REGULAR PRICING
1 July 2021 – 25 March 2022
TARGA Tour (per car) – $6,290 AUD
THE TARGA TOUR PACKAGE
Tour packages are a great way of experiencing all the thrills of TARGA without the hassle of making your own bookings. Let us do the work for you, so you can focus on enjoying all that TARGA has to offer.
The TARGA Tour package is per car and includes all associated event costs, four OR eight nights in premium accommodation and all meals.
For further information on packages and pricing, please contact mackensie@targa.com.au or phone 6144 9505.
Please contact us if you do not require Spirit of Tasmania transfers to be included in your package, and we can accomodate for you.
Click the button below to embark on the ultimate tarmac rally adventure; join us in celebrating the 30th Anniversary of TARGA Tasmania.